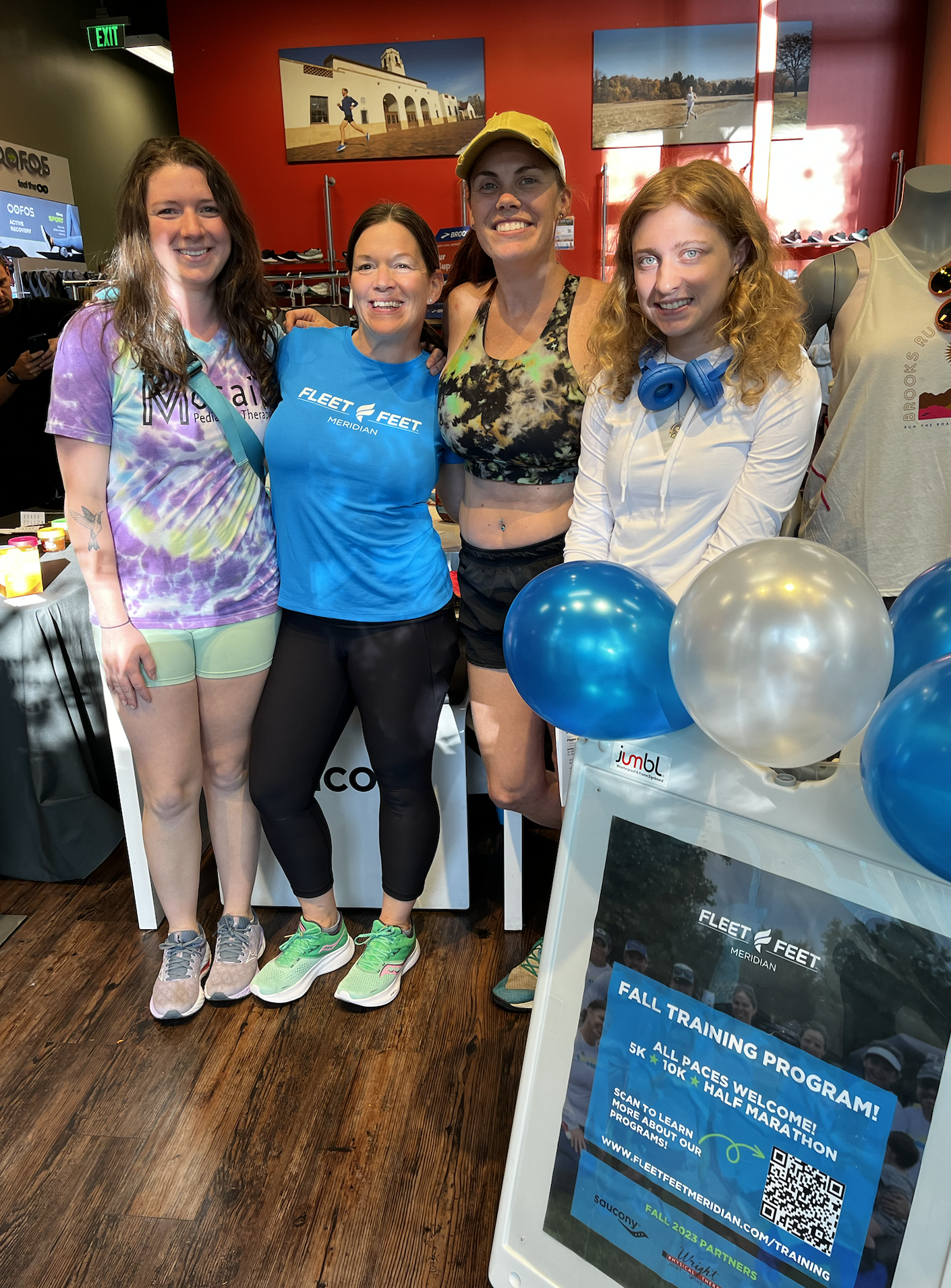 Our recent GEAR UP NIGHT at Fleet Feet Meridian was not just an event - it was a gathering where passion for running met expert knowledge and fun! Coach A.K. organized an engaging evening that saw our running community come together with enthusiasm, mingling with top-notch brands and experts to create an enjoyable and informative event.
Saucony Shoe Demo: A Step Forward Those who participated in the Saucony shoe demo experienced firsthand the latest innovations from the brand, trying on various models that potentially fueled a more informed and comfortable run during the bonus Run Skills workout.
Guess That GU: A Taste of Fun Our "Guess That GU" contest brought some lighthearted competition to the room, challenging participants to decipher the diverse flavors of GU gels. Winners walked away with tasty GU/ROCKTANE Nutrition prizes to fuel their upcoming runs!
Compression Insights with CEP: Jacob from CEP generously shared his knowledge on compression wear, offering attendees valuable insights on how to effectively use socks and sleeves to support their running journey.
Hydrate Right with NATHAN: Exploring the vital topic of hydration, NATHAN's rep provided clarity on selecting and using their hydration systems, aiming to keep your runs well-fueled and your body in top shape.
Wright Physical Therapy: Your Wellness Partner Kyle Negangard from Wright Physical Therapy was on-site to offer his expertise on managing and preventing injuries, adding a layer of wellness and assurance to our athletic adventures.
Bonus Run Skills Workout: The optional Bonus Run Skills workout at Kleiner Park allowed participants to immediately put their newfound knowledge and gear to the test, embodying the very spirit that Fleet Feet cherishes - a community that supports and celebrates every step together.
Thank you to all who joined us and contributed to the rich tapestry of experiences that night. Your presence and participation transformed our event into a meaningful celebration of our shared love for running. Fleet Feet Meridian is grateful for each attendee, representative, and all who played a part in shaping this splendid evening.
Here's to more shared miles and celebrations in our incredible community!