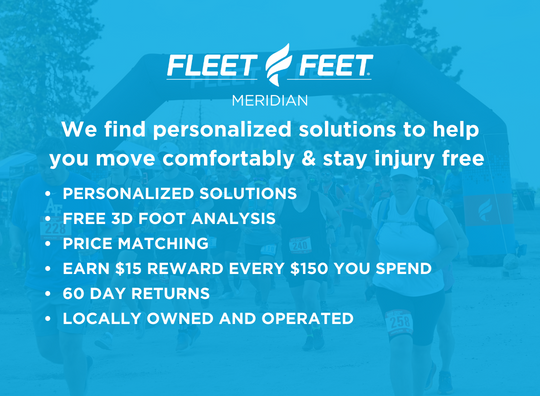 Hey Boise, dive into the world of precision footwear fitting with our signature Personalized Outfitting Solution at Fleet Feet Meridian. With the revolutionary 3D fit id® foot scanning technology at our fingertips, we're redefining the way you shop for shoes. As we swiftly capture 12 crucial metrics – from foot length and width to volume and arch height – a comprehensive 3D image of your foot comes to life. With this rich data, our experienced Outfitters can pick the perfect running shoe, curated just for your unique stride and structure.
Aditionally we offer,
Unbeatable Value with Price Matching: Found the same pair somewhere else at a better price? Don't sweat it! At Fleet Feet Meridian, we promise to match it, ensuring you always get the best value for your money.

Loyalty Rewards to Cherish: Every step you take with us is a step towards savings! For every $150 you spend, you'll earn a cool $15. Because when you invest in us, we love to return the favor.

Unparalleled Flexibility with 60-day Returns: Did the shoe not quite match your vibe? Or simply changed your mind? No worries. With our 60-day return policy, your peace of mind is guaranteed.

Take it Beyond the Shoe: Beyond the impressive 3D scan, you can continually access your profile during future visits. Plus, elevate your comfort with our range of premium insoles, including Super Feet, Currex, Cadence, and Power Step. Every time you gear up with a new pair, you carry a piece of personalized support with you.

Experience the Local Touch: Fleet Feet Meridian isn't just another shoe store – it's a passion project. As a locally owned and operated entity, we're deeply rooted in the Boise community, striving to provide an unparalleled shopping experience.
To get the most out of our specialized fitting experience, we suggest visiting during weekdays. It offers a serene ambiance, letting you immerse in the magic of finding your ideal footwear, away from the weekend rush.
So, what are you waiting for? Join the Fleet Feet Meridian crew and together, let's etch the legacy of being Boise's premier running shoe destination. Your feet deserve nothing but the best, and we're here to deliver just that!
Join our NEWSLETTER HERE to receive special race discounts and learn about new products
Join us on STRAVA HERE to stay up to date on all community events
Join us on FACEBOOK HERE to find new runnning friends and check out some of the community-led weekly runs
Join us on INSTAGRAM HERE for all the above + live event updates