Fleet Feet Meridian Warriors
Walk, Jog, Hike, Run
Our community has a Facebook page where they coordinate for runs and walks throughout the Treasure Valley! This is a community led group and is free to join. If you already have a run or walk planned and want to invite some friends, this is a great place to coordinate that as well! All paces and abilities welcome!
Join us for Trail Fridays!
Friday Mornings | New Locations Every Week!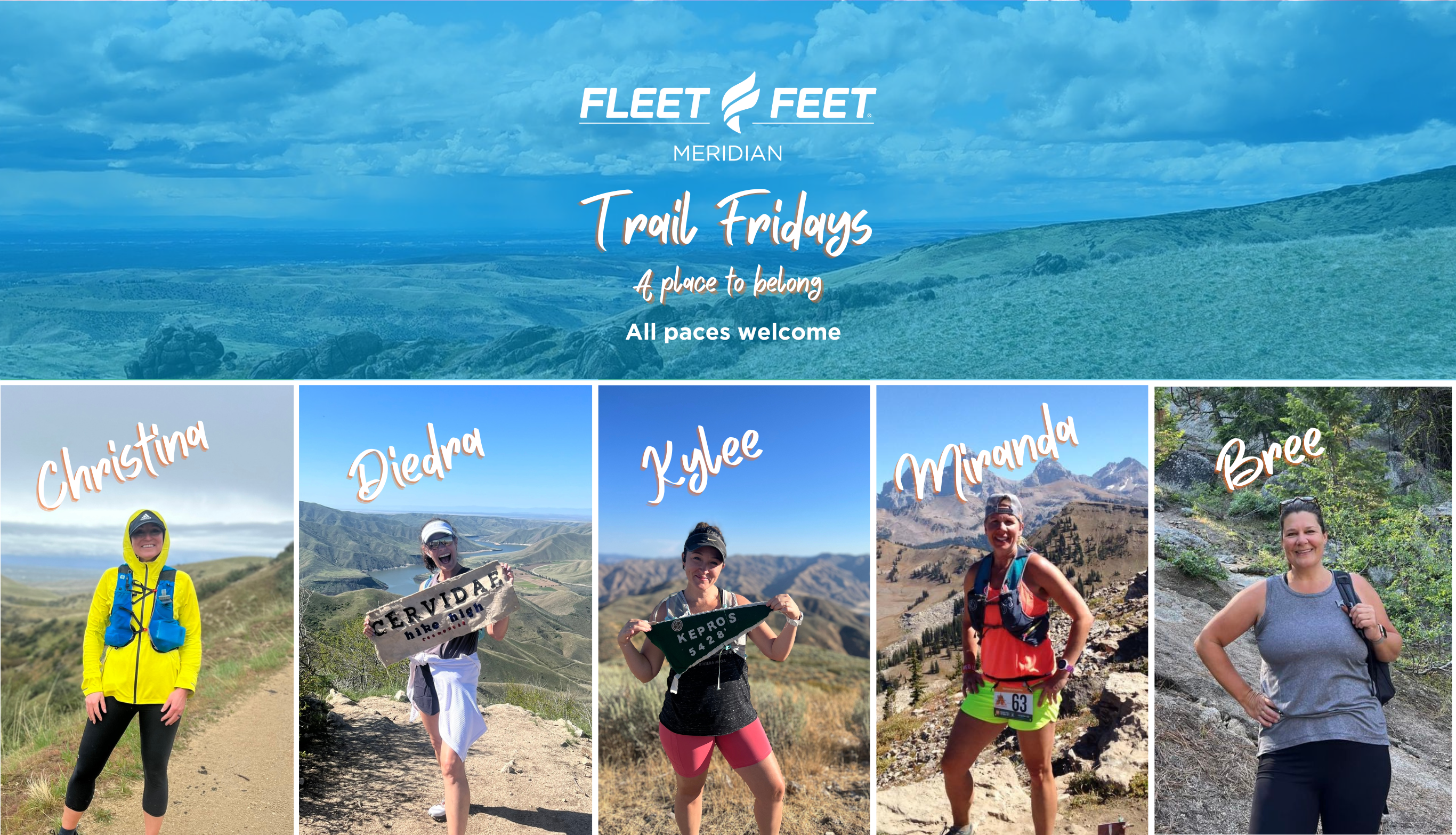 Learn a bit about the Friday morning trail meetup from Kylee Wiscombe, one of our awesome trail leaders and local race director of the Top of Tamarack trail race.
"This is a "community led" group on Friday's at 9:30 am (earlier start time during the summer).
What are we about? Getting out, meeting new people, and exploring new places (mostly dirt type places). We are already accomplishing this on a weekly basis! YAY
We have four committed leaders that you might see on any given adventure: Kylee, Miranda, Christina and Diedra. We all have a love for all things trails and do whatever we can to get out on them, whether it's hike or run, we are game!
We will do our best to have a shorter route (3-5 miles) and a longer route (8+ miles). That will tend to vary based on trails, but it's our aim to have something for everyone no matter your goals.
We start together, watch out for each other, but don't necessarily stay together or finish together. This means that all paces and experience levels are welcome. There tends to be people who end up buddying up together because they are around the same pace, which is amazing. But you do need to feel comfortable being solo and finishing solo.
We will meet and then walk/hike the first half mile (ish) as a warm-up. During that time, we introduce ourselves to each other so all newcomers feel welcome and we have time to get to know each other a little.
We intend to check out LOTS of different trails. Most often it will be Ridge-to-rivers trails, but definitely have intentions to take some field trips over to Marsing area and will be doing some Boise National Forest trails (Grand Slam!!) as well. We love change, so if you like that too, join us.
We meet Friday's...hence the name. :) During the summer we will meet at 6:30 am or earlier, otherwise we will meet at 9:30 am. We know this is not at all a convenient time for everyone. It just happens to be a time the current leaders can commit to consistently. However, please feel welcome to post in this group if you need a different time and day as there are likely others that want to meet that time.
We will try to get the route posted by Wednesday. We hope you will consider joining us if your schedule allows it!
We will do our best to be consistently available on Fridays, because deeper friendships happen with consistent meetups! However, life happens, travel plans etc. So hopefully we can build our little group so there are substitutes comfortable in leading when one of the leaders is unavailable.
Interested in leading a new group? Please reach out to Megan Lacy (
megan@fleetfeetmeridian.com
) as Fleet Feet Meridian would love to support more community led runs and is passionate about connecting and growing our local running, walking and hiking community!