WALK CREW!
There's no better way to get to know your fellow neighbors and local walkers than by joining the fun and free Fleet Feet Walk Crew! Together we will explore Downtown Pleasanton streets and parks. You can expect to engage in conversation with coffee in hand as we take it one step at a time. No matter your pace or experience, all are welcome. Bring a smile and we'll see you there!
---
Meetings and Locations
8 am Every Monday Morning @ Fleet Feet Pleasanton, 234 Main Street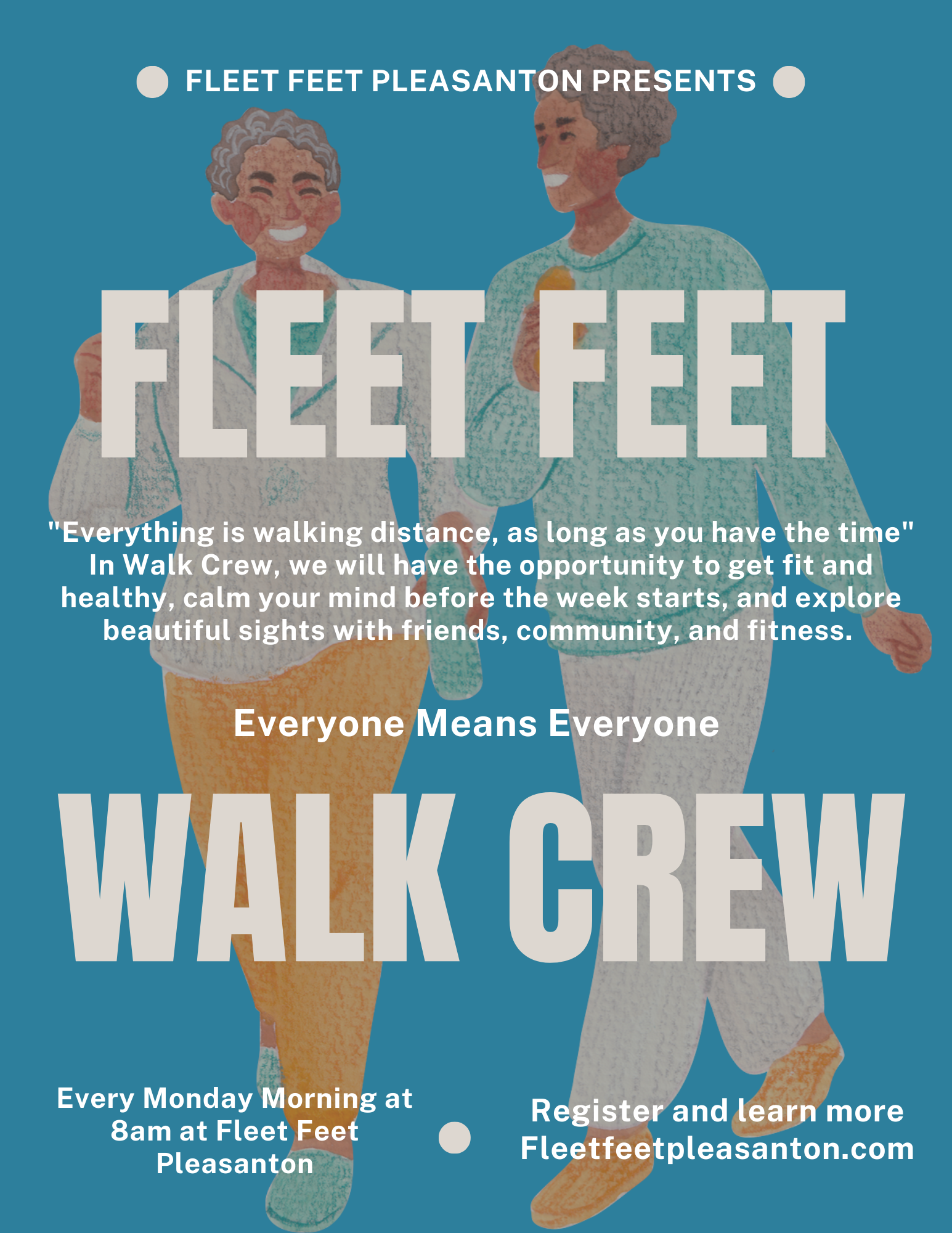 ---
What to Expect
You can expect to be greeted by our friendly Fleet Feet Ambassadors and Walk Crew Coaches who will share several route and distance options ranging from 30 to 60 minutes. Upon arrival, we will welcome new walkers and share milestones. We will do a short warm up and learn about upcoming Fleet Feet events as well as fitness tips before setting out for the sidewalk. On occasion we will have light refreshments or a special guest vendor in attendance.
---
What to Bring
Monday mornings are greeted by the sun so reflective gear is not necessary; however, we recommend that you wear belts or fanny packs to hold your gear, and carry hydration and fuel with you. Store your phones in pockets or safety belts. Avoid using earphones to promote social engagement with the group and to hear your coaches' instructions. And of course, wear comfortable walking shoes and socks! If you need any gear to make your outings more comfortable and safe, you can find things like THIS in our Fleet Feet store. Ask your coach or a Fleet Feet Outfitter about their favorites!
---
Safety Procedures
Generally, each walk is led by a Fleet Feet Coach or Ambassador. But if, for some reason, one is not available due to a scheduling issue, the group can self-guide their own walk that day. We will do our best to notify all registered group members in advance, but that may not be possible in all situations.

You must carry your own hydration and provisions.

Please use crosswalks and follow rules of the road. NO walking in the middle of the road or illegally crossing streets.
Keep in mind you are representing Fleet Feet, please be courteous to all road users and community runners.
In case of illness:
No one wants to get sick, especially with Covid. If you are not feeling well for any reason, we hope you rest up and rejoin us when you are better. If you have Covid, we ask that you follow current guidance published by the CDC at this link: Isolation and Precaution Guidelines. Thank you for your courtesy and consideration of your fellow walkers.
---
The Point System - Earn Your Prize!
Every time you attend a Walk Crew or other designated Fleet Feet activity listed below, you can earn points towards monthly prizes, and be entered to win the grand prize! You will be responsible for keeping track of your points using the point system tracking form. You can check all boxes that are applicable. Then, you'll need to upload a photo showing your participation at the event, apparel worn etc. Easy! Here is the SUBMISSION LINK for the tracking form for all your points!
One Time Points
50 points - Follow FF on Instagram
100 points - Join FF Strava Group
200 points - Join FF Training Program

Recurring Points
25 points - Attended Run Crew/Walk Crew
25 points - Attended Training Group Run
50 points - Attended Run Crew/Walk Crew with a new friend
100 points - Attended Mochas & Miles
100 points - Attend Pub Run
100 points - Wore FF Gear on a Run
100 points - Attended Demo Run/Event Run/Clinics
150 points - Ran a local race in FF Apparel
200 points - Attended TVAC, Big Run, Juneteenth, Run for a Cause

**SUBMISSION LINK**

Each time you earn points, you must submit via this link for credit.

PRIZES
Most points from April 2 - August 23 wins a FREE pair of running shoes!
Most points per MONTH (April, May, June, July, August) wins a FREE article of running apparel
Everyone who exceeds 4500 points is entered into the grand finale raffle on August 23rd to win a FREE pair of shoes and a FREE running outfit, top, bottom and socks.
---