5k No Boundaries
Our first 2024 session starts Sunday, February 25 and ends Sunday April 21.
Our Goal Race is the Pleasanton PPIE Run For Education 5k.
Discover the Power of Movement!
Our eight-week 5k No Boundaries program is designed for the novice runner and walk/runner, or for those who would like to return to running. Although, all levels are welcome! If you recently completed Make It a Mile or you can comfortably run/walk a mile under ~14 minutes, this is the right training option for you. Participants are surrounded by a team of dedicated, motivated people all working toward the goal of becoming healthy and strong by finishing a 5k.
Discover the Power of Community!
The camaraderie of training with a group week after week will take your training to the next level. When the workouts become more rigorous, you'll have the collective strength of the group to keep you moving forward. When you crush a key milestone, the group will be there to celebrate your achievement. And on those early mornings when you just don't feel like getting out of bed, the training group will keep you accountable.
Discover the Power of Support from Your Coach!
Using the Run/Walk method, the program provides a guided training plan that helps you gradually increase your distance and speed as you progress towards your goals. We meet 2x weekly for group workouts; your plan will include additional activities that you complete on your own. Your coach will check in with you at every training run to keep track of your progress, keep you motivated, and give you individualized feedback.
At the end of the program, you will be able to finish a 5k (3.1 mile) course. You will have learned the importance of proper form, stretching, injury prevention, hydration and nutrition - all the tools needed to maintain your new fitness routine.
And very importantly, we provide a positive, fun, non-judgmental environment that will lift you to success!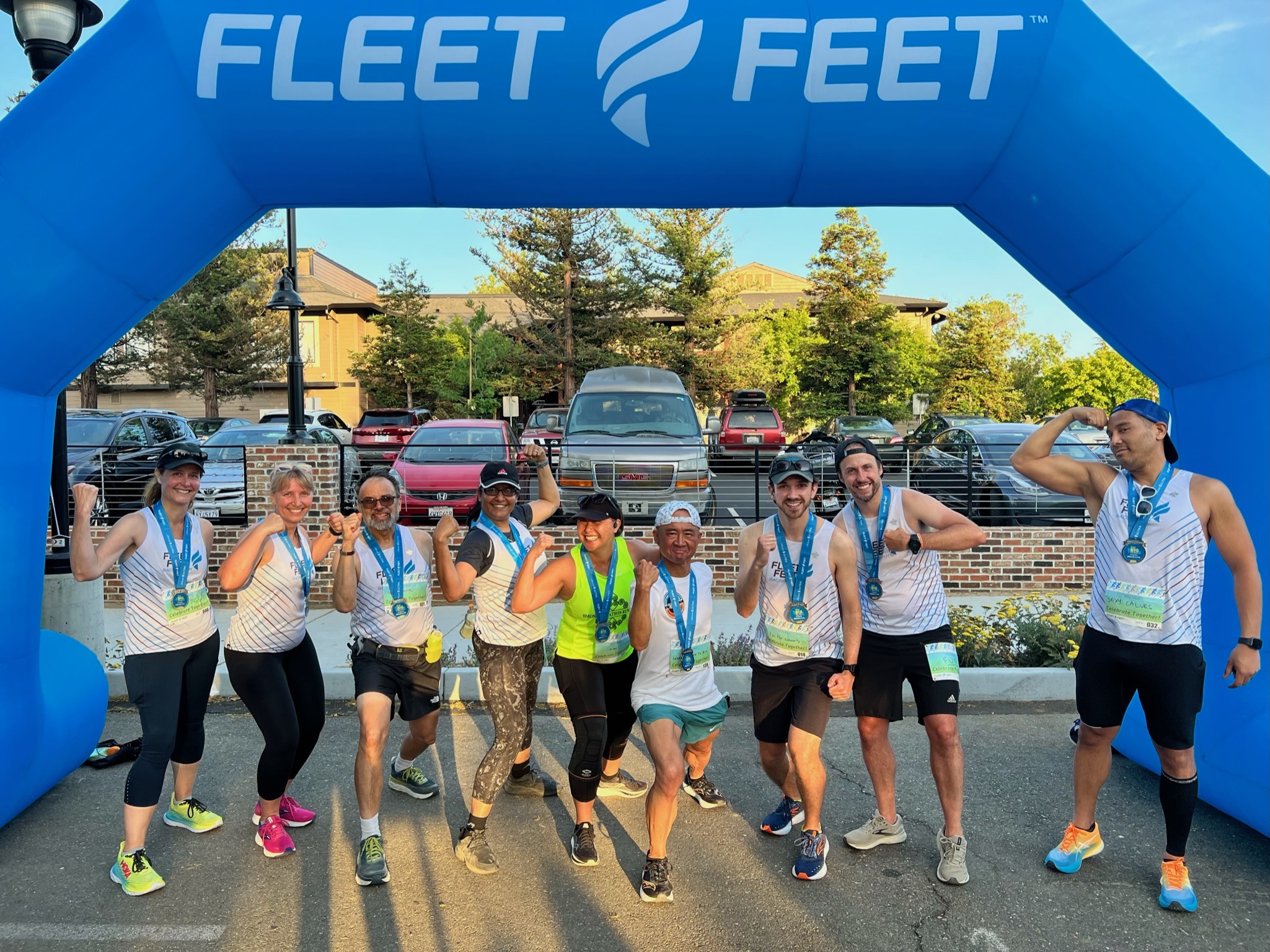 ---
Learn More
5k NO BOUNDARIES
Get fit and healthy for the New Year! This 8-week novice-intermediate program will help you get ready to run Pleasanton's PPIE Run For Education 5k on April 21 - always fun for the whole family. Using the Jeff Galloway run-walk training method, you will progress to running or run-walking a full 5k, and have a lot of fun along the way. As a group, you will work out in person with Fleet Feet Coach Margaret Quinn 2x per week. To reach the 5k goal, all participants will be expected to follow a custom 8-week training plan that calls for on-your-own workouts in addition to the scheduled group workouts. But no worries! Your coach and other participants are here to support and provide friendly accountability.You will enjoy lively group camaraderie as well as easy access to your coaches to help you on your fitness journey.
TIMES AND LOCATION
Group Running Workout: Sundays at 9:00 am, Thursdays at 6:30 pm
Location: Fleet Feet Store, 234 Main Street, Pleasanton
COST
$135 Early Bird Registration Fee
Save $10! Register before the price increase to $145 on January 1
(Does not include race registration fee)
THE PERKS
In-person Orientation Meeting - know what to expect before you start
2x weekly in-person group running workouts at Fleet Feet
A nutrition workshop with our partner, Molly Obert, of Eat Real Food Nutrition
Happy Feet! Each participant receives a complimentary pair of high quality running socks
Customized training plan - provided weekly
Expert coaching from Margaret Quinn, Fleet Feet Running Coach
$15 discount coupon for use at Fleet Feet Pleasanton store during the program
Education on running form, injury prevention, safety, shoes, running gear, and more
Email guidance from your coach and membership to private WhatsApp chat group
Encouragement, support and FUN! Let's GO!
PROGRAM REQUIREMENTS
This program is designed for novice to early intermediate runners who can run/walk one mile at a pace of 114 minutes or better.
Participants should have no active injuries
Participants are required to have and use safety equipment for evening workouts (Details provided at Orientation)
Participants must be 18 years of age or older
REGISTRATION INFO
No refunds after first day of training
Limited to 30 trainees
Not sure if this is the right program for you? Contact Coach Margaret at margaret.quinn@fleetfeet.com for guidance.