Athletes of all age and abilities levels can benefit from sports nutrition to improve performance, get the most out of a workout and recover faster. A good sports nutritionist can teach you how to fuel your body properly by eating and implement good nutrition strategies to help you feel and run your best.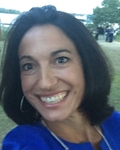 Our go-to nutritionist at Fleet Feet Sports is the super personable Pauline Weissman - a board certified Nutrition Specialist with 16 years of experience in Medical Nutrition Therapy who specializes in creating individualized nutrition plans to achieve optimum wellness. Pauline's goal is to empower people to live happier, healthier and more productive lives, and her strength is connecting with people on an individual basis and meeting them where they are in their path to wellness.  She's an avid runner & busy mom of four too!
She currently works with a variety of clients ranging from adolescents to adults to athletes and runners at her office at Hart Acupuncture & Nutrition in the cute yellow house on Farmington Ave near the I-84 Park and Ride.  
Visit her online here. 

Education:
Pauline holds her M.S. degree in Human Nutrition and is certified by the Certification Board of Nutrition Specialists (earning her the CNS certification). She is also a member of the American College of Human Nutrition and continues to broaden and enrich her education on a daily basis. She has extensive experience with a wide variety of acute and chronic issues directly related to nutritional imbalances or deficiencies.
Note From Pauline:
It is my joy to help others heal, teach them how to be well nourished and educate them on how to continue on a healthy plan for a lifetime.

Food Sensitivities, gut issues, stress, cardiovascular, diabetic and hormonal issues are common situations seen in my practice. They respond beautifully to a sound nutrition protocol. It is my pleasure to help others rectify these common situations in a non invasive manner.
I approach my clients' health goals in a comprehensive manner: lifestyle, work, stress, genetics, emotional and spiritual health all play a major role in determining how vibrant we are. Together, we will create a customized nutritional plan that works for you. This multi-faceted approach includes menu planning, supplement protocols, recipes, & lifestyle management.
Personal Journey into Nutrition as a Career:
I changed my career path after an initial 5 year stint in sales and marketing because I was fascinated by the human body and maintenance of optimum health. How we fuel our bodies determines how we feel both physically and emotionally, thereby determining how we live our lives. Now, with 4 children ranging from preschool age to middle school, nutrition is the key to my success in life. Without being properly nourished, I would not be able to function or enjoy my life at the level that I currently do.
My Running History:
I started running with my Dad when I was 7 years old, doing a couple of miles on the weekends. In high school I ran track, competing in the 2 mile, but most of all, running has always been something I do for me. It's very personal. I don't do a lot of races: I've run one marathon, a handful of ½'s, but my favorite thing to do is to run the trails in the reservoir.
Practice Address:
Hart Acupuncture & Nutrition
501 Farmington Avenue
Farmington, CT 06032
860.284.4406
pauline@hartacu.com