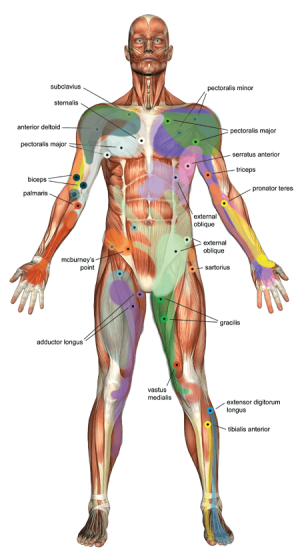 The inside of the body is covered with soft tissue called fascia. This tissue covers every structure including organs, muscles, nerves and blood vessels.  The fascia that covers your muscles is call myofascia.
When the myofascia is stressed from overuse or trauma it can tear and adhear together.  These adhesions are called "trigger points" and can prevent the muscles from working well.  Trigger points lead to an increase in muscle stiffness and tenderness and a decrease in range-of-motion. In addition, the discomfort from trigger points can radiate from the adhesion. This is called referral pain and the most common pathways are shown in this image.
 Major benefits of Trigger Point Therapy:
Increase circulation and elasticity within the muscle
Improve strength and range of motion
Improve balance and gait
Increase power generated by muscle
Appropriate for runners, triathletes, and athletes of all sports
Click here to learn more about how trigger point therapy can help the function of your whole body.
Trigger Point Products:
THE GRID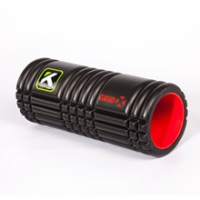 The GRID foam roller is designed with proprietary Distrodensity zones. This three dimensional surface has a variety of widths to replicate the feeling of a massage therapist's hands. Check out this video to learn more.
Three-dimensional surface allows tissue to aerate while you roll, promoting the flow of blood and oxygen—the nutrients needed to repair muscles
Hard, hollow core hand-wrapped in EVA foam makes it firmer than traditional foam rollers
Environmental design uses less foam than traditional foam rollers
Compact and travel-friendly
Backed by a one-year warranty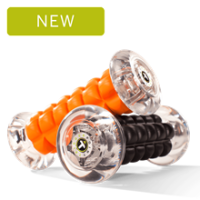 NANO FOOT ROLLER
Innovative foam roller specifically designed to increase flexibility and relieve minor muscular aches and pains associated to the foot. The NANO™ Foot Roller surface provides a systematic approach to blood flow by channeling nutrients directly to the tissue. Designed to mirror the feeling of a massage therapist's fingertips, the NANO™ Foot Roller is supported by our educational platform that is recognized globally for its effectiveness in the application of myofascial release.