Looking back with Coreen Steinbach
By Carlo Cuccaro

I recently finished a terrific book entitled "The Perfect Mile" about three runners in the early 1950's and their quest to run the first sub-4 minute mile.  At the end of book, there is a quote by one of the runners - John Landy.  Of running, John Landy said:
"Running gave me discipline and self-expression,,,It has all the disappointments, frustration, lack of success and unexpected success, which all produce themselves in the bigger play of life.  It teaches you the ability to present under pressure.  It teaches you the importance of being enthusiastic, dedicated, focused."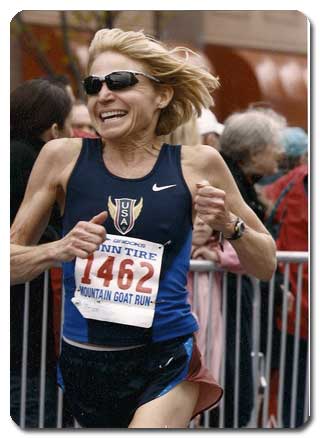 It seems ironic that the day after I finished the last few pages of this book, I decided to e-mail local masters running star, Coreen Steinbach, to ask for an interview.  When Landy talks about being "enthusiastic, dedicated and focused" he is certainly speaking about Coreen.  In fact, Coreen is currently ranked as the #1 Outdoor 60+ Masters Runner in the US at 800 meters. She is also the #1 ranked indoor runner in the 400, 800, 1-mile, and 3000 meters and #2 for the 1500 meters.  Her mile time is 46 seconds faster than the second ranked American runner! 
After reading this interview, I am sure you will realize that Coreen's talent for running seems matched only by her passion for her family, friends, and her art.    
Were you always an athlete/runner or were you a late bloomer?
No! I was never an athlete as a young person. I was a chubby, non-participant in anything vaguely sports related. Definitely the epitome of the late bloomer. Started running in my 30's, racing mid 30's, track early 50's.

Where did you grow up? Go to school?

I grew up in Westwood, NJ and moved to Bucks Co. PA area when I was 14. I moved to Syracuse in '74. I have a BS in Speech Pathology from Penn State and an MS in Clinical Audiology from Syracuse University.
What is your day job?
I am a full-time artist. I haven't worked as a speech pathologist since before I moved to Syracuse and as an audiologist since my son Anthony was @ 2. I hung that up and rather naively decided I was going to become an artist. I placed some ads for portrait painting in the local Pennysavers and it actually took off. Commission portraiture is my bread and butter.  I also sell my work through www.runningart.com.

How did runningart.com come to be?
Runningart.com... well, I started my business as a free-lance artist @ 1991. I did a painting of runners that my friends saw and said they would love to have a print of it. That led to me marketing running related artwork at races and being commissioned to do posters for specific races. I started the website a few years later and also expanded the repertoire to include other sporting related subject matter. The website has been extremely successful and my work is pretty much all over the world at this point. The website is currently being re-designed from the ground up.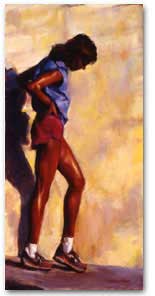 "Daybreak"
by Coreen Steinbach
 Do you have a favorite race?  Most memorable race?
Whenever someone asks me what my favorite race is I immediately answer Boilermaker so I guess that is my answer for that. But there are so many I love and like to do regularly. I haven't been able to do Boilermaker, though, in several years because it interferes with summer track. 
Most memorable,,,, PR races obviously are always remembered with magical, crystal clarity. My first individual gold medal at the World level last April was very moving even though the performance itself was forgettable - a slow race that was 100% strategic - standing on the podium with the National Anthem playing is something I will never forget. But a Bronze I won in the 400 at World Outdoors last summer was WAY more hard fought so in some way is more cherished. Races run with my girlfriends where we all travel together are always very, very memorable.
Do you remember your first race?
I laugh every time I think of my first race - the old Freihofer's 10k in Onondaga Lake Park. I think it was Oct and I wore a long sleeved tee shirt, a hooded sweatshirt over that and sweat pants. I had to stop mid-way and strip and hide my clothes in a bush!!
Then I think the 2nd race which really got me hooked was the Mountain Goat Run. I ran it with a Walkman! I got home and someone called me and said, "Coreen, you got second in your age group!" I was flabbergasted. Saw the medal and I think stars and rainbows passed before my eyes and that was it. Love affair started.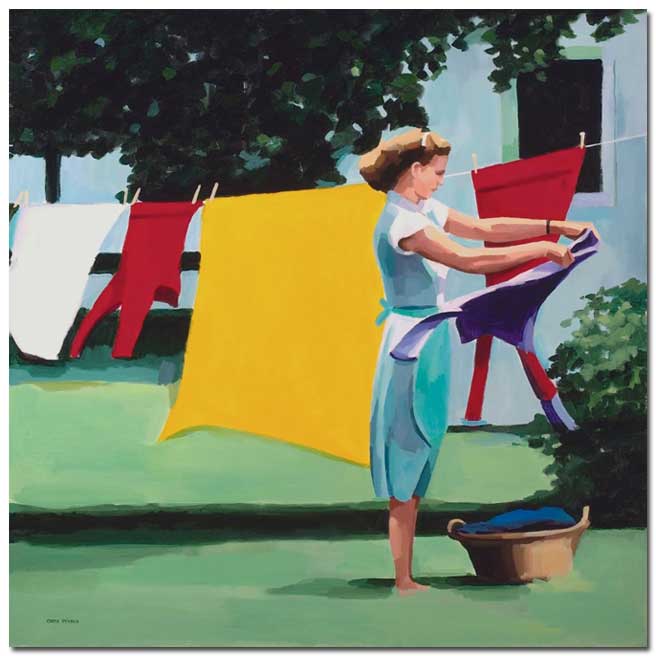 "Summer Memory"
by Coreen Steinbach
What does a typical training week look like for you?
A typical training week depends very much on what period of training I am in. I have been working with a new coach since May and the training is geared towards National Outdoor Track Championships Aug 3-5. It consists of 2 track days a week; one is strength based i.e. 16 x 400 at @ 4 seconds slower than mile pace with one minute recoveries. The other day is speed based - usually a 200 meter workout.
On my track days I run a double - track in the a.m. and @ 45 very easy minutes early evening. The track days also include about 20 minutes of drills and strides. I do a "long run" per week based on where I am in the cycle - anywhere from about 60-90 minutes right now. That will increase a bit after track season.  Another day is @ an hour run with 20 minutes of tempo pace in the middle.
 I have 3 full days off a week right now.  That typical week will change after Nationals to be more road distance oriented.
Who are/were you running inspirations?
My goodness,,,,,there is inspiration in our sport wherever you look. It is abundant in Masters Track and Field where I have many personal heroes who embody strength, fortitude, spirit, competitiveness and freaking hard work and dedication.
The late Diane Sherrer is one of my role models - a woman who was tireless not only in her own training and racing but in furthering not only the sport in general but women's running specifically.
I count among my inspiration my core group of running girlfriends - we call ourselves The Lone Bitches. They make running pretty much everything it is to me: the coming together of likeminded people, who just love to run, some love to race and no matter when we run together it is uplifting, fun and one of the most profoundly wonderful aspects of my life.
Finally, I have to acknowledge my husband, Don. He is tireless in his support of my running. He travels all over the world with me, sits through endless track meets and road races. I could not do what I do without him.
 What is something people would be surprised to learn about you?
I was a Latin major for five minutes.

Tell us about your family.
Family: husband Don Trombley. Sons, Gabriel, 34 and Anthony 30. Stepson, Ryan 37.
If you could invite any three people to dinner, who would they be?
I would invite Paul McCartney, John Lennon (it would be awesome if George and Ringo could come too) and my Dad who died when I was 18 so that he could meet my incredible, wonderful sons.