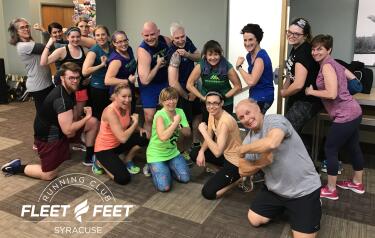 Have you caught it yet?  That contagious, rapidly-spreading disease known as Spring Fever?
While the weather outside might not have us feeling like it is Spring yet, the longer days and lighter evenings definitely are telling us that Spring is coming.
Once Spring Fever truly takes hold, runners, athletes, and movement-loving folks all over Central New York will be heading outside to feel the wind on their faces and to soak up some sun after our long winter.  As we start to look forward to heading outside and bumping up our activity levels, it's important that we implement mindful strategies to ensure that we don't also increase our injury-risk as we increase how much we're moving or exercising.  As a society, we sit more than ever, and our injury risk while exercising increases along with that increased rate of sitting.
Enter Fleet Feet X-Training (better known as FFXT).  FFXT is our ten-week group strength training class, and it focuses specifically on movements that will help balance out common instabilities and strengthen common weak areas.  It's great for athletes of all types - runners, triathletes, cyclists, etc. - but it's also great for folks who are looking to add some variety into their week or who are seeking to balance out the amount of sitting they do at their jobs or in their daily lives.
By incorporating proper warm-up and cool-down protocols, flexibility routines, and emphasizing proper form for strength exercises, FFXT teaches you how to include strength training in your routine in a FUN and SAFE way.
This ten-week program is conducted on Monday nights at our DeWitt location in a group setting with athletes of all abilities, so whether you're brand-new to strength training or someone who has had past experience with it, the class is right for you!  All exercises are able to be scaled to your current strength/fitness level. "Homework" workouts are included in the class for all ten weeks; these are optional workouts that you can choose to complete on your own in between the weekly classes to keep your motivation flowing and your momentum moving!
Our next session begins on Monday, March 18.  Join us as we spring into STRENGTH this season!
Laura Henry has been employed at Fleet Feet Syracuse since 2016 and has been an endurance sports coach for more than six years.  She is the Head Coach of the Triathlon Program and Fleet Feet X-Training Program (FFXT) as well as the Coordinator of Fleet Feet Syracuse's Workplace FIT Program.  Outside of work, Laura enjoys traveling, photography, reading, and cooking.  She can be reached at lhenry@fleetfeetsyracuse.com.