Hi Runners,
My name is Julie Hughes and I'm thrilled to be hanging out with you once a month. I live with my husband and two children in Manlius, NY. I LOVE to run. I was blessed to have an amazing uncle who introduced me to running at a very young age.
Running was my playtime. I was relieved my parents let me explore alone. I enjoyed the freedom on the roads—What will I see, hear, and find on my runs? This thought kept me lacing up my sneakers.
I had the privilege to run for the Tully Black Knights in high school. I continued collegiately at the University at Buffalo and then Bloomsburg University. I'm a writer, author, marathoner, and physical therapist. I enjoy writing poems and many of them are inspired by my runs. I look forward to sharing stories and poems with you to inspire, encourage, spark curiosity, and fingers crossed— entertain.
I look forward to hearing from you and what keeps you lacing up your sneakers. You can connect with me on substack at Run to Write: Transforming runs to words one poem at a time, Run to Write Poetry Podcast—listen in on Thursdays to a poem, and Facebook.
I'll leave you with a poem and a question to think on: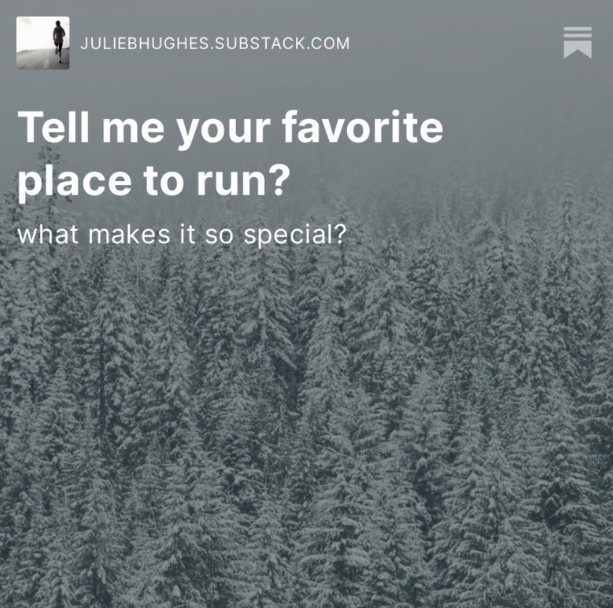 Together on the Trail
Two blue jays sit high
on a branch, I slow down
to take a glance. Bold blue
flies over my head, a color
to make me smile—
get out of bed.
A crimson cardinal catches my
eye, pecking at the ground as
I run by. I stop to watch him
looking for fallen seeds—
Interrupted by a nuthatch
two then three.
Gather to greet me on the trail,
happy chirps in a row
bringing joy to my soul.
I turn to run, but just then—
my eyes meet the deepest red.
Hanging on pine, checking the
view. Together on the trail—
—Thank you.

Tell me— what is your favorite place to run? What makes it so special?

I would love to know. Subscribe HERE and connect with me on Run to Write.