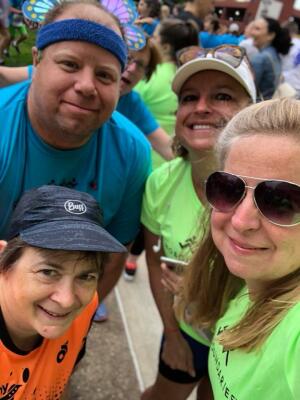 "[NoBo] was fun and even life-changing, it was certainly life-enriching to run with the group and on my own. A reminder that our bodies and minds can get things done." - 2018 NoBo Athlete
What will you do for YOU this Spring? Whether you've considered starting a fitness training program or never thought it possible, I'm here to tell you, YOU CAN. We have a saying in the Fleet Feet Running Club, "Trust the Training." If you show up, we'll get to the finish line together.
"The No Boundaries program is so welcoming to those of us who truly struggle with our self-image and athletic limitations." - 2017 NoBo Athlete
No Boundaries 5K & 10K Training is set to start in just under two weeks! For those new to Fleet Feet Running Club, we offer group training for every level, and NOT just for runners! Even kids - a kids team for ages 8-12 is offered at both NoBo 5K spring locations. Join Fleet Feet this spring for some healthy fun for the whole family!
Learn more about the No Boundaries program at the Spring Info Session, held this Saturday, March 23 at 8:30 a.m. from our DeWitt location. Veteran coaches and experienced staff will be on hand to answer any questions and to help get you started on this fitness journey. Can't make it on Saturday? Check out www.fleetfeetsyracuse.com/training to register and learn more about the various training options coming up this spring.
Mallory Mitchell has been part of the Training Department at Fleet Feet Syracuse since 2012. As Head Coach of the No Boundaries Program, she enjoys the opportunity to introduce people to an active lifestyle and build confidence in themselves through running. She spends her time away from the store playing cello in the Magnolia String Quartet and enjoying time with family, friends, and her dog, Arnie. She can be reached at mmitchell@fleetfeetsyracuse.com.