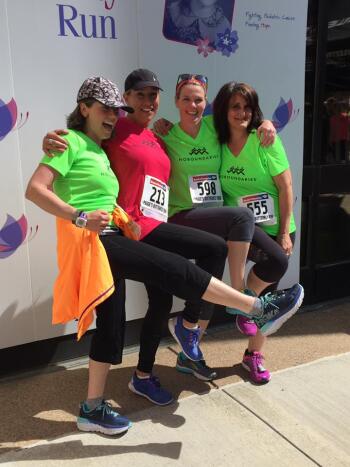 What goals are you looking forward to accomplishing this spring? Maybe getting out and moving more, meeting new people, or even staying consistent with a new venture? If your goals involve movement and having fun, Fleet Feet has a group training team for you! If you're unsure about starting a fitness program this spring, join us at our Bridge Street location on Saturday, March 2nd for the Spring No Boundaries Preview Walk & Run!
The No Boundaries 5K Training Program is a group that serves walkers and runners regardless of age, fitness level, or goals. NoBo athletes truly run the gamut of experience; some having never exercised, while others are coming back to running after some time away. Anyone looking to gradually get into (or back into) a fitness routine will find No Boundaries a good fit.
Just ask this first-time No Boundaries athlete:
"NoBo has shown me that it is okay to run at a slower pace, and many people do! It doesn't matter how fast you complete a 5K, what matters is that you finish what you started, at your own speed and on your own terms (walking, running, walk/run, etc.). Because of NoBo, I enjoy running again. I greatly appreciate this program and would recommend it to anyone who wants to get their body moving and have fun in the process!"
-Fall 2018, first-time NoBo Athlete
Come check out this life-changing program at a free preview run on Saturday. You will meet coaches, be able to sample a walk or walk/run workout, and ask questions. Everyone in attendance who has registered for this spring's training on or before March 2nd will be entered into a raffle for a free pair of Brooks sneakers and ALL who attend will be given $10 to use in store that day!
RSVP for the preview event here or go to visit our Training Page to learn more about the various programs available this spring!
Mallory Mitchell has been part of the Training Department at Fleet Feet Syracuse since 2012. As Head Coach of the No Boundaries Program, she enjoys the opportunity to introduce people to an active lifestyle and build confidence in themselves through running. She spends her time away from the store playing cello in the Magnolia String Quartet and enjoying time with family, friends, and her dog, Arnie. She can be reached at mmitchell@fleetfeetsyracuse.com.