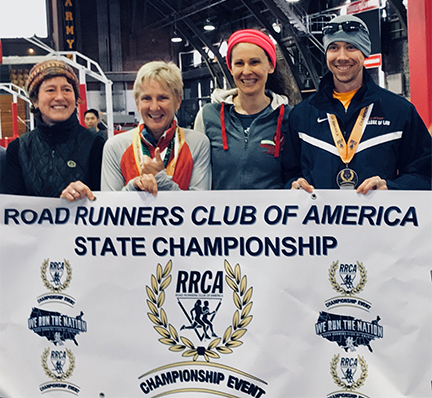 By Ed Griffin
With a nod to Larry King, this week I offer "My 2 Cents," but first a few shout outs:
Fleet Feet Sports employee Richard Powell won the Skunk Cabbage Half Marathon in Ithaca on Sunday in 1:13:23. By winning the race and his age group and the race, Richard also wins the RRCA Men's NYS Half Marathon Championship. (Richard is on the far right in the photo above.)
Congratulations to New Mountain Goat Foundation President Rosemarie Nelson, who won her age group at the Skunk Cabbage Half Marathon and the RRCA Female Grand Master NYS Half Marathon Championship. (Rosemarie is second from left in the photo above.)
Mountain Goat Board Member Fred Marty won his age group at Skunk Cabbage.
Finally, if you have hurting feet, I highly recommend that you attend the Foot Pain Clinic at Fleet Feet Sports in DeWitt Tuesday night. You can read more about the clinic in this newsletter, but the information on treatment and prevention of common foot injuries in invaluable.
Now, "My 2 Cents"
Will winter ever end?
What is with the New York Mets' 7-1 -- the best record in the National League?
Does running seem easier at the Mountain Goat Training Runs?
Luxardo Cherries from Italy might be the best cherries on the planet.
Glazed and Confused in Syracuse has turned up the creativity meter of the donut.
With the playoffs coming it is time for the Syracuse Crunch to win the Calder Cup.
Does anyone still use a wind-up alarm clock?
For my money, you can't get better than Tom Hanks and Meryl Streep.
How did they pick the names Siri and Alexa?
Not much better than that new car smell.
Masters Champion Patrick Reed used a 7 Iron to hit a golf ball 187 yards!