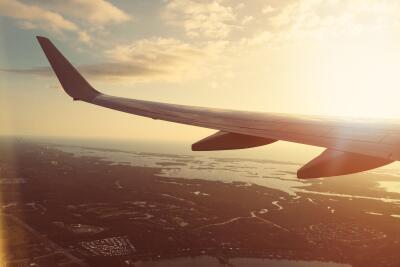 Eating on the Run: When Athletes Travel
Travel is part of life. For some athletes, it's difficult to find the right foods when you're on the road for your job, competition, or family vacation. Whether you're pulling off the highway or running through the airport, these options will help keep your nutrition on track when traveling.
If traveling by car, bus, or train:
Pack your own food and healthy snacks. The two main reasons you want to do this are to prevent food-borne illness and minimize GI distress while traveling. Non-perishables should be placed in a cooler and everything else in non-glass containers or resealable bags; careful with fruit since it can be easily bruised. It's often better to buy fruit fresh when you arrive at your destination. Ziplock bags can store salad, bagels, leftover cooked oatmeal, uncooked oatmeal with chia seeds, nuts/seeds, and cacao nibs, breakfast cereal, and snacks items.  Once you arrive, use resources available to you in your hotel room – such as microwave, refrigerator, coffee maker (a coffee maker can also be used to warm water for tea or oatmeal).

Pack a water bottle.

Be careful to not overeat.
If traveling by air:
If traveling across time zones, start adjusting sleep and eating times a couple days in advance to allow your body clock to adjust.

Airline meals are not the most nutritious, so pack healthy snacks in a carry-on bag or choose vegetarian meals which are usually a healthier and fresher option.

Stay well-hydrated.

Limit caffeinated and alcoholic drinks as this can impact hydration levels and sleep cycles.

Plan your meals by competition schedule and plan ahead. Stick to what you know.
 If you need to eat out, here are some healthy options at national restaurant chains:
Chick Fil-A:

Grilled Chicken Cool Wrap                   

Panda Express:

Broccoli and Beef

Papa John's:

Mediterranean Veggie Pizza            

Moe's:

Burrito Bowl

Denny's:

Loaded Veggie Omelet                                              

Chipotle:

Burrito Bowl

Burger King:

Grilled Chicken Sandwich                  

Taco Bell:

Fresco Style Crunchy Beef Taco

Starbucks:

Sous Vide Egg Bites                                  

Pizza Hut:

Veggie Lovers Pizza

Subway:

Roast Beef and Provolone Sandwich     

Hardee's:

Charbroiled BBQ Chicken Sandwich

Panera Bread:

Fiji Apple Salad with Chicken                        

Five Guys Burgers and Fries:

Little Hamburger

Wendy's:

Apple Pecan Chicken Salad                    

Dunkin':

Wake-Up Egg White Wrap
Note: Mexican, Chinese, Italian, and Indian cuisine offer many healthy entrees. Avoid anything fried, creamy, cheesy, and supersized.
** Katina's Top Pick: Core Life Eatery – A fast-casual restaurant with roots in CNY that is now a national franchise.
Use your favorite restaurant app, such as Yelp, to find restaurants and look-up menus online. Additionally, look for larger grocery chains such as Wegmans or Whole Foods that offer healthy food on a hot bar. Take-out or eat-in. Take-out meals should be eaten within 2 hours of purchase.
Eating on the Run: Build Your Own Nourish Bowl at Home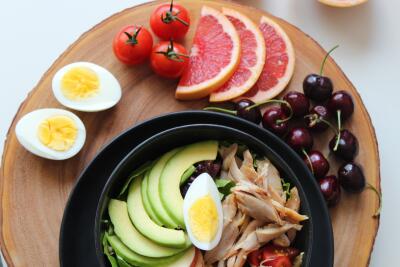 Notice the recent trend in new fast-casual restaurants? There's a surprising number of "build-your-own bowl" establishments popping up that allow consumers the freedom to create their meal. There's a lot of simplicity in this style of eating and not to mention, benefits as well. No need to go out; try building a nourish bowl in your own kitchen. You can: easily create balanced meals, build-it-as-you-like it which helps solve weeknight family meal disputes, use leftovers, make it vegetarian, vegan, or something else, eat by the season, and make it Southwest, Asian, Thai or you get the picture.
Here's your formula for building a tasty and nourishing bowl at home:
| | | | | | |
| --- | --- | --- | --- | --- | --- |
| Step #1: Pick your base | Step #2: Add colorful veggies (raw, cooked, or both) | Step #3: Select a Protein(s) | Step #4: A handful of healthy fats | Step #5: Finish with a sauce | Step #6: Top if off with  a garnish |
| Rice (any type) or rice noodles | Arugula | Beef | Avocado | Pesto | Fresh herbs |
| Pasta (regular or GF) | Bok choy | Chicken | Olive oil | Salsa | Lime wedge |
| Spaghetti squash | Beets | Turkey | Nuts (any kind) | Hummus | Sliced olives |
| Quinoa | Bell peppers | Pork | Hemp seeds | Romanesco | Sesame seeds |
| Millet | Broccoli | Fish | Sunflower seeds | Miso | Scallions |
| Other favorite grains | Carrots | Peanut butter | Pumpkin seeds | Sriracha |   |
|   | Greens (collards, spinach, kale, chard) | Tofu or tempeh |   | Hot sauce |   |
|   | Red or green cabbage | Cheese |   | Vinaigrette |   |
|   | Endive | Eggs |   |   |   |
|   | Green beans | Beans |   |   |   |
|   | Squash |   |   |   |   |
|   | Tomatoes |   |   |   |   |
|   | Onion |   |   |   |   |
|   | Sweet potatoes |   |   |   |   |
|   | Brussels sprouts |   |   |   |   |