By Jessica Leifer (and a few interruptions from Jon Leifer)
Reflections before my 9th running of the Goat!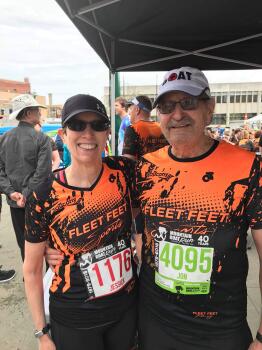 Jon, fondly known as the Old Goat, and I met at a singles sports weekend in 1982 which was comprised of tennis and running!  Of course, once we started dating, I had a built-in running partner.  Jon had already run four marathons.  We have continued running together on and off since then (me mostly off due to terrible shin splints).  I realized that I needed to focus on my health and decided to start running again.  This time I hired a trainer to help me get fit and Jon helped train me to run again.  Six weeks after I started this, at age 59, I ran a 5K – and no shin splints!  I haven't stopped since.
Even though Jon said he was finished with racing and just wanted to run without any pressure, he ran the Syracuse Half Marathon presented by Byrne Dairy with me in 2018 because I had a tough year with running due to some lingering injuries.  That was true love! 
At age 65, I ran my first marathon.  The Old Goat chose to run the companion 5K along with my son-in-law.  They showed up at various spots along the course, along with my daughters, to cheer me on.  The good news was that all three of us placed first in our age group.  The bad news was that I paid the price for it in pain and suffering, and it is highly unlikely I will ever run another one. 
On Sunday, at age 68, I will be running my ninth Dunn Tire Mountain Goat Run, and Jon, at age 80, will be running his eighth.  He blames it on the "Kool-Aid".
Age is just a number, and it is how you feel that counts.