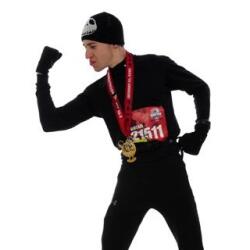 Name: Brian
Programs: 1/2 Marathon & Marathon
Running Start: "I started running in middle school when a teacher took me to my first 5k. Even though I enjoy the competition aspect, I also learned to enjoy simply training. For me, running was a chance to work hard and create results that would stand out to people who had written me off as an underdog. 'You can't do this/that' and 'Even if you get a chance to you won't, because you're not good enough' was always in the back of my head. I wanted to turn that frustration into something positive, and that's what kept me going through both Cross Country and Track in high school and Cross Country at Barton College in Wilson, NC."
Now: "Nothing's changed from then to now. Every time I step up to a line at a race I'm running against my own demons and doubt. That fire helps me through the tough times of training and keeps me focused. I've gravitated to longer race distances over the years (13.1, 26.2, and 50k) but I'll forever be that kid that just loves to hit the streets and run."
Cross Training: "My favorite cross training activity is spin class. I love the guided workout and group atmosphere. It's a great way to challenge the legs in different ways while cutting back on impact. I also enjoy heading to the deep end of the community pools and aqua jogging; that's a great way to get your legs back into a running motion if you're coming off an injury that has made you have to take a couple of weeks off."
Coaching Philosophy: "As a coach my main focus is helping people get out of their comfort zones. I thoroughly enjoy seeing someone realize they just ran farther or faster than they've ever gone. I'm not a drill sergeant but I am unrelenting in my encouragement. I try to help people surprise themselves and find their own reasons for enjoying something that has been, and always will be, such an integral part of my own life."

---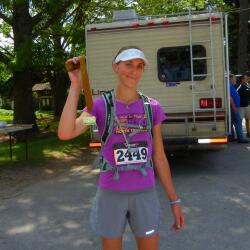 Name: Katie
Programs: 1/2 Marathon
Running Start: "When I moved to Raleigh, a friend that I met here was a runner, and I wanted to run with her. That gave me the motivation to get out the door and run my first two miles. I thought I was going to die, but I didn't."
Now: "I run everything from 5Ks to ultra marathons. It's not so much the competition that excites me or makes me want to race. It's the experience of being with friends and challenging myself. It's a bonus if the race is in a beautiful place. I run mostly trails, so I usually get some nice views."
Cross Training: "I do yoga about five times a week, either on my own or in a studio. I also do some strength training on the side. I like all kinds of outdoor activities."
Coaching Philosophy: I love sharing running with people. It makes me happy to see them progress and meet their goals. What I tell new runners who are looking to improve their speed is, Don't be afraid to leave it all out there on a hard workout. It's a mental game. Your mind sometimes tells you to stop or take it easy, but you have to work past that. Once you do, your runs will feel so much easier."
---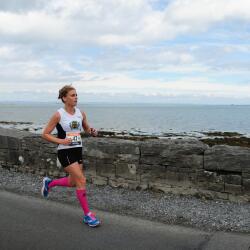 Name: Natalie
Programs: 1/2 Marathon
Running Start: I began running in high school just for fun after seeing my Dad run marathons and ultra marathons growing up. We continued running together and over time I began to understand the importance of regular exercise. I believe running should be fun or it will become more of a chore than a hobby. Running is both my personal reflection time and social time with friends -- two of the most important things!
Now: My favorite race distance is the marathon. I love the physical and mental challenges; the life lessons it has taught me; the friends I have made from it and the satisfaction that comes from setting a long term goal and working towards it to accomplish it. There is nothing better than seeing the moment that runners realize that they are capable of something they never before believed possible.
Cross Training: I love running, so it's hard for me to get motivated to cross train. I try to keep myself in healthy running shape by doing yoga, strength training and cycling when I can.
Coaching Philosophy: Training your brain is just as important as training your body. If you believe you are capable of success, then your body will follow (assuming you put in the miles, of course).
---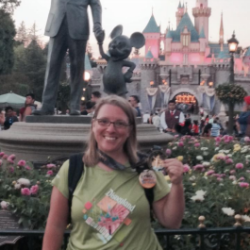 Name: Mary Ashley
Programs: Make it a Mile & No Boundaries 5K
Running Start: "When I was in graduate school, I felt that writing a thesis and working full time wasn't enough, so I added the challenge of training for a half marathon. At the time I had never run before or even completed a 5K. I started out slowly with 30-second running intervals, walking in between. Eventually I gained stamina and confidence in myself and completed my half marathon running 4-minute intervals with a 1-minute walk. After the high of completing my first race ever, I was hooked! I am a true interval runner and love everything about it!"
Now: "I have completed 10 half marathons including my Coast to Coast with Disney, along with countless 5Ks and 10Ks. I enjoy the camaraderie of the running community and the feeling of accomplishment after completing any race. Running has also had many health benefits. I have a blood-clotting disorder. Before I started training, I was inactive and on the verge of having complications. Without running I don't know where I would be!"
Cross Training: "I love strength training, kickboxing, and yoga."
Coaching Philosophy: "I love sharing my story with anyone who will listen, and I tell them that running is for everyone no matter your starting point. I always try to tell people that it doesn't matter how fast you are going—whether it's a 7-minute mile or a 14-minute mile, a mile is a mile. They are out there on the road or trail for them and no one else; it is their run and theirs alone. Lastly I try to tell everyone that your body has a natural running pace and to listen to your body."
---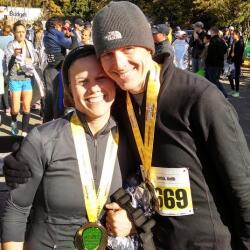 Name: Gina
Program: No Boundaries 5K
Running Start: "I discovered my love for running in 2001 when my sister-in-law inspired me to run the Chicago Marathon with her. It was one of the toughest things I had ever done and I went through so many emotions that day. The joy of finishing was so rewarding. I was hooked."
Now: "My running goal is to continually challenge myself with a variety of race distances and venues. When it comes to coaching, I want my experiences and passion for running to help and inspire others in achieving their running goals."
Cross Training: "I do a barbell class and yoga once a week. Occasionally I hop on my bike and ride through Umstead—or sometimes just to Whole Foods for a treat.
Coaching Philosophy: Running is not about how fast you are or where you place in a race. It's a journey that can reward you with new confidence, experiences, and friends.
Sound like fun? We're always looking for great coaches. Click here to apply.
Program Start: ex: Sunday, January 18th, 6:00pm
Program Fee: ex: $100 excluding race fee