Summer is here!  We hope to see you this week!
Tue May 28- No Boundaries Summer 5K & 10K Info Session, Fleet Feet Sports, 7:30pm
Wed May 29- Free Group Run, 2-5 miles, Fleet Feet Sports, 5:45pm-all paces welcome
Thur May 29- Free Laurel Tavern 5 Mile Pub Run, Monroe St Madison, 6:00pm-all paces welcome with social hour following
Sat May 31- Summer Half Marathon Training Kick Off, Fleet Feet Sports, 8:30am
Sun June 1- Event Lake Mills Triathlon, Sandy Beach Park, Lake Mills, 7am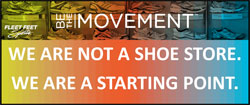 It's going to be a great week!