Services Options
Running, walking, hiking and general exercise has increased for many this year and the importance of the right gear has never been higher. We are here to help you and we have a number of options to serve you based on your comfort level and local and state health guidance.
In-Store Shoe Fitting
We do cap the number of customers that can be in the store at one time to ensure social distancing. All guests will be asked to wear a facemask for your protection as well as that of our employees. We have implemented extensive store-cleaning and re-cleaning measures and we have safety and cleanliness in mind for you and our employees at all times.
No appointment is necessary, however because of the capacity limit we do encourage you to schedule an in-store shoe fitting appointment - or be willing to wait for an opening if you do not have an appointment.
Curbside Service
Call either Fleet Feet Sun Prairie

(608) 834-9999

or Fleet Feet Madison

(608) 833-9999

to place your order over the phone.
Our outfitters will safely package your order and send you a message when it is ready for pickup.
Head to the store, and let the outfitter know you are on the way.
An outfitter will bring the order outside and leave it right outside your car.
Online - you may also shop online and select curbside pickup instead of shipping - click on the Search button in the top menu
Virtual Fitting Appointments
Virtual Fitting Appointments for both our Fleet Feet Sun Prairie and Fleet Feet Madison locations will take place with an Outfitter at Fleet Feet Madison. However, curbside pickup, shipping and in-store pickup for these Virtual Fitting Appointments will be available at the store most convenient for you. Thank you for understanding!
If you are not comfortable visiting us in store, you may schedule a one-on-one virtual shoe fitting! Here's how it works:
Schedule an Appointment: Click here to schedule your virtual shoe fitting. You will receive a text with a link to join a Zoom video call when it is time for your appointment.
Join the Zoom Video Call: If you've been running or walking already, have your current shoes handy when you log in for your one-on-one virtual shoe fitting. If you're just getting started, be ready to talk about your current exercise routines and goals.
Talk Live With a Fleet Feet Outfitter: Through chatting with one of our shoe experts about your activities and current shoes, they'll be able to help you identify your new favorite pair of shoes. If you have shopped with us before and used our fit id® 3D foot scanning technology, they will be able to pull up your most recent scan and review your shoe purchase history to personalize their recommendation even further!
Gait Analysis: Using the video features, the Outfitter will ask to see the tread on your current shoes to assess the wear pattern and ask to watch you walk so they can see how your body naturally moves through the gait cycle.
Shoe Recommendations: Based on your conversation, wear pattern and gait analysis, the Outfitter will introduce you to a few options they know you'll love, and they will help you pick your next pair.
Select Your Delivery Method: Once you have found your shoes, choose how you'd like to receive them - pick up, delivery or shipping.
Uncomfortable or High Risk?
If you are still uncomfortable shopping in-store during our normal business hours or are considered high-risk for the virus, please call our Madison store 608-833-9999 and we can schedule an appointment for you outside of our normal business hours. We can schedule this at either the Madison or Sun Prairie store.
Questions on any of the above?
We are here to help! Please call the Madison store at 608-833-9999 or the Sun Prairie store at 608-834-9999 or email jessica@fleetfeetmadison.com
---
Whether you are looking for a new pair of training shoes, wetsuit, heart rate monitor, guidance on selecting the proper sports bra, or nutrition and hydration, our staff will help you make an informed decision on the products best suited to your needs. Before we make any product recommendations we take the time to fully understand and evaluate your needs.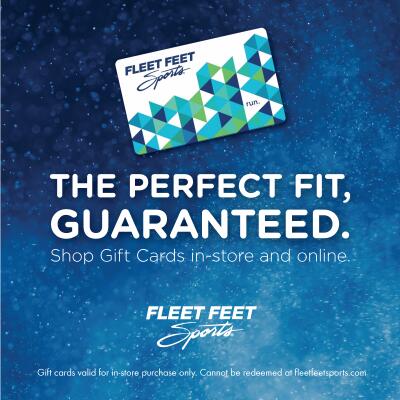 Gift cards are available in any amount and are the perfect gift! Available to purchase in our stores or online. (Redemption must be made in Fleet Feet stores only)
---


Get a $15 voucher for every $150 you spend with us. Our way to say Thank You!
Our product lines are constantly changing, so visit our stores or visit us online to check out all we have to offer!
Footwear
Apparel
Sports Bras
Accessories

Injury Treatment
Recovery Products
Injury Prevention

Hydration
Nutrition
Sunglasses
Wetsuits & Rentals
Lots More