Our Turkey Trot Training is a coached & organized 8-week group training program. Our goal event is the Appleton Turkey Trot 5-mile distance.
Our programs are progressive in nature, with each week building upon the last - slow, steady and consistent! We encourage participants to be able to complete 2-miles (walking or running) prior to joining this program; we want to avoid any risk of injury so people truly getting started should contact Running Club Manager Emma (Emma@fleetfeetfoxvalley.com) for alternative training opportunities.
This program requires that participants wear reflective gear and lights for all group workouts. Examples of suggested tools will be shared and there is a safety sack participatns can borrow from in the instance that they forget their gear. Participants that regularly come unprepared may be asked to stay back for their safety.
The first Official Group Workout is Monday, October 7
2 weekly group run/walk opportunities: Monday 6:00PM and Thursday 6:00PM both starting at Fritse Park in the Village of Fox Crossing. We also provide the full workout schedule for all non-group training days so that you can keep your weekly mileage.
NEW IN 2019, sign up BEFORE the first night and receive a pair of Thanksgiving Goodr Sunglasses with your registration (a $25 value).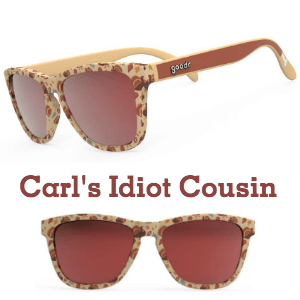 Fully supported group runs and walks complete with hydration stations, turn-by-turn routes, and our PASSIONATE AND KNOWLEDGEABLE team of Mentors.

Comprehensive weekly newsletters, guest presenters on a variety of topics including nutrition, motivation, injury prevention and more.

Access to our Running Club Manager, our Coaches, Mentors and in-store Fleet Feet team (via phone, email, Facebook). After all we are one big family and we are here for you!
GOAL RACE: Appleton Turkey Trot, Thanksgiving morning (Nov 28 at 8AM)
GROUP WORKOUT DATES:
Week 1: Oct 7th and 10th

Week 2: 14th and 17th
Week 3: 21st and 24th
Week 4: 28th and 31st
Week 5: Nov 4th and 7th
Week 6: 11th and 14th
Week 7: 18th and 21st
Week 8: 25th and RACE DAY 28th!
Registration & Pricing
8-WEEK TURKEY TROT TRAINING -- $55 REGISTER NOW

REGISTRATION CLOSES Friday, October 18, 2019
PROGRAM COST:
REGULAR RATE: $55*
*does not include race registration
Turkey Trot 5-Mile Program More Info »
Program Start: Monday, Oct. 7
Program Schedule: Twice a week, Monday/Thursday, 6PM
Program Fee: $55 (excluding race fee)
Description: No Boundaries is a coached & organized 8-week group training program. Our goal event is the Appleton Turkey Trot 5-mile distance.