Meet the Owners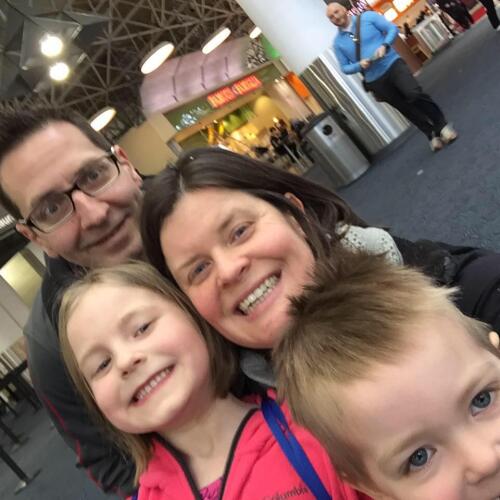 Jeremy and Leah Schapiro, Co-Operators, were thrilled when the opportunity presented itself in the Summer of 2009 to move back to Wisconsin. Fleet Feet Sports Fox Valley, the third franchise location in the state of Wisconsin, officially opened its doors in November 2009.
Jeremy brings his years of community involvement and Fleet Feet Sports management expertise to Fleet Feet Sports Fox Valley. He has considered graduating from running half-marathon distance events to a future marathon, but in the meantime enjoys selecting races based on the crazy race shirts. Prior to becoming a local business owner, Jeremy worked for the YMCA and the American Red Cross in Youth Programming, Community & Volunteer Programs, and Operations Director. He has a vast knowledge of industry best practices, having been involved in early development and testing of shoes brands and rubbing elbows with some of the best in the industry. Jeremy currently sits on the Board of Directors for the Snowdrop Foundation of WI.
Leah's involvement with Fleet Feet Sports began more than 20 years ago as a volunteer and active member of her local running community. Seven-time marathon finisher and four-time Ironman (most recently September 2016), she now urges people to consider the impact that non-running choices can make to improve fitness success. Prior to the business, Leah worked at the United Way, the American Red Cross (where Jeremy and Leah met) and has held many non-profit positions here locally, including sitting on a United Way Impact Area council, as one of the founding members of the Girls on the Run of Northeast Wisconsin (most recently in the Board Chair position), and stepped away briefly from Fleet Feet Sports to hold a full-time position with the Fox Cities Chamber of Commerce, supporting other local small businesses in finding tools and resources to support their business goals.
Jeremy and Leah love engaging in the Fox Cities community and supporting others' fitness goals. In February 2011, they welcomed Lucy Olive, the cutest little Appletonian on the block. In April 2014, they welcomed Lucy's little brother Dylan Bernard to the family. The kids are the joys of their lives and the reasons they love to go to work AND to come home each day.
Stop in, say hello, and let Leah and Jeremy show you around the store!
Employment Opportunities
Our team members are our most valuable asset. We go to great lengths to look for amazing people that are willing to put others first and motivated to continually learn how to better serve our customers.
Fleet Feet Sports is a fun and rewarding place to work for people that have a passion for quality service and providing an exceptional customer experience. We want good people to join us, stay with us and grow with us.
If you are interested in a full or part-time position on our team, send your resume to staff@fleetfeetfoxvalley.com.
Locations
Fleet Feet Fox Valley
3404 W College Avenuew
Appleton, WI 54914
M-F: 10am - 7pm
S: 10am - 5pm
Su: 12pm - 4pm

View Store