A Humble and Unconventional Beginning
It all started in 1972 when two friends and school teachers, Sally Edwards and Elizabeth Jansen, decided to open the first Fleet Feet store. From that single store located in Sacramento, CA, on the second floor of an old Victorian, Fleet Feet has expanded to become the hub of running communities across the country. On June 1st, 2021, the 45th anniversary of that first store's opening, current Fleet Feet CEO Joey Pointer sent to the employees of 185 Fleet Feet stores a synopsis of the brand's 45-year history. Click here to read it and learn why Fleet Feet is such a special business.

Fleet Feet comes to St. Louis
In late 1992, after lifelong runner David Spetnagel had worked as an aerospace engineer for both NASA and McDonnell Douglas, he convinced his wife, Debby, to turn running - their hobby and passion - into their second careers. On April 12th, 1993, they opened their first franchised Fleet Feet store in St. Charles. At the time, there were only 18 Fleet Feet stores. In the early years, in addition to working at the store David coached at St. Charles West high school and then Lindenwood University - and Debby worked as an accountant at Mallinckrodt. Both of them also coached marathon training teams for the Arthritis Foundation, the Wellness Community, and other charities. David also served as President of the St. Louis Track Club and the St. Charles Runners Club and for nearly a decade was a Senior Writer and a Special Contributor to Running Times Magazine, responsible for coordinating the wear- and lab-testing for the magazine's road shoe reviews. He also served as an Executive Board Member for the Ozark Association of USA Track & Field and as a member of Fleet Feet's Franchise Advisory Council. Perhaps most importantly, David created the Footwear Identification Tool (aka, FIT), a groundbreaking software application first used by Fleet Feet St. Louis Outfitters to match runners and walkers with shoes that meet their individual fit and feel needs. Using technology to improve shoe fittings is now a hallmark of Fleet Feet's nationwide Fit ID process.
In 2001 David and Debby opened a store in Chesterfield, in 2008 Fleet Feet opened its doors in South County, and on the 20th anniversary of the opening of their first store, they opened Fleet Feet Des Peres. In 2014, Fleet Feet opened up in O'Fallon.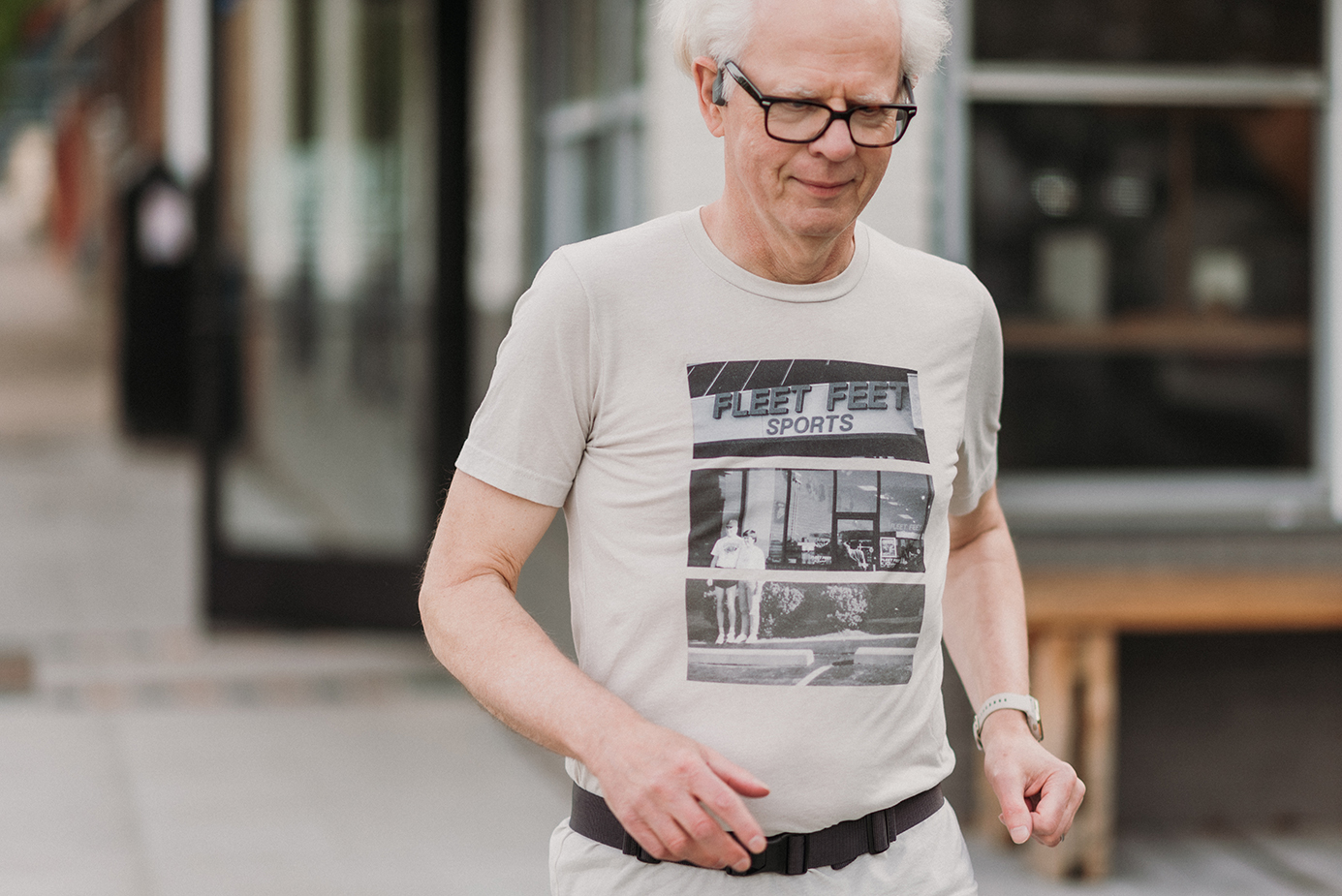 Fleet Feet St. Louis proudly occupies a special place in the history of Fleet Feet. Since it opened its first store more than 230 Fleet Feet stores have joined them in the mission of inspiring and empowering people to move more comfortably. Their position as "Fleet Feet OGs" was honored in 2021 when a photo from their first day in business was used to create a shirt for Fleet Feet's Heritage Collection, a nationally sold collection of apparel celebrating the 45th anniversary of the Fleet Feet brand.

The continuing success of Fleet Feet St. Louis is a direct result of its terrific employees, each of whom is dedicated to delivering consistently excellent customer service. Their commitment is reflected by the positive feedback that is submitted daily by customers - and by the many other industry honors that Fleet Feet St. Louis has received over the years.