Register Now Race Instructions
Results & Photos Volunteer Sign-up
The 22nd edition of the Quivering Quads Trail Race will be held on Sunday, March 7th, 2021. This year's event features a 15K and half marathon distance. Both courses feature incredible Ozark-like bluff views.
Participants can choose from multiple swag options, a hooded tri-blend long-sleeve pullover, or this year's premium item, an embroidered flannel shirt Half marathon & 15K finishers will receive a custom medal. Registration is limited for the event. Please reference below for distance cutoff times before registering.
All participants receive: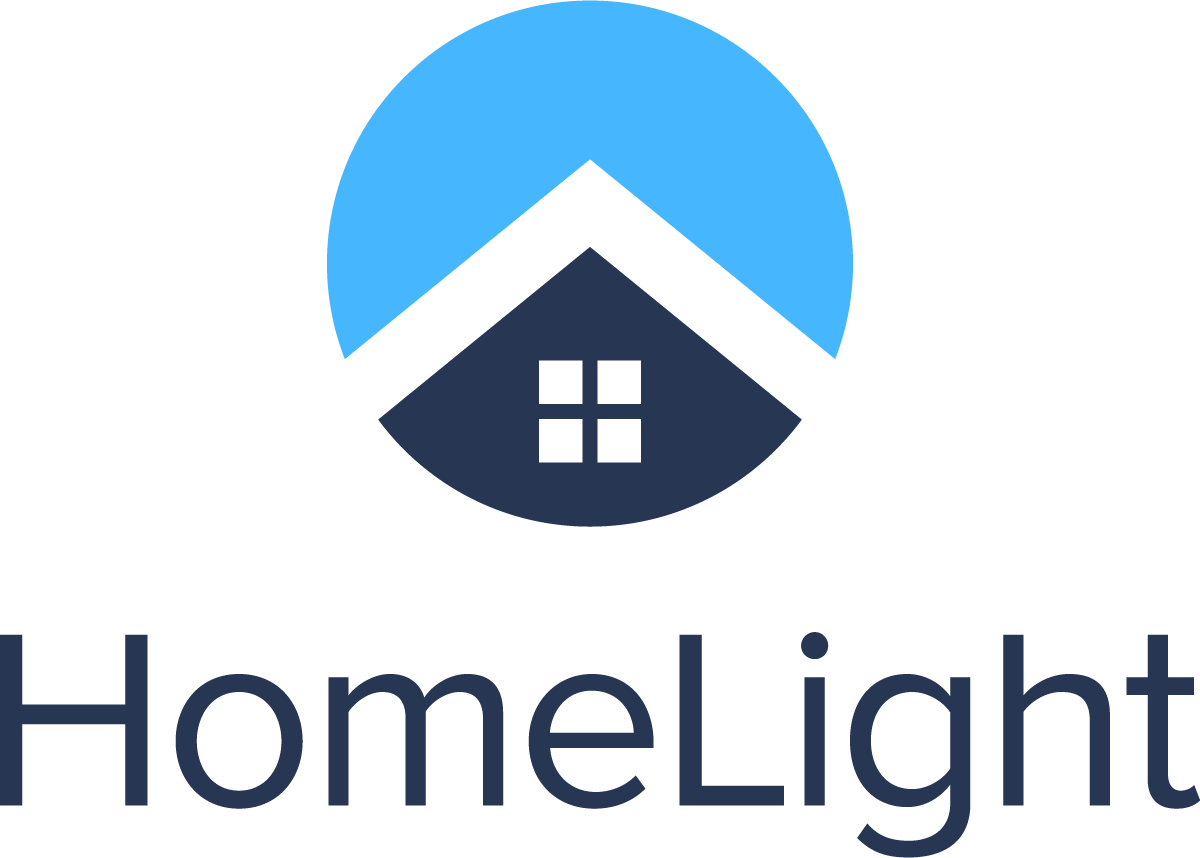 Choice of swag
Custom finisher medal
On-course aid stations
Text results within 30 seconds of finishing
DATE/TIME | Sunday, March 7th, 2021
13.1M & 15K | the first wave starts at 8:00am
LOCATION AND COURSE -
Cuivre River State Park is located in Troy, Missouri. Runners are sent onto the race course in waves of 30-35 that have been seeded according to their predicted pace for their road half marathon & 15K.
This year's course will include incredible bluff views. Along the course, runners can expect wide fireman roads, narrow single track trails, rolling hills, steep climbs (but not too many), and creek crossings through the bottomland forest of Big Sugar Creek. Participants should also expect to experience your average midwest rocks, roots, mud, along with some spectacular wildlife. The striking views along the course will remind you of the famous Missouri Ozarks. The course offers new challenges for every level while enjoying the amazing scenery.
Dogs are not permitted on the course or in the race.
COURSE MAPS

SWAG
We are bringing back the pick your swag option! Participants can choose between a hooded tri-blend long-sleeve pullover or a flannel shirt. Swag is guaranteed to those who register through 2/15/2021.
Hooded Tri-Blend Long Sleeve Pullover

: This fan-favorite is back! This hooded tri-blend pullover is guaranteed to become one of your go-to items for everyday wear. Available in unisex sizing XS-2XL. Sizing Chart.
Flannel Shirt: This premium yarn-dyed long sleeve flannel shirt features a traditional buffalo plaid pattern. A custom 5.4oz 80/20 cotton/polyester blend features two flap pockets and a custom event embroidery on the upper left arm. Available in gender-specific sizes S to 2XL. The flannel is a premium item, choose it as your swag item for an additional $18, or get both the hooded tri-blend pullover and the flannel for an additional $40. Must register by 2/15 to receive the flannel. Sizing Chart.




REGISTRATION & FEES - To avoid overcrowding the trail and allow for safe social distancing, the event is limited to the first 400 registrants.


15K Registration Fees -
$53 | through 2/1
$59 | 2/2 - 2/15
$63 | 2/15-3/6
Half Marathon Registration Fees
$63 | through 2/1
$69 | 2/2-2/15
$73 | 2/16-3/6
FINISHER MEDAL & AWARDS
Half Marathon & 15K finishers will receive a custom medal
Half Marathon & 15K Awards will be given to the top three male/female overall finishers and the top three male/female in the following age groups: 19 & under, 20-29, 30-39, 40-49, 50-59, 60 & over.
PACKET PICK-UP | Your race packets and those of any friends and family can be picked up on...
Friday, March 5th | 10:00am - 8:00pm | Fleet Feet - Des Peres
Saturday, March 6th | 10:00am - 5:00pm | Fleet Feet - St. Charles
Sunday, March 7th | opens at 7:15am
If you are coming from out of town and cannot pick up your packet until race morning, please carefully read over the Race Instructions (coming soon) before race morning. Your swag and race number will be waiting for you at the race start.
CUTOFF TIMES
15K | 4.5 hours
Half Marathon | 4.5 hours
VOLUNTEERS | Interested in volunteering for Quivering Quads Trail Race? All volunteers will receive a hooded tri-blend long sleeve pullover. Have a group interested? Contact Jules (jules@fleetfeetstlouis.com) for more information and details.
THANKS TO OUR SPONSOR: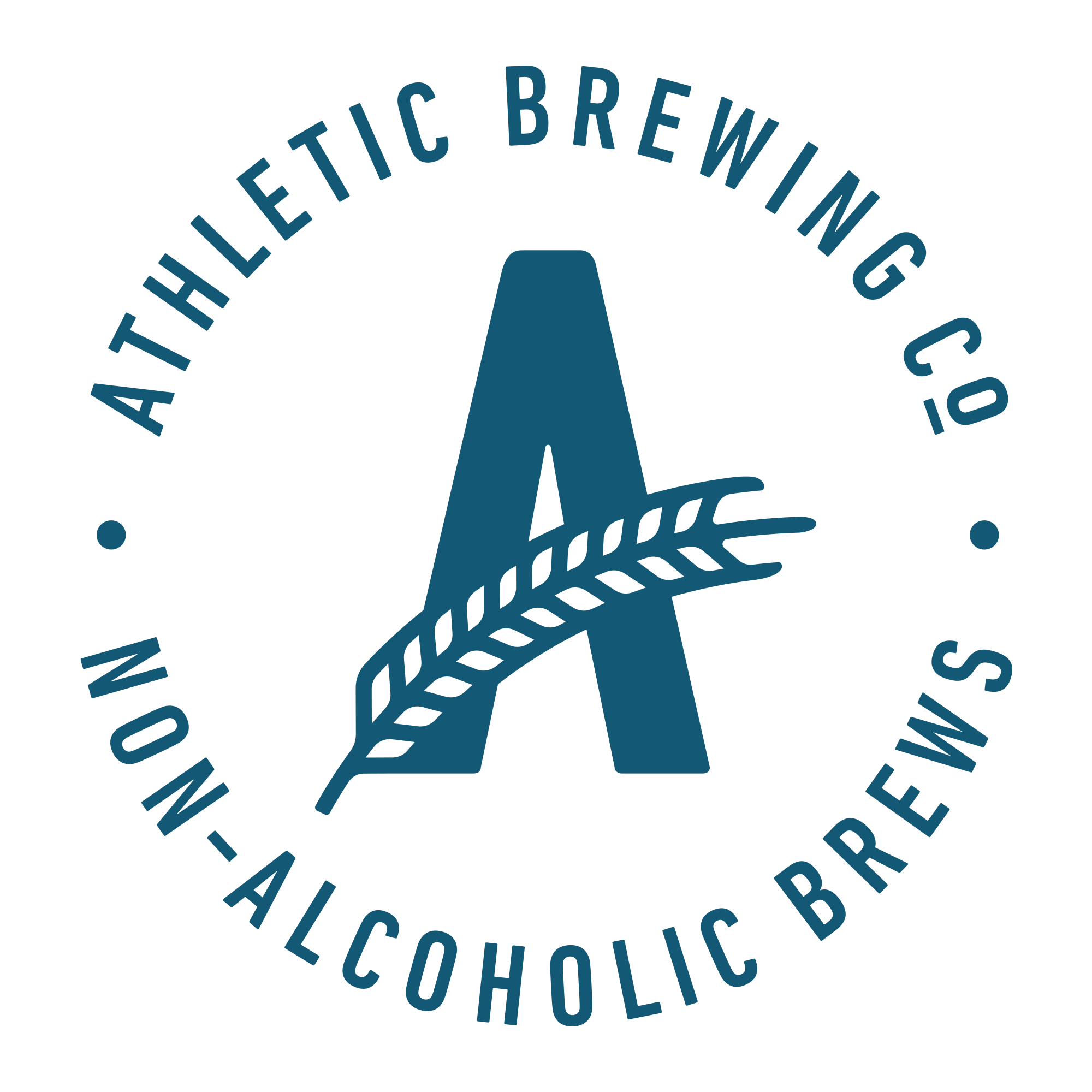 EVENT POLICIES & FAQ:
Are face coverings required? Yes, when not racing, all athletes, volunteers, spectators, and staff will be expected to wear face coverings. Face covers are required during warm-up and cooldowns when social distancing is not possible or whenever appropriate. Face coverings must be worn at packet pick-up and during shuttle rides.
No-Risk Registration - We understand these are uncertain times. Our intention is to host an in-person event. However, should the health situation change and we are unable to host the event, all runners will be able to defer to 2022 or run the event virtually. If the event is canceled prior to February 15, participants will have the option to choose between a refund, deferral, or to run the event virtually. Registration is only available online. In-person registration is not available at packet pick-up or race day.
Will there be on course Aid Stations? Yes, there will be on-course aid stations BUT with minimal supplies and support. We highly encourage and recommend participants carry all hydrations and nutritional needs in their running pack.
Will there be on-course support? Yes, we will have course marshals and traffic control on course. Athletic Trainers or EMS will be available at the finish line.
Are dogs allowed at the event or allowed to participate? We love dogs, but dogs are not allowed at this event or allowed to participate in the race.
Inclement Weather Policy: The safety of our participants and volunteers is our highest priority. If severe weather is present, we will post an update on the Facebook Event Page and at the top of this page by 6:00 am the morning of the event at the latest.
Health Survey: All participants will be required to complete an online health survey prior to participation and be negative for symptoms of COVID-19 in order to participate. The survey will be emailed out prior to the event.
Refund Policy - No refunds will be given after February 16, 2021. Processing fees are non-refundable. Entries are not transferable to another event but can be transferred to another participant. Transferring registration is allowed through March 1, 2021 A $3 processing fee will be applied to all refunds and transfers.
What if I have a positive COVID-19 test or show symptoms of COVID-19? If you have a positive COVID-19 test or are showing symptoms (click here for a full list of symptoms) we ask that you do not attend the event. Participants who fall into this category will be offered the following options; defer to the 2022 event, or participate virtually after their quarantine period. We will also offer the following refund option. If the request is received before February 16, the participant can receive a full refund minus the transaction fees, if, after February 16, 2021, participants with a positive COVID-19 test can receive a 50% refund or defer to 2022.
COVID-19 Status: Our intention is to be able to hold this event in person. We are working on plans to take all necessary precautions to make this a safe event during the COVID-19 situation based on the latest/greatest guidelines as the event approaches. As we finalize those plans and precautions and have them in place, we will include them in race communications closer to the race date. Participant safety is our number one concern, so if it is deemed unsafe to have an in-person event, the race will be switched to an all-virtual event. Should we have to hold the event virtually, we will automatically switch all participants to the virtual event and send details on how to obtain your race swag and submit your virtual times. If you do not want to participate in the virtual event, you can defer your entry to our 2022 event. We will contact all participants in the event that it goes virtual with further instructions.
QUESTIONS? | Contact Jules (jules@fleetfeetstlouis.com) or call our Race Productions office at 855-786-5945 x716.
SPONSORS | Interested in becoming a sponsor? Contact Jules (jules@fleetfeetstlouis.com) for more details about sponsorship opportunities!
ENDORSEMENT
QQ was endorsed in 2014 by Outside Magazine, who named it one of the six best Outside running races.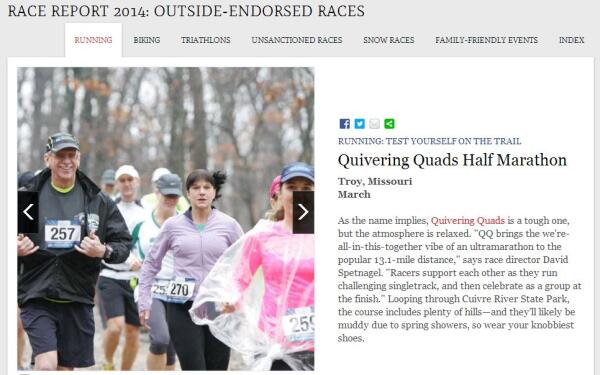 Quivering Quads History
In 1994, Fleet Feet Sports hosted the inaugural Quivering Quads Trail Runs within the boundaries of beautiful Cuivre River State Park. The unique event incorporated race distances of 10 kilometers, 13.1 miles, 50 kilometers and 50 miles. 175 runners entered the inaugural event, which immediately became a fixture on the St. Louis area's running calendar. By 1998, QQ was the largest trail run in Missouri and an event of some national prominence. The race was regularly featured in Ultrarunning Magazine and earned a mention in Kirk Johnson's 2001 book To the Edge, which documented the world of ultramarathoning. The race went into hiatus after 2003's 10th annual event so that Fleet Feet could attend to the growth of their Lewis & Clark Marathon and Half Marathon, which became Rock 'n' Roll St. Louis. In 2010, QQ returned as the Quivering Quads Trail Half Marathon.