Andy | Barb | Brandi | Hannah | Jodi | Kat | Kristine | Mariana
---
We demand the best from the Fleet Feet Running Club (FFRC) staff so they can demand the best from you. They hold certifications from the Aerobic & Fitness Association of America, the American College of Sports Medicine, the American Council of Exercise, the International Sports Science Association, the National Academy of Speed and Explosion, the National Academy of Sports Medicine, the National Strength & Conditioning Association, USA Weightlifting, and more. They are well-versed in human movement, exercise technique, program design, and nutrition. They help you safely reach your current goals and then appropriately set - and safely attain - higher goals. And they are experts at holding you accountable. We proudly present them to you below (in alphabetical order).
Brandi Barbre, Running Club Manager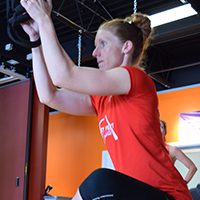 Running Club Manager Brandi Barbre has more than a decade of experience coaching athletic performance, prescribing corrective exercise, and conducting metabolic testing. She has trained thousands of post-collegiate runners over a variety of distances, hundreds of school-aged runners, and dozens of professional athletes (18 NHLers, 11 NFLers, 7 MLBers, and 4 MLSers). Brandi has a Masters in Exercise Science from Southeast Missouri State University, has earned ACSM CPT, NSCA CSCS, and USAW Sports Performance Coach certifications, and is a marathoner (28 fulls; 32 halfs) and triathlete (2 70.3s), herself.
Mariana Campbell, Flexibility Educator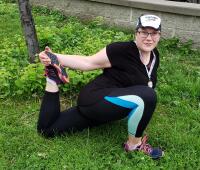 Mariana has a background in teaching group fitness since 2001. She is an American Council on Exercise certified Group Fitness Instructor and Personal Trainer. In 2004 that passion for group education moved into yoga and all the benefits that stretching and increased flexibility provides athletes. She is a Yoga Alliance of North America Certified RYT 200 Hour Yoga Instructor. She was a collegiate Volleyball and Water Polo player at Mount Holyoke College and post-college coached High School Volleyball in Minnesota. In addition to spending time at her lake house with her fur babies and husband, Mariana loves to meditate, travel, read, indoor cycle and make quilts. She is a transplant to St. Louis from Minnesota, moving here in 2012 for work and an opportunity to enjoy the "warm" Missouri winters. Since joining the Fleet Feet Team, Mariana has embraced the beginning stages of a love for running with training for short distance races.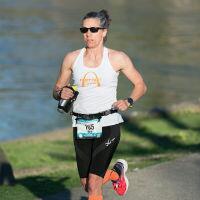 Barb Delgado has three loves: love of teaching, love of running, and the love of bringing the first two loves together. While a teacher (and coach) in the Fort Zumwalt School District, Barb received Teacher of the Year in 2005 and coached 3 State Champions and 16 All-State Athletes in Cross Country and Track and Field. Barb, herself, is a 7-time Boston Marathon Qualifier, the 2010 Little Rock Marathon Masters Champion, 3-time Quivering Quads Half Marathon Overall Female Winner, the 2013 Indiana Trail 50 Mile Overall Female Winner, the 2014 Berryman Trail Marathon Overall Female Winner (and former course record holder), and the 2015 Road Runners Club of America Regional Masters Half Marathon Champion.
Hannah has always had a passion for sports and fitness growing up, playing year-round sports and trying every sport available to her. She made the transition from soccer player to runner in 2015 and hasn't looked back. Hannah has a Bachelors in Exercise Science and a Masters in Sport Management from Missouri Baptist University. She will complete a second Masters in Exercise Physiology from Southern Illinois University Edwardsville in the summer of 2020. Hannah is a member of NSCA and ACSM. As part of Fleet Feet's Race Production team she creates, markets, and directs races throughout the St. Louis area. In her free time, she trains for half marathons, full marathons, and ultras. Hannah placed Second Overall Female in her first 50K at the 2019 UrbanICT.
Jodi Gilbert, Flexibility Educator

Jodi is a 200 Hour Certified Yoga Instructor who found adding a flexibility routine to marathon training helped her find more balance both on and off the mat. Jodi enjoys designing classes that develop physical strength and flexibility, while challenging students to bring more mental acuity to their practice, training, and life through awareness of breath. During the day, Jodi works at an area middle school as a speech-language pathologist. Off the yoga mat, Jodi enjoys traveling to dog shows, Chiefs football, baking sweet treats, reading, and all things summer.

Andy Koziatek, Coach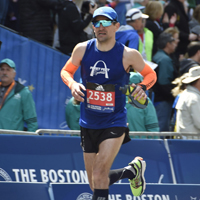 Andy Koziatek has a Masters Degree in Athletic Administration and Activities and is a USATF Level 1 certified coach. Andy's coaching resume includes stints at Marquette, Lindbergh, and Windsor high schools and William Woods University. During his tenures his high school athletes won a State Championship and multiple Conference, District, and Sectional Championships. At William Woods he worked with several Conference Champion teams, multiple All-Americans, and a National Champion. An elite runner, himself, Andy has marathon and half marathon PRs of 2:30:02 and 1:12:02, respectively. Andy is ideally suited to managing Fleet Feet's running and racing club and coaching Fleet Feet's trail running training program.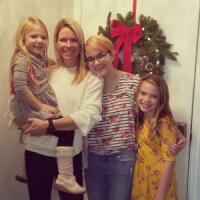 Kat's coaching career is the direct result of her personal love of sport and her desire to share that love with others. After getting her degree in Exercise Science, Kat has spent more than two decades coaching cross country, track & field, swimming, basketball, soccer, volleyball, and gymnastics. She has had - or still has - coaching/teaching affiliations with Andrews Academy (Lake Saint Louis), DeSmet, Immanuel Lutheran (Olivette), and Incarnate Word. Kat is a Level 1 USATF track and field coach, a certified USTA Safe Play instructor, and a member of both NSCA and MOAHPERD. In addition to her coaching work and raising her three active daughters, Kat competes in running races and triathlons and keeps up to date on gear by working part-time as a Fleet Feet Outfitter. Kat is also a graduate of The Improv Shop, so she keeps her trainees laughing, no matter how hard the workout!
Kristine Murphy, Licensed Massage Therapist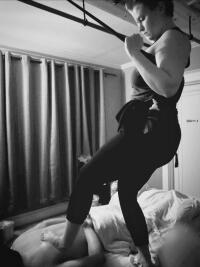 Kristine graduated from The Healing Arts Center in St. Louis with her certificate in Massage Therapy in July 2017, and was licensed as a Massage therapist shortly thereafter. Since then, she has taken Ashiatsu massage and learned advanced Sports massage techniques while working with the athletes of the St. Louis Football Club. "The focus of my massage is whole person wellness- whether you've had a long stressful day, and need to relax (long, deep strokes), or if you're training for an Ironman and need extremely deep tissue (to work out muscle adhesions and trigger points), my focus will always be on your comfort and end goals. By focusing on getting your body back into homeostasis, I will help you achieve your goals and feel your best. I'm experienced in working with variety of clients, ranging from professional athletes to young adults and geriatric."