They were in their blue flight suits. All six of them. Each pilot was driving his own car, windows down, and together they crept along Edison Road towards the Chesterfield Airport. Just ahead of this little motorcade, a lucky idiot ran down the same road, wearing hot pink wayfarers and utterly oblivious to the American royalty approaching her. 
That lucky idiot was me. 
I have always been enraptured by fighter pilots. I grew up watching Top Gun, albeit an edited-for-TV version my dad recorded on VHS. By the time I hit kindergarten, I was memorizing lines (which I then regurgitated on the playground) and dreaming up call signs for my friends. As I got older, my love for fighter jocks did not dissipate. When I was seventeen, I fell out the front door in an attempt to catch a glimpse of a jet flying over our house. As the roar rattled our windows, I caught my toe in the foyer rug and pitched headlong down our front steps, spraining my right knee. (I never saw the plane.) 
At airshows, I'd wave and yell as the F-14 Tomcat or the F-16 Fighting Falcon roared overhead. I felt fiercely, almost tragically patriotic. My mom's favorite jet was the Harrier, and we'd always try to sidle up as close to the fence as possible to see it hover mere feet above the runway. But I loved the dogfighters. No doubt, I was biased. 
Once, I got to meet the Thunderbirds—the U.S. Air Force's flight demonstration team—after a show. I was 8 or 9 and deliriously nervous. My hands were shaking as I held out a napkin to be autographed (I was unprepared for a meet-and-greet), and I asked them if the covert dogfights depicted in Top Gun really took place. 
"That's the Navy," one of the pilots said. 
"Oh, I know!" I said. "But do they?"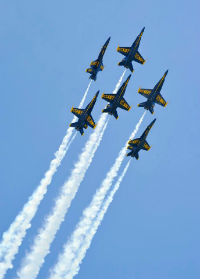 I don't know how old I was when I first saw the Blue Angels perform—still single digits, I believe—but at that moment, the F-18 Hornet became the love of my life. Specifically, the F-18s of the Blue Angels, the U.S. Navy Flight Demonstration Squadron. There was something about the crisp blue paint and the bright gold letters on the underside of the wings that made my heart flutter. To this day, when I see the Blue Angels, I don't know if I should cry or recite the preamble to the Declaration of Independence. Maybe both are appropriate. I was—and remain—love-struck.  
So when the Blue Angels came to St. Louis last weekend, a prime viewing spot was my number one priority. 
As much as I love airshows, I hate the traffic they inevitably generate. (I have no doubt the apocalypse will be ushered in by a plague of bumper-to-bumper traffic.) Thus, to avoid the chaos in the valley, I decided to park at Kaldi's and go for a run during the first half of the airshow. The Blue Angels wouldn't go up until late in the show anyway. I could squeeze in a handful of miles, meet my brother at the viewing location of his choice, watch the Blue Angels, and then run back to Kaldi's. 
The show had already started by the time I began stretching in the Kaldi's parking lot. A bomber was making a giant, lumbering loop overhead as I weaved my way through parking lots and around camps of people plopped in lawn chairs and sprawled on blankets, little airshow settlements strewn across the valley. 
I was four miles into my run—and about halfway down Edison—when I heard a man yell to his son, "Here come some more pilots!" Instinctively, I looked up and scanned the sky. There was a plane—World War II era, perhaps—in the distance. Assuming the man was referring to that, I turned back around and kept running. Only when a police car pulled even with me did I notice a trailing parade of sedans. Traffic was crawling, and they moved in slow but deliberate succession. One… two… three… 
I looked into the open window of one of the cars. A man was driving. He was wearing a blue flight suit. He looked at me. I looked at him. 
I was three feet away from the Blue Angels. 
Before I could gather (or further lose) my wits, one of the pilots leaned out his window and yelled, "Race you!" 
"GO!" I yelled back. I started sprinting. 
He revved his engine and pulled ahead. 
I was racing the Blue Angels. 
Racing. 
The Blue Angels. 
… 
I caught them at a stop sign fifty yards later. 
"You win this time," he said. 
"I… ah… eh…" I stumbled. I was too star-struck to speak. 
"No, seriously. I think you'll beat us there." 
"I… I love you!" I blurted. 
In retrospect, I neglected to capitalize on a wide range of alternative responses. I could have introduced myself, for instance. I could have said, my! What lovely weather we're having! Or how do you like St. Louis? Do you need any dinner recommendations? What are you doing later? Do you want to hang out? Will you be my best friend? Will you marry me? 
Instead, I professed my love, thanked them (repeatedly) for their service, and stood their smiling and waving, just as deliriously nervous as I was when I was kid. 
And then I started running again. And because of traffic, I passed them again, at which point I stopped again, professed my love again, and waved again. 
This process repeated itself three times. 
Eventually, I found my brother, and we joined the crowd of frontier spectators, watching from the valley below as supersonic jets thundered above us. When the Blue Angels finally took the skies, I was giddy with the thought that just an hour earlier, I had been face to face with my heroes. I couldn't help but wonder: which one was the pilot who challenged me to a race? 
Well, whichever one it was, at least he knows I love him.
---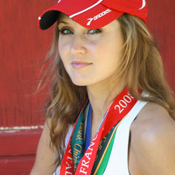 Amy L. Marxkors is the author of The Lola Papers: Marathons, Misadventures, and How I Became a Serious Runner and Powered By Hope: The Teri Griege Story.  Click here to receive Amy's weekly article via email.