No Boundaries is a 10-week training program designed to prepare people who are currently inactive or new to walking and running to complete a 5K (3.1 mile) race.
  This nationally organized and recognized program is sponsored by New Balance and offered by FLEET FEET stores across the country.  Tens of thousands of people have completed their first 5K through No Boundaries, thanks to the dedication of the professional coaches who oversee each program and the mentors who assist them. 
Beginning this year, No Boundaries head coaches from around the nation were asked to nominate exemplary mentors for Mentor of the Year honors.  Our Training Director, Brandi Barbre, nominated long-time mentor Roblyn Hatch.  Her letter of recommendation read, in part: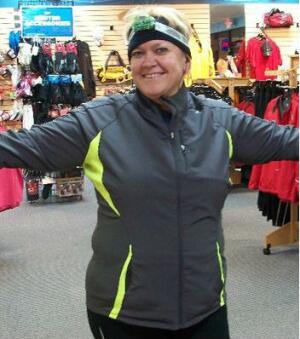 The foundation of FLEET FEET St. Louis' No Boundaries program would collapse without the dedication and compassion of Roblyn Hatch. She understands and whole-heartedly believes in the culture of FLEET FEET, the No Boundaries 5K training program, and the power of the running/walking lifestyle.
How has this culture affected Roblyn?
After the loss of her husband, Roblyn found No Boundaries. The 10-week beginning to run program helped her kick the not-so-healthy habit of cigarette smoking, shed over 100 pounds, and turn her focus from "why" to "What else can I accomplish? How far can I go? Who can I meet along the way?"
Now, Roblyn makes the 70-mile one-way commute two days a week to motivate current No Boundaries participants to join her in embracing the No Boundaries culture. She motivates, inspires, and simply radiates her love for the sport and for the program; a program that will help others answer the "whats, hows and who's" in their lives, just as it did for her.
The FLEET FEET St. Louis program is honored to have Roblyn as a mentor. She truly is a gem.
The five selections for 2014 Mentor of the Year honors were recently announced at FLEET FEET's annual conference by way of the following video.  In recognition of her efforts, Roblyn will receive an award certificate and an outfit and shoes from New Balance.  Congratulations to all five...but especially to our local gem, Roblyn.