Do you know your Personal Records (PRs)?  "Yes," you say?  But do you, really?  Setting a PR is entirely dependent on the accuracy of the race course.  If the course is short of its advertised distance no legitimate PR is possible, no matter how fast you run.  But how do you know if a race course has been accurately designed to go the distance?  You rely on the somewhat confusingly named organization: USA Track & Field (USATF).
USATF (whose name was changed from The Athletics Congress/USA in 1972 to help increase recognition for the sport of track & field) plays a wide-ranging role in ensuring that runners, walkers, throwers, and jumpers of all ages and abilities compete fairly.  Track & field events are obviously an emphasis, but so, too, are road running, cross country, mountain/ultra/trail running and race walking.  And they don't just care about elite athletes.  Youth, masters, and disabled athletes also garner special attention from this all-inclusive organization.  Perhaps their largest influence on most runners, however, comes from their commitment to certifying the accuracy of road race courses.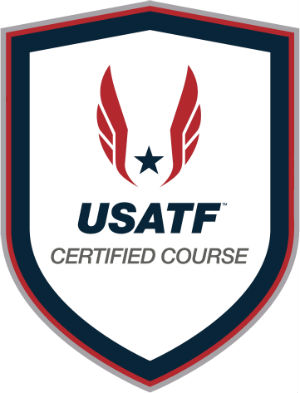 USATF-certified courses are guaranteed to not be short of the certified distance.  The certification process is quite rigorous, involving multiple calibrations of the measurement device, multiple course measurements made with strict tangent considerations, and even how the temperature may expand or contract the road surface and effect the measurement!  And not just anyone can certify a course; that must be done by a USATF-approved measurer who will be supervised by a USATF-approved certifier.  Needless to say, courses measured using GPS or car or standard bike odometers and/or by a non-expert simply do not have the same level of accuracy.
Unfortunately, finding a race to run on a USATF certified course is not simple.  You can search for certified courses on the USATF website, but the course names don't always match the name of the race you'll find on the race calendar.  I encourage all race directors using USATF certified courses to clearly designate the certification number on their race information - along with the USATF certified course logo, if possible.  And I encourage racers in search of a PR to look for these races.
As an example of the importance of accurate racing, let's consider a runner who has worked hard to legitimately break 30 minutes in the 5K.  If they ran 29:29 on a course that was measured using the simplified "5 kilometers = 3.1 miles" conversion used to lay out too many 5Ks - rather than the necessary 3.107 miles required to obtain USATF course certification - they really didn't break the 30-minute 5K barrier.  Their time on a certified course would have been 30:04.
I content that runners want to earn every PR honestly.  USATF is the organization that makes that possible.  If you're in the St. Louis area, I invite you to join the local USATF chapter, the Ozark Association.
---
Along with wife, Debby, David Spetnagel opened Fleet Feet Sports in St. Louis in April 1993 after previously working as an aerospace engineer for NASA and McDonnell Douglas. David has since served as Senior Writer at Running Times Magazine, President of the St. Louis Track Club and of the St. Charles Runners Club, Executive Committee member of USA Track & Field's Ozark Association, and cross country coach at both St. Charles West and Lindenwood University. Fleet Feet St. Louis has grown to include five stores and both training and race productions divisions. A runner since 7th grade, David takes greatest pride in the streak of 1006 straight days of running at least 5K (although, admittedly, most routes were non-certified) he completed in 2015 (when he broke his ankle while attempting to learn tennis).