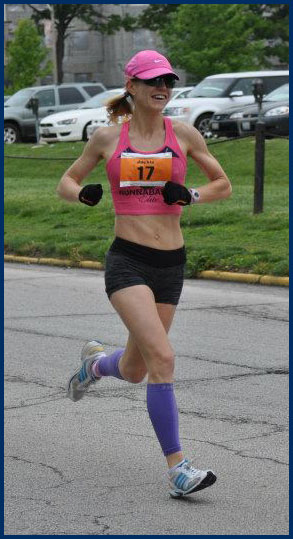 Speed, by nature, is flashy. Showy. Even a bit ostentatious. (Think fire engine red Ferraris and low, brooding Lamborghinis.) Speed is a superiority complex in a fancy package. It is elitist, turning up its nose at those it leaves flailing in its wake. Speed rarely inspires. Instead, it makes us acutely aware of our own inability to keep up, and we find ourselves spilling forth admiration even as we cough in the dust of being left behind. That is speed. Usually, anyway.
And then there is Jackie.
Jackie Pirtle-Hall walks through the doors of the Elite Athlete warm-up room, exactly one hour before the start of the Christie Clinic Illinois Marathon. She is dressed in black warm-up pants, a black jacket, and a hot pink hat. She is smiling. (She is always smiling, it seems.) Her easy, I'm-just-here-for-the-free-t-shirt demeanor belies her fierce competitiveness and is a refreshing contrast to the solemnity of the room. The dozen or so bodies that mill about in focused silence are studies in efficiency and control, every muscle and tendon visible and precise. Not a single movement is wasted, and one is left with no doubt that this anatomical economy will carry over into the grueling miles ahead. The room is relaxed, but there is also a tightness to it, as though the pent up speed and power cannot be repressed much longer. The scene is striking.
Jackie unzips her black warm-up jacket, revealing a hot pink tank that matches her hat.
"This is the hardest part," she says by way of comfort to another runner who is stretching next to her. "Right here. If you can survive this part, the rest is easy." She smiles with the irony of her statement. For while there's nothing easy about running a marathon—much less racing a marathon at breakneck speed—there is truth in her words. The anticipation is torture. Running is the outlet.
The weatherman has called for rain this morning, and Jackie laughs as she rips a hole in a black plastic trash bag and slips the bag over her head. It will keep her dry while she waits in the elite corral, inches from the start line. She pulls a pair of black, moisture-wicking socks over her hands, makeshift gloves made necessary by a cool front that swept across the Midwest just days before.
"I've been so used to 80-degree weather," she says, shaking her head. "I forgot my gloves."
Her friend and training partner, Lisa Lewis-Cary, dons a trash bag as well, and the two laugh at themselves in their Hefty-inspired couture. Someone offers to take their picture.
"Oh, yes! Please!" Jackie exclaims. "We never get to take pictures like this right before a race. We never have a camera with us."
The picture is taken, and Jackie and Lisa assess the quality of the shot.
"That's awful!" says Lisa, covering her face with her hand.
"That's awesome," says Jackie, visibly delighted.
One more gear check—watch ready, shoes tied—and it's race time. Two hours and forty-three minutes later, Jackie crosses the finish line, the top overall female.
For those keeping track, that's two marathon victories in as many weeks for the St. Charles native. Just thirteen days before clocking a 2:43 in Champaign, she won the GO! St. Louis Marathon, shattering the course record with a 2:42.
And yet despite her increasingly elite status, Jackie remains unpretentious and unaffected. There is no Ferrari engine-revving with her. Instead, her gratefulness and passion for running are evidenced by the delight she takes in the sport—trash bags and sock-gloves and all. Instead of focusing on the distance her God-given speed places between her and the marathoning masses, she focuses on what all runners share stride for stride: a wholehearted love affair with the miles. And in doing so, Jackie Pirtle-Hall invites us all into the elite field. Jackie's is a speed that inspires.
ALM: You smoked the course record at the GO! St. Louis Marathon with a 2:42 despite a tough course and hot and windy conditions. How did you feel?
JPH: I really just tried to maintain a steady pace on the flat and hilly terrains. Everybody kept talking about the hills and the weather. I made a decision not to let these variables get to me. Some runners increase the speed over hills in the marathon, but I have a different theory. I believe that pushing the hills causes lactic acid in the legs that will come back to haunt you in the later miles. A better strategy is to maintain that pace over the hill (and avoid building that acid in the legs) and surging just a little bit at the crest. I just focused on a smart, maintained pace.
The toughest part was the end of the course when I was alone with my head. I actually went the wrong way, but for only about five seconds. I sort of wished I had a biker with me. People may say, "How can you go the wrong way? The course is marked so well!" But when you are focused and racing, you need people out there making sure you are going the right way. I don't even remember the route of these marathons after I do them because I am so focused. My favorite part was tearing through that tape. I always wanted to have this experience. I also loved seeing my pops and my niece Alexandra McKameley holding a huge yellow flag at mile twenty-five. They were so cute.
ALM: Having run such a successful GO!, what prompted you to make a quick thirteen-day turnaround and race the Illinois Marathon?
JPH: I just wanted to experiment. I tried researching this, but there was no other experience I could draw from in which someone raced two marathons in less than two weeks. Well, I found out why of course: the last 10K was very hard in Illinois. But I also knew I was going to take a nine- to twelve-month break from heavy training. I figured why not try it out? (Once!)
ALM: You ran Illinois in 2:43, your second-fastest time ever. How did you feel?
JPH: It was great. I was just out for a run with the guys for the first sixteen miles, but then I was by myself from mile eighteen through the end (except for the biker who was responsible for staying with the first woman). I gained a friend at mile twenty-one after passing the other female in front of me. My pace stayed consistent, but my stride was choppy and forced since my body was not completely recovered from GO!. I kept saying, "See, Jackie? You wanted to see what this is like. Everybody called you crazy, and this is why!" This made me want to finish even more. Heck, I put myself in that situation, and I was going to finish it out! I couldn't quit; I would be in more agony knowing I didn't finish than being uncomfortable for forty more minutes!
ALM: You have such a great gift for running and always seem to be smiling, even while racing! What is the driving force behind your running?
JPH: I am grateful to be alive and able to move my body. Being able to do what I love and to do it well is such a gift. The fact is I am grateful and I never feel more alive than when I am really running hard. It is the best feeling to know you set a goal and finished out to the best of your ability.
ALM: What's next on the schedule for you?
JPH: Time to rest and recover my body. I have had a full three years of solid training with no interruptions. It is time to really rest and restore my body before really giving it a go in the 2016 marathon Olympic trials.
ALM: Okay, role-play time. You just hit a wall in your race. What do you tell yourself to push through it?
JPH: Pain is temporary. Giving up will live with me forever
(Photo is of Jackie Pirtle-Hall running the Christie Clinic Marathon by Brent Newman.)