Fall Training Programs Start Soon 

When Lucius Washington was faced with a crisis in the movie Talladega Nights, he beckoned to all around, "Who wants to go fast?!?!"  I hope you will be my Ricky Bobby and respond, "I wanna go fast!"  
The start of our Fall 2013 Half and Full Marathon Training program is just around the corner.  With our three-tiered training program (novice, intermediate, and advanced), we have got you covered, no matter what "fast" means to you. We will be training half marathoners who want to finish in between one-and-a-half and three-and-a-half hours.  Our marathoners will run between three and five-and-a-quarter hours.  Click here to register or learn more.
---
Memorial Day Civil War

Let's get ready to Rumblllllllllle!  Yes, I am throwing down the gauntlet.  Memorial Day is known for BBQs, a day off from work, and the Highland Biathlon.  This year, I propose adding to the mix a challenge between members of the FLEET FEET Racing Team and the FLEET FEET staff.  Join us at the Highland Biathlon and we'll age/gender-grade the 5M run (whether you run it as an individual or as part of the biathlon) and score it like a cross country meet (1st gets 1 point, 2nd gets 2 points, etc.).  The team with the lowest top 5 wins.  Everyone racing for the winning team (not just the scorers) will win a prize and, more importantly, bragging rights until the next throw-down.  So, sign up your family, friends and ringers for the Highland Biathlon or 5M Run.  Before the race, email Coach Cary with your intent to participate or sign in at the FLEET FEET bus on race morning...and be sure and come back after the race for the scoring results and the post-race tailgate.  Good luck, have fun, and may the best team win. 
---
Tip of the Week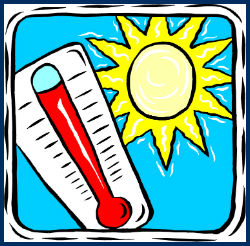 With Mother Nature moving directly from winter to summer this week, hydration is hugely important to your continued well-being.  Hydration is not just a "while you're running" or "immediately after running" thing.  It's a daily habit you need to develop.  As my high school coach used to say, "Camel up, boys."  We need to build the habit of consistently drinking throughout the day.  And water isn't enough.  We need to replace the electrolytes we sweat out during our runs.  Gu Brew and Nuun are excellent ways to help beat the heat and replenish those spent electrolytes.  Stop by any one of our four locations and our Fit Pros can help you design a hydration plan that will ensure that you replace the water and electrolytes you constantly lose during St Louis' crazy-hot summers.
Good Luck and Happy Racing.
Coach Cary