Nike Fall Favorites by Pete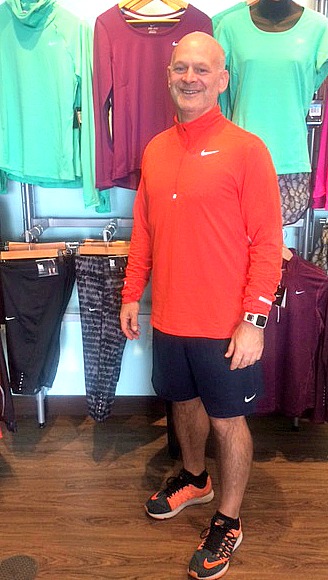 Nike Zoom Elite Running Shoes
If you have ever worn the Nike Pegasus over the last 30 plus years, you gotta try on the new Zoom Elite 8.  I had a great eight mile run in them with the 9:55 pace group a few weeks ago.  Zoom (responsive!) cushioning in the forefoot is great for the midfoot striker and long distance runner.  This isn't your uncle's narrow Nike shoe either.  The forefoot is roomy enough for even my challenging right foot.   
Nike Dri Fit Element Quarter Zip
Let's admit that we have had some amazing weather so far this fall.  A few mornings the wind has whipped around and race day could bring anything our way.  I was wearing the Element Quarter Zip (yes, I love orange!) the morning that we ran along the lake with the wind in our face.  If it had been any colder, a jacket would have been necessary, but this top did the trick keeping me warm.  Use it alone or couple it with a jacket as the wind gets colder and you will be ready for all the possibilities of race day weather.