Congratulations to all of you that competed in events this past weekend.  Here is what we have going on this week.  Hope you can join us!
Wed Oct 10- Free 2-5 Mile group fun run/walk, Fleet Feet Sports, 5:45pm
Thur Oct 11- Free Laurel Tavern 5 Mile Pub Run, Monroe Street, 6:00pm- Social hour follows
Sat Oct 13- Good Form Running Clinic, Fleet Feet Sports, 8:00am RSVP to toddh@fleetfeetmadison.com
Sat Oct 13- Free 5-10 Mile group run, Panera Bread, Cahill Main Fitchburg, 8:00am
Sat Oct 13- Event Run For Remembrance, Fitchburg Fire Dept-Lacy Rd, 8:00am
Sun Oct 14-Good Form Running Clinic Fleet Feet Sports, 9:00am (Clinic is full)
Sun Oct 14- Event Literacy Network Run/Walk, 315 West Gorham, 10:30am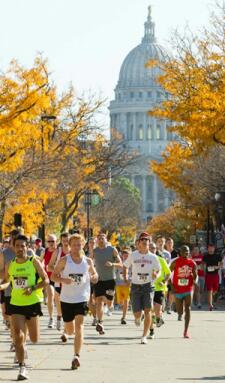 It's going to be a great week!
Chuck Simon
Fleet Feet Sports Madison
chuck@fleetfeetmadison.com