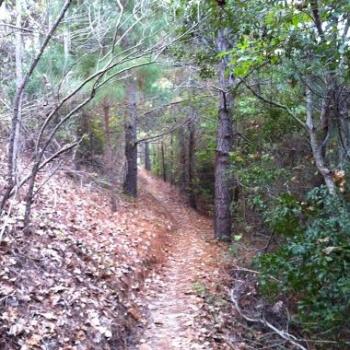 With the spring racing season coming to a close, and the hot summer months approaching, now is a great time to leave the blacktop behind and head for the trails. With that in mind, we polled the trail runners on staff to come up with some tips to help you make the switch. (Did we miss anything? Add it to the comments below.)
1. Go slow.
For those accustomed to running on pavement, bumpy, uneven trail surfaces can take some getting used to. We recommend taking it slow at first for two reasons. First, to reduce the risk of tripping. And second, because running on trails, where each step is unique, works a different set of muscles than running on flat roads.
"Always scan a few feet in front of you to watch for rocks and roots," says Katie, who traveled to San Francisco last December to compete in the North Face Endurance Challenge. "Take smaller steps so it's easier to maneuver and adjust when the trail changes."
2. Experiment.
One of the great things about off-road running is that every trail is different. Some trails are wide, flat, and smooth. Others are narrow, windy, and rocky. Even in the Triangle area, you can find a wide variety of courses to run. (Follow the link in the green box below for some ideas.) Our experts suggest mixing it up.
"Trail running never gets boring. No two trails are the same," says Nick, who recently competed in the Mountains-to-Sea 50K. "There are hills, rocks, roots, water crossings, bugs, bears, et cetera." (Before you start to worry about the bears, we should mention that Nick is from Colorado.)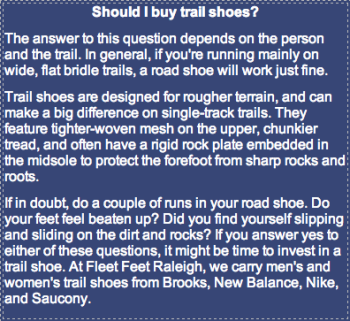 3. Watch out for ticks.
When you're on a narrow trail, you're sure to brush up against branches and tall grass. Be aware that ticks are there, just waiting to dig in. Not all ticks carry ehrlichiosis, Lyme disease, or Rocky Mountain Spotted Fever, but some do. After each run, do a quick check of likely spots--on your scalp, under your arms, around your waistband. Two other things to keep an eye out for: copperheads and poison ivy.
"Always spray yourself with insect repellent, especially during the summer, to protect yourself from ticks and chiggers," says Sandra, who does her weekly long runs in Umstead State Park.
4. Carry Water
This one should be obvious, but it's something that even experienced runners often forget. During the summer, especially, you need to be able to replenish fluids on the go.
5. Have fun.
"Trail running is awesome because it gives you chance to unplug from the world and just let go and focus on the run," Katie says. Instead of dodging cars, "you get to look at your surroundings and take in the beauty of the run. It's a moving meditation."