In the past few months I have worked very hard on my goal to prepare myself both physically and mentally to run as far as I can in 24 hours at the North Coast 24hr Endurance Run (NC24). With only three more weeks until race day, I can see some light at the end of the tunnel. I have been very fortunate that I have not gotten injured during the many miles or suffered any kind of other setback that has significantly impacted progress. Also, all training races went well with two hard marathons in 2:55 and a 5k cross race in under 18minutes. I think I am ready to challenge myself and the other runners, many of whom  are the REAL DEAL. Besides Jon Olson and Connie Gardner, other competitors include course record holder Serge Arbona (156.49 miles), Olivier Leblond and Philip McCarthy. I am incredibly excited to be in the same race as these super talented runners.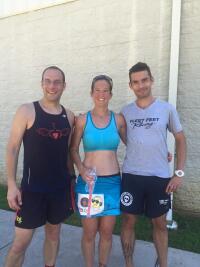 I got lucky and met legendary distance runner Traci Falbo at the Blister in the Sun Marathon a few weeks back and she gave me some valuable advice. Besides all other variables, it all comes down to being consistent in pace and energy consumption. The pace will feel stupid slow in the beginning but that problem will fix itself after 10 or 12 hours of running. In terms of food, I will rely on Huma Gels and rice and soup goodies that James Suh will make for me. The good thing with this kind of race is that you have an aid station every mile. 
In the period of logging 100+ running miles and bunch of walking miles over the last weeks I noticed that a few parts I often don't notice or appreciate as much become really important in operating on that level. Planning and time management are definitely part of that equation. I have meticulously prepared my gear, clothes, work clothes, food, and have planned the coming day(s) every night. I generally leave the house looking like I am moving out. The other part are friends and family. It would be incredible difficult to get as many miles in without James Suh and Cody Goodwin constantly helping me out by driving me home, picking me up or going on longer runs with me, as well as my wonderful wife enduring me being constantly hungry, sleepy and aching. And where would I be without the cookies from Jan Burns?
In the next three weeks I will focus more on recovery as miles will slowly decrease. I think it will take some time to fully heal up and get all gears fully functional again. I will also pick up some gear from my friends at Fleet Feet Nashville such as my trusted Adidas Glide 7 shoes, Swiftwick socks and Huma Gels.
Next time you hear from me I hopefully have completed a few loops in Cleveland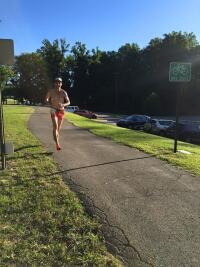 Ohio.
The Olaf.