WHERE TO RUN IN NASHVILLE
For when you want to get away from the rowdy honky tonks and live music joints that light up the Nashville night, here is a list of our favorite running spots that will get you in a rhythm!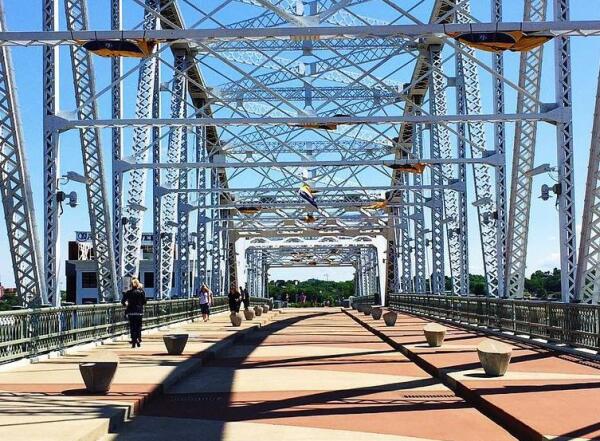 Location: Downtown Nashville
Length: 3.5 miles
Trail End Points: Ted Rhodes Park to Nissan Stadium
Trail Surface: Paved
Paved trail along the Cumberland River that extends from Ted Rhodes Golf Course into Downtown to 1st Ave along Fort Nashborough and Riverfront Park, with spurs along the way to Morgan Park and Bicentennial State Park. It featuring public art and a number of river overlooks. Soon to be extended through the TSU campus, connecting with Boyd/Taylor Park.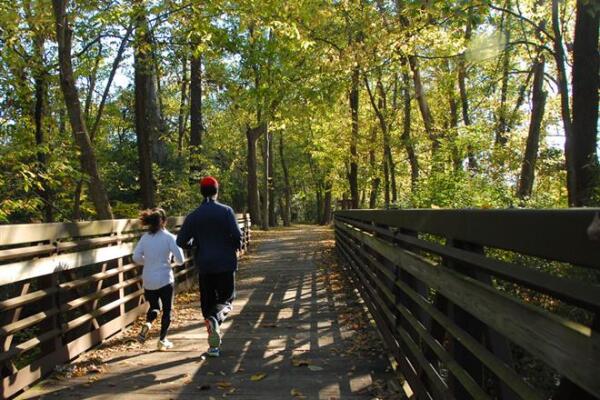 Location: East Nashville
Length: 10 miles
Trail End Points: 1900 Davidson Street; Stones River Greenway
Trail Surface: Paved/Primitive Trails
The 960-acre Shelby Bottoms Greenway and Natural area is located in East Nashville adjacent to Shelby Park and is one of five Natural Area Parks within Metro Parks. With approximately three miles of Cumberland River frontage, this area features bottomland hardwood forests, open fields, wetlands, and streams, providing excellent habitat for birds, amphibians, deer and more. The greenway offers over 5 miles of paved ADA accessible trail for hiking, biking, running, skating and wildlife watching and over 5 miles of primitive trails for more passive activities of walking, running and exploring nature.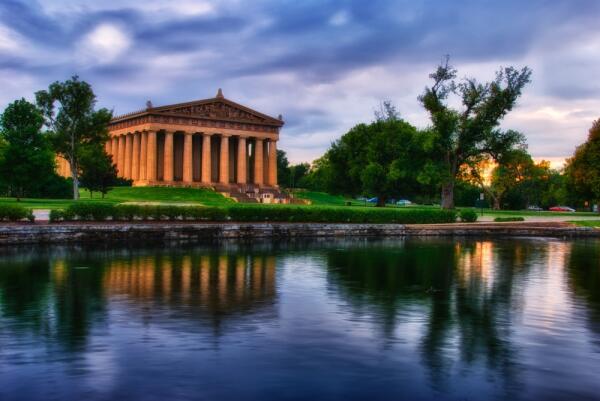 Location: Downtown Nashville
Length: 1 mile
Trail End Points: 2500 West End Avenue
Trail Surface: Paved
Centennial Park is one of Nashville's premier parks. Located on West End and 25th Avenue North, the 132-acre features: the iconic Parthenon, a one-mile walking trail, Lake Watauga, the Centennial Art Center, historical monuments, an arts activity center, a beautiful sunken garden, a band shell, an events shelter, sand volleyball courts, dog park, and an exercise trail. Thousands of people visit the park each year to visit the museum, see exhibits, attend festivals, and just enjoy the beauty of the park.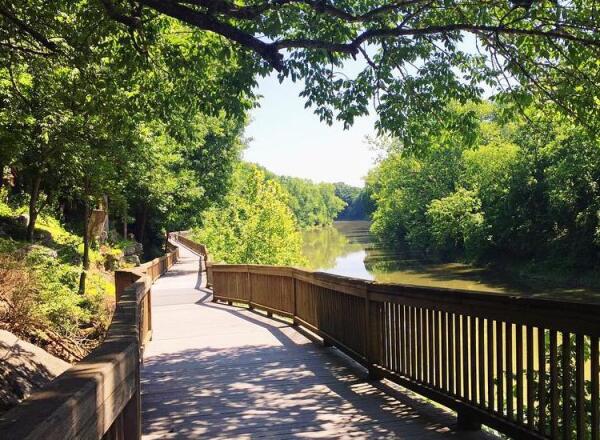 Location: East Nashville
Length: 10.2 miles
Trail End Points: Shelby Park to Percy Priest Dam
Trail Surface: Paved
Ten-mile paved trail system connecting Shelby Bottoms to Percy Priest Lake and linking to the YMCA on Lebanon Road, Heartland Park, and Two Rivers Park along the way.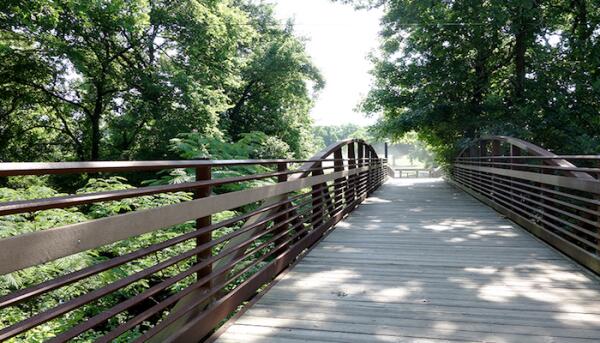 Location: Sylvan Park
Length: 5.25 miles
Trail End Points: McCabe Park
Trail Surface: Paved
Over three miles of paved trail connecting McCabe Park and the Sylvan Park neighborhood with shopping centers along White Bridge Pike and Harding Road, and Nashville State Community College.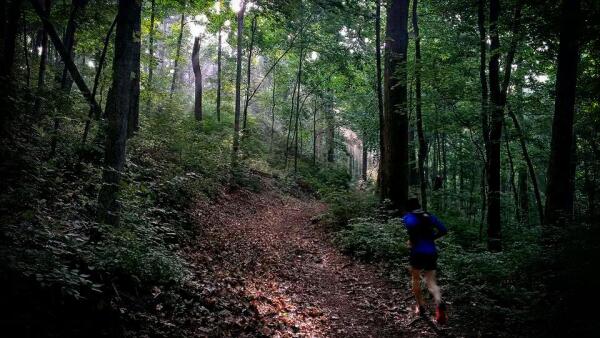 Photo: Jobie Williams

Location: Belle Meade
Length: 15 miles road, 11 miles dirt trail
Trail End Points: Belle Meade Blvd/Harpeth River Greenway
Trail Surface: Paved/Dirt Trails
Edwin and Percy Warner Parks, collectively known as "The Warner Parks," are managed by the Metro Nashville Parks and Recreation Department. The Warner Parks are one of the largest municipally administered parks in Tennessee and together span more than 3,100 acres of forest and field, 9 miles from downtown Nashville.
Close to a million people visit the Warner Parks annually to utilize the Nature Center, picnic shelters, dog park, scenic roadways and overlooks, hiking trails, mountain bike trails, equestrian center and horse trails, cross country running courses, golf courses, and athletic fields. Warner Parks is also an important historical community resource listed in the National Register of Historic Places.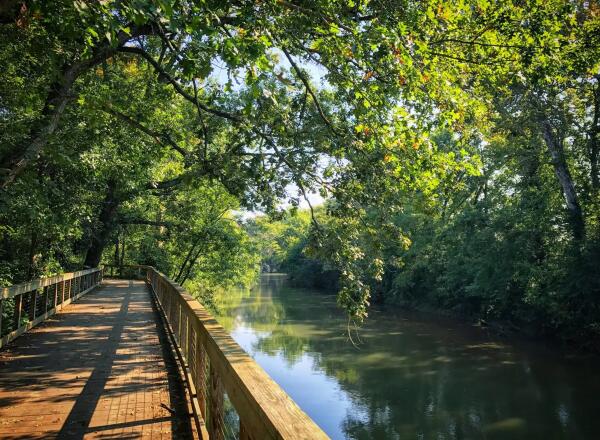 Photo: Trent Rosenbloom

Location: West Nashville
Length: 8 miles
Trail End Points: Edwin Warner Park/Morton Mill
Trail Surface: Paved
This paved trail follows the Little Harpeth and Harpeth Rivers through the Ensworth High School and Bellevue Exchange Club campuses over to the Morton Mill and Harpeth Bend communities. Plans are in place to eventually connect it with the Harpeth Youth Soccer Association segment.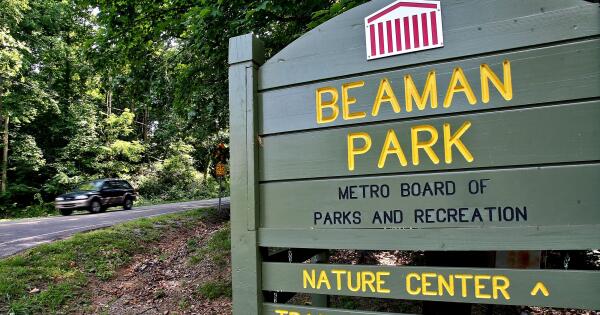 Location: Whites Creek
Length: 5+ miles
Trail End Points: 4111 Little Marrowbone Rd./5911 Old Hickory Blvd
Trail Surface: Dirt Trails
One of the most botanically diverse places in Tennessee, this 1693 acre park in northwestern Davidson County consists of 5 miles primitive hiking trails and boardwalks in a natural Highland Rim forest. The Beaman Park Nature Center* provides a hub from which to explore a hilly landscape with narrow hollows, pristine streams and cascading waterfalls as well as two easy quarter-mile trails (one at the Little Marrowbone Rd entrance and the other, encircling the nature center).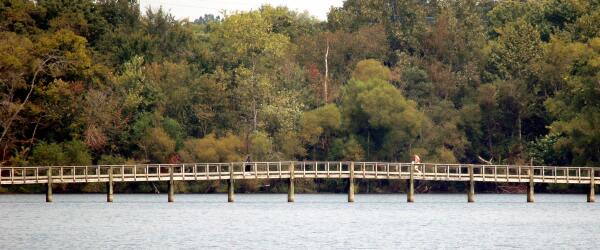 Location: Hermitage
Length: 20+ miles
Trail End Points: 2910 Hobson Pike
Trail Surface: Paved/Dirt Trails
The 2,600 acres which make up this area became a state park in 1974 and has four sections, Couchville, Baker's Grove, Bryant Grove and Sellars Farm. Long Hunter State Park offers a variety of recreational activities including fishing and hiking and has two boat launch ramps on J. Percy Priest Lake, a group camp, a backcountry campsite, meeting facility and a visitor center. The more than 20 miles of hiking trails provide a variety of terrain and habitats and range from pleasant strolls to longer jaunts for the more adventurous. Trails include a self-guided, paved arboretum trail and the five and a half -mile Volunteer Trail that follows the lakeshore.