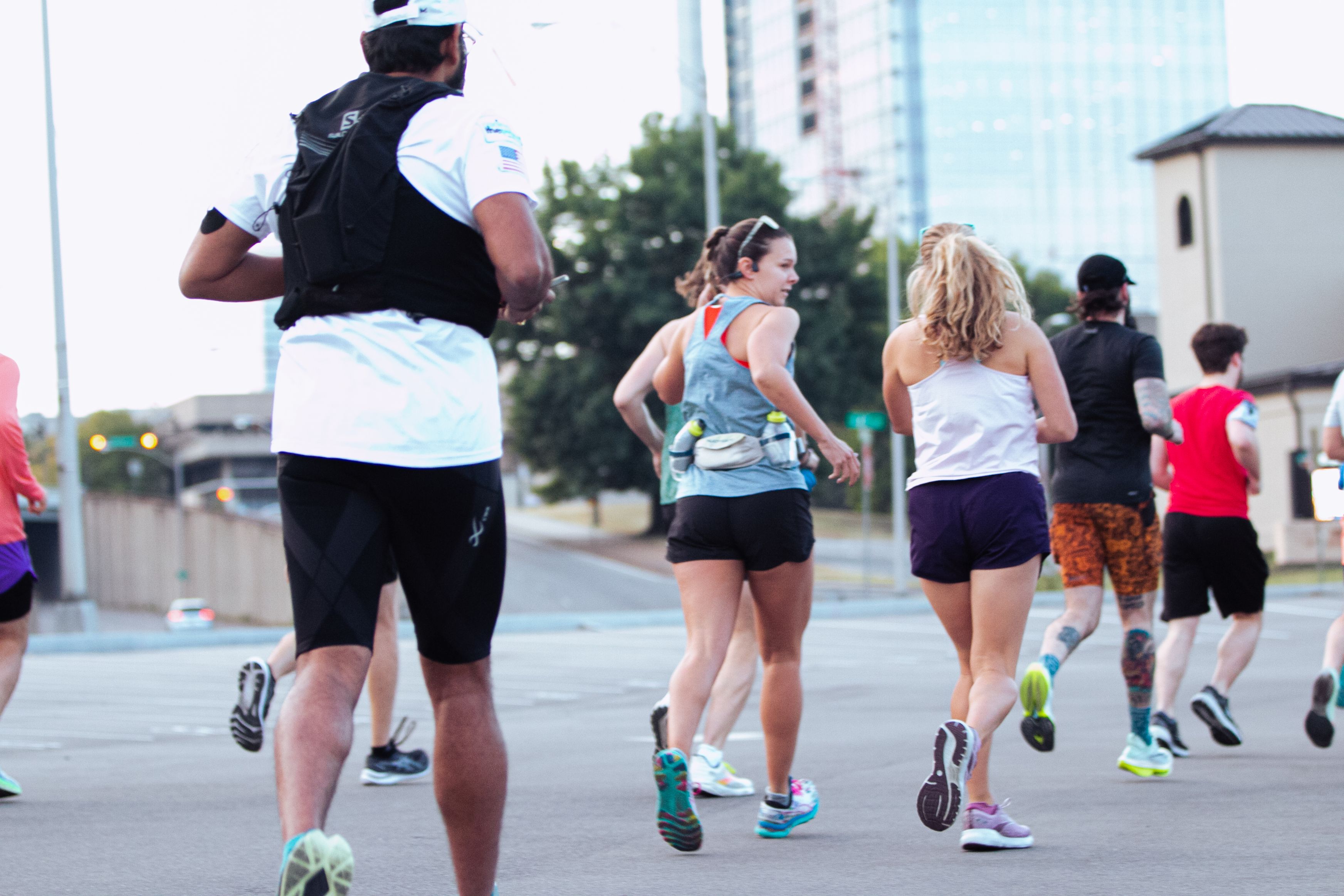 1. I have never participated in an organized race event before. Can I really train to run or walk my first half marathon?
Absolutely! By following the training schedule, reading the weekly emails full of advice and motivation, and attending the Saturday group workouts, you will be ready for race day.
2. I don't know the first thing about running gear, diet, or training techniques. Will there be information given on these topics?
And many more! Each week there will be an educational or encouraging tip of the week that will be followed by in-person clinics post workouts on Saturdays. During training, you will have the opportunity to test gear, apparel and nutrition. Additionally, you will get information on the importance of massage, rest, recovery and tips on cross-training and core strengthening.

3. I feel like I might be very slow compared to others. What if I can't keep up with the rest of the group?
Our programs are for runners, run/walkers and for walkers. When you register for the program, you will list your current pace so that we can ensure all participants have pace groups. Do be mindful of your goal race's cut-off times so you can set your goals accordingly.
4. How long is the training program and when and where do they meet?
The Fall full and half marathon groups begin Saturday, August 5, 2023. Both groups will start their workout at 7:00 am at various locations including Fleet Feet Brentwood, Fleet Feet Green Hills, Cool Springs, local greenways and parts of the race course. The Hendersonville program will be meeting the Nashville program on the weeks we run the race course, and otherwise, will run with the Hendersonville Running Club.
5. What is the mileage for the first week's run?
The marathoners should be able to easily run 10 miles, and the half marathoners should be able to easily run, run/walk or walk 4 miles.
6. What should I do if something starts to hurt or I get injured during training?
Our main goal is your safety through training. Recognizing an injury, or potential injury is important and can be the difference of finishing your goal race. There will be several offerings of free injury screenings after group runs on designated weekends. Often, resting or strengthening is all that is needed to get you healed and able to continue training.

7. I have run several marathons before and do not consider myself a new or inexperienced runner. Is this group for me?
Yes, we train runners of all ability levels and experience. We also believe some of the most experienced runners have the most to learn when it comes to the newest training techniques and injury prevention. Aside from gaining new running knowledge, you will gain a new set of friends to help keep you accountable and occasionally, push the tempo! We also offer customization of your training schedule to help you feel like you are being challenged.

8. I have a goal in mind for this race. Can you train me to set a PR (personal record)?
Yes, by joining our half or full training, and our optional speed sessions, you will get the best of both worlds and improve your chances of a new PR. Speed sessions are held on a track on Mondays during the training cycle and fit perfectly into our training schedules. By focusing one workout a week on speed, a second workout a week on race pace, and a third workout a week on distance, you can reach your goals.
9. Can Fido run with me?
Due to our insurance policy restrictions, we cannot allow any pets on the Saturday group workouts. Children are not considered pets by us, and are allowed, although consideration of the other group participants is requested.
10. What do I do with my keys while I am running?
This is a common question and one we can help with! We recommend you figuring out a safe spot to stash your keys much like you will be doing on race day. This could include a slim waistband pocket or a pouch on your shoe or the zippered pouch on your water bottle. Fleet Feet cannot be liable for holding on to or storing keys or other personal items during the group workouts.