A Note from Christi Beth Adams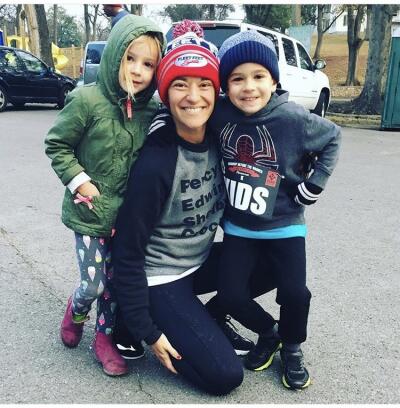 11 years ago this week I started working at Fleet Feet Sports Brentwood. I was 25 years old, struggling with the typical "what is my purpose in life" conundrum and the combination of running and retail felt like a safe and familiar place to stay for a while until I figured that out. It didn't take more than a few months to realize that this place, which I felt was like my second home, really could be my second home!
Fast forward to February 2017. This month we're celebrating 15 years of service to the Nashville community! I could easily write pages about the past few years and what an amazing (and sometimes exhausting) journey it has been, but I'd rather focus on the here and now. Here are just a few ways we will continue to serve, educate and inspire in the year to come.

Charitable Giving
One thing I love about Nashville is that there are so many life changing organizations that exist. We've happily supported schools and non-profits in our community, but our goal this year is to be more intentional and generous with our giving in 2017. We will continue to donate shoes to the Nashville Rescue Mission (over 4,000 each year thanks to you) and socks to organizations like Room in the Inn and Open Table. We will also find more ways to fundraise for Friends of Warner Parks because they represent a precious resource to us and our sanity. New this year is our support of Thistle Farms. We'll have their soap in all of our store bathrooms (you're welcome)! As in previous years, we will support Girls on the Run and Achilles International running programs because they are essential to building confidence and belonging.

New Location
We all know Nashville is growing like cray-cray. It takes a lot to keep up with everyone's needs and I hope having a 3rd location makes our service & knowledge more accessible to folks. In early April, we'll be opening a store in Hendersonville, TN (Streets of Indian Lake). We hope you'll stop in and tell all your friends in the area to check us out!

Workplace Fit
This is our corporate outreach program which we have been testing in 2016 and will make more available in 2017. We know people are busy. We also know businesses want their employees to be healthy, which is why we take "the show on the road."  Businesses of all sizes can work with us where we bring the product, knowledge and experts of Fleet Feet Sports right to where you work. How fortunate it is to be able to get fit right at work and head home with new shoes? Yup, we do that!

Exclusive Product
In 2017, Fleet Feet Sports will become the exclusive retail partner in the US for Karhu Running footwear. What makes this exciting is that we have a say in the development of the product, which is unheard of in our industry. Recently a team of Fleet Feet Sports owners spent a few days in Asolo, Italy working with Design & Development, Inc. alongside the owners of Karhu.
 They examined where the product currently is and where it needs to go. There were many discussions around fit, feel, comfort, mesh, overlays - everything that makes a shoe. The goal is to help build a truly outstanding running shoe using the feedback that we hear from customers like you. Look for Karhu in store this summer!

New Products
We're going to put the "special" back into Run Specialty Store by carrying a wider assortment of shoes built for the road, trail, track and gym and offering unique apparel brands you can't find in big box stores.
We've already received great feedback from you on new brands like Sarah Marie Designs and Shefit sports bras. If you haven't already, check out Safetyskin reflective sticks and Wearsafe tags – both phenomenal safety products. We will continue to search out new products and brands that can make running more fun and enjoyable. We welcome your suggestions!

Special Pricing
We know running can get kind of expensive with all the cool new things that come out and race entry fee's getting higher.  While our business is built around high-service and knowledge, we try to be aware of how pricing can affect people. Did you know that when a new model of shoe comes out, we instantly drop the price of the previous model by 20%? This will continue in 2017.

Training Programs
We offer some of the largest and most well-respected training programs in the state ranging from beginner 5k to the 50K trails to our super fun Mini Milers kids running program. It's exciting to help hundreds of people every year achieve their goals. Our programs are always evolving and 2017 will see more amenities and support for all of our participants. Our coaches and pace leaders are the best around – come find out for yourself!
 As you can see, this is an exciting and busy year - exactly how we like it! Busy means my team and I are doing more to build our communities, to help people live fit and get healthy, to try new things We love seeing people push themselves, set crazy goals and then do the hard work to achieve them. A huge thank you for supporting me, my team and our community initiatives in 2017 and beyond!
Christi Beth Adams
Fleet Feet Sports Nashville
330 Franklin Road, Suite 262B
Brentwood, TN 37027 
www.fleetfeetnashville.com
P: 615.373.1123
F: 615.373.1523