Kevin and Teresa Cox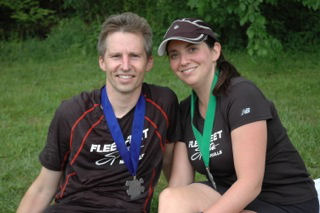 Do you remember the first time you came into Fleet Feet and what your experience was like?
 
Kevin:  My first visit to Fleet Feet was in 2006.  I was looking for shoes to run Country Music Half.  Fleet Feet had been highly recommended to me and I was fitted in a pair of Mizunos, which I still run in today (obviously not the same pair!).  I found the staff to be helpful and patient with my questions as a new runner.
 
Teresa:  I came to Fleet Feet sometime after Kevin because he talked about how helpful and nice everyone was at the store.  I wasn't running at the time but they still helped me find shoes to wear to the gym.
 
How long have you been running? What motivated you to start running?
 
Kevin:  I started running consistent distances in 2006.  A co-worker had been bugging me to come run with his group, Team Weber in Franklin (led by Lisa Weber).  I also realized at that point with small children at home that I need an outlet to relieve stress and do something healthy to stay mentally and physically fit.  I have been running ever since.
 
Teresa:  I only really started running in 2009.  A friend I met at my gym's bootcamp suggested we run a race together.  We trained and completed the Seaside Half in 2010, my first race ever.
 
What distances have you run? What is your favorite race?
Kevin:  I have run everything from a 5K to a 50K.  I have run 8 half marathons, 4 marathons, and 2 50Ks.  I have recently starting running trails and find them to be more enjoyable and challenging than road races.  With that said, I'd have to say the Dances with Dirt 50K was my favorite race.  I loved that it was a small race and all the Ultra Dirtbags were there to cheer each other on.  The atmosphere was much different than at road races; it was like a festival at the finish.  Tons of runners hung out afterwards to watch others finish.
 
 
Teresa:  I have run a couple half marathons (one road and one trail) and a 6.5 and an 11.5 mile trail race. My favorite so far was the Dances with Dirt trail half in Gwanbone, IN.  I loved hanging out after the race watching everyone else from the Fleet Feet group come in.  It was very inspiring to see people finish their 50K and 50 mile races.
 
What is the one thing at Fleet Feet that is a must have for you?
Kevin:  My wife likes me a lot better after running if I have worn an Icebreaker shirt.  We were shocked that it truly didn't stink after running a 50K.  I just shook the salt off of the shirt and hung it to dry!  You really can wear it up to 5 times before you have to wash it.  I also love my Swiftwick wool socks, summer or winter.
 
Teresa:  That is really hard to say!  I love my Nike Storm Fit jacket...it's seen me through several really cold winters!  I couldn't train without my different flavors of Nuun or the Stinger waffle "cookie".  And of course, I LOVE my Saucony Peregrines for the trails.
 
How long have you been married? How old are your boys? Do they run?
 
We have been married almost 18 years and have two wonderful boys, 13 and 11 years old.  Both boys have been playing competitive soccer for the past 5-6 years which keeps us very busy.  They do enjoy running the trails with us occasionally at Percy Warner.  This year our youngest son tried cross country for the first time in middle school and loved it!  He even set a school record for the mile and a half distance.  Hopefully he will keep running and continue to find joy in it.  
 
What are your running goals for 2013?
 
Kevin:  I am going to run Gwanbone 50K again in May.  I would also like to run the Chattanooga Mountains Stage Race in June.  I don't usually race a lot, so I haven't made it past those two for the coming year.  Long term I'd love to work toward running a 50 mile race, but that may not happen in 2013.
 
Teresa:  Having dealt with some injuries during my short time running, my first goal is to remain injury free so I can keep running.  I am going to train for the 50K with the Fleet Feet Ultra Dirtbags this coming spring and plan to complete my first race over the half marathon distance.  Another goal is to build my base miles up to go on an ultra running adventure trip with Kevin in the near future.