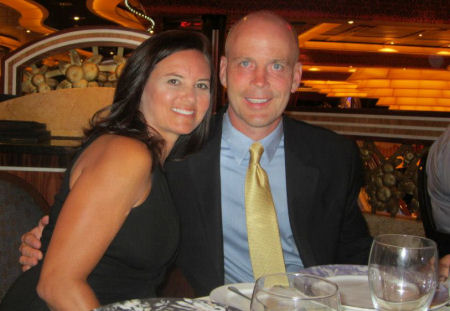 How long have you shopped at Fleet Feet?  Do you remember what your first purchase was?
I have been shopping at Fleet Feet since 2006.  This year is easy to remember because it was the year that I started running!!  I remember the first person that I met when I walked into the store was Christi Beth Adams.  I was somewhat intimidated to walk into an "official" running store as I was just getting my feet wet with this crazy sport.  However, Christi  Beth was awesome and made me feel right at home.  I had never been "fit" for a pair of running shoes so she spent a ton of time with me before we determined the shoes that worked best for me were the Saucony Omni's.  This was my very first Fleet Feet purchase and six years later you will still find me running in my Saucony's (although not the same ones, of course!!).
How long have you both been runners?
In January of 2006, a good friend of mine talked me into signing up for the Country Music Half Marathon.  Before this time, I had never even considered running a 5k!!  However, we trained for 12 weeks and proudly crossed the finish line.  Needless to say, I have been hooked ever since. 
Kelli began running in 2007.  Her first race was the 2007 Country Music Half Marathon.  Since this time, Kelli has completed 12 half marathons as well as the Chicago Marathon two times. 
What is your biggest race accomplishment to date?
My biggest race accomplishment to date is, without a doubt, qualifying for Boston in April of this year.  I began eyeing this goal in 2007 after I completed my first marathon.  To be honest, I never imagined being able to run 26.2 miles at the pace required to qualify for Boston.  After running 5 marathons, I decided to give it a shot after Christi Beth and Matt Adams convinced me that I had the potential to qualify.  Their confidence and guidance along the way helped me to achieve my goal and now I am Boston bound in 2013!!
What is your most memorable race?
My most memorable race was the Carmel Marathon this past April in Indiana.  As I mentioned earlier, this was my 6th marathon and the one in which I qualified for Boston.  However, this isn't the only reason that it was my most memorable race.  The biggest reason why this race was so special is because over 30 members of  the Nolensville Running Club decided to make this trip to run the half or full marathon.  To have many of them them cheering for me as I approached the finish line after realizing my goal was, by far, my most memorable race moment. 
Tell me how NRC was started….why, how, who, etc.
I decided to start the Nolensville Running Club (NRC) in March of 2010 after running with East Nast y for a few months.  I loved running with EN but I live in Nolensville and….well….it is a long drive from Nolensville to East Nashville!! Not really knowing if there was a "market" for a running club in Nolensville, I decided to contact the local newspaper to promote NRC.  Unfortunately, the first Wednesday night resulted in only 4 people (including Kelli and myself!!).  Although a little discouraged, we decided to keep it going.  Two and a half years later, it makes me proud to say that the Nolensville Running Club still meets every Wednesday night with a group of 50-60 runners…and getting bigger every week!!  I attribute this growth to a group of runners who have created an environment that is incredibly supportive and encouraging.  In fact, our club gets together on a regular basis to do things that do not involve running.  I am still amazed at the impact that NRC has made in my life and am very grateful to be surrounded by an amazing group of people!
When you aren't running, what is on your To Do list?
Although running (and the Nolensville Running Club) seem to take up most of my time, I also find time for other things that I enjoy.  I have season tickets to Vanderbilt football and basketball games.  Kelli and I also enjoy traveling and take a cruise every year with our entire family.  I have to admit that even when we travel to new places I try to find time to get in a run or two!!
How long have you and Kelli been married?  Kids/Ages?
Kelli and I have been married for 22 years and we have two sons who attend MTSU.  Ryne is a senior and Matthew is a junior.  Both ran cross country in high school and, although not avid runners, Kelli and I enjoy participating in local races with them when they are in town.
What is your Must Have at Fleet Feet?
My must have at Fleet Feet used to be the Garmin 610 GPS watch.  However, I "bit the bullet" last year and purchased one at Fleet Feet.  I have to admit that this was one of the best purchases that I have ever made!!  I can't imagine going for a run without it.  My current must have are the Grab The Gold protein bars.  I purchase them by the case every couple of weeks as Kelli and I eat at least one a day.  If you haven't tried them yet, I highly recommend them as a post run snack!!
<h2>Scott and Kelli Alexander</h2>
<p><img src="https://nmcdn.io/bf48b01813174d27941cb0fe2037c1cb/77368fbc60d84cb5bfb3cb7d7ec793b5/files/images/Scott_Kelli_Alexander.jpg" alt="Scott and Kelli Alexander" width="450" height="311" /></p>
<p><strong>How long have you shopped at Fleet Feet?&#160; Do you remember what your first purchase was?</strong></p>
<p>I have been shopping at Fleet Feet since 2006.&#160; This year is easy to remember because it was the year that I started running!!&#160; I remember the first person that I met when I walked into the store was Christi Beth Adams.&#160; I was somewhat intimidated to walk into an &#8220;official&#8221; running store as I was just getting my feet wet with this crazy sport.&#160; However, Christi&#160; Beth was awesome and made me feel right at home.&#160; I had never been &#8220;fit&#8221; for a pair of running shoes so she spent a ton of time with me before we determined the shoes that worked best for me were the Saucony Omni&#8217;s.&#160; This was my very first Fleet Feet purchase and six years later you will still find me running in my Saucony&#8217;s (although not the same ones, of course!!).</p>
<p><strong>How long have you both been runners?</strong></p>
<p>In January of 2006, a good friend of mine talked me into signing up for the Country Music Half Marathon.&#160; Before this time, I had never even considered running a 5k!!&#160; However, we trained for 12 weeks and proudly crossed the finish line.&#160; Needless to say, I have been hooked ever since.&#160;</p>
<p>Kelli began running in 2007.&#160; Her first race was the 2007 Country Music Half Marathon.&#160; Since this time, Kelli has completed 12 half marathons as well as the Chicago Marathon two times.&#160;</p>
<p><strong>What is your biggest race accomplishment to date?</strong></p>
<p>My biggest race accomplishment to date is, without a doubt, qualifying for Boston in April of this year.&#160; I began eyeing this goal in 2007 after I completed my first marathon.&#160; To be honest, I never imagined being able to run 26.2 miles at the pace required to qualify for Boston.&#160; After running 5 marathons, I decided to give it a shot after Christi Beth and Matt Adams convinced me that I had the potential to qualify.&#160; Their confidence and guidance along the way helped me to achieve my goal and now I am Boston bound in 2013!!</p>
<p><strong>What is your most memorable race?</strong></p>
<p>My most memorable race was the Carmel Marathon this past April in Indiana.&#160; As I mentioned earlier, this was my 6<sup>th</sup> marathon and the one in which I qualified for Boston.&#160; However, this isn&#8217;t the only reason that it was my most memorable race.&#160; The biggest reason why this race was so special is because over 30 members of&#160; the Nolensville Running Club decided to make this trip to run the half or full marathon.&#160; To have many of them them cheering for me as I approached the finish line after realizing my goal was, by far, my most memorable race moment.&#160;</p>
<p><strong>Tell me how NRC was started&#8230;.why, how, who, etc.</strong></p>
<p>I decided to start the Nolensville Running Club (NRC) in March of 2010 after running with East Nast y for a few months.&#160; I loved running with EN but I live in Nolensville and&#8230;.well&#8230;.it is a long drive from Nolensville to East Nashville!! Not really knowing if there was a &#8220;market&#8221; for a running club in Nolensville, I decided to contact the local newspaper to promote NRC.&#160; Unfortunately, the first Wednesday night resulted in only 4 people (including Kelli and myself!!).&#160; Although a little discouraged, we decided to keep it going.&#160; Two and a half years later, it makes me proud to say that the Nolensville Running Club still meets every Wednesday night with a group of 50-60 runners&#8230;and getting bigger every week!!&#160; I attribute this growth to a group of runners who have created an environment that is incredibly supportive and encouraging.&#160; In fact, our club gets together on a regular basis to do things that do not involve running.&#160; I am still amazed at the impact that NRC has made in my life and am very grateful to be surrounded by an amazing group of people!</p>
<p><strong>When you aren&#8217;t running, what is on your To Do list?</strong></p>
<p>Although running (and the Nolensville Running Club) seem to take up most of my time, I also find time for other things that I enjoy.&#160; I have season tickets to Vanderbilt football and basketball games.&#160; Kelli and I also enjoy traveling and take a cruise every year with our entire family.&#160; I have to admit that even when we travel to new places I try to find time to get in a run or two!!</p>
<p><strong>How long have you and Kelli been married?&#160; Kids/Ages?</strong></p>
<p>Kelli and I have been married for 22 years and we have two sons who attend MTSU.&#160; Ryne is a senior and Matthew is a junior.&#160; Both ran cross country in high school and, although not avid runners, Kelli and I enjoy participating in local races with them when they are in town.</p>
<p><strong>What is your Must Have at Fleet Feet?</strong></p>
<p>My must have at Fleet Feet used to be the Garmin 610 GPS watch.&#160; However, I &#8220;bit the bullet&#8221; last year and purchased one at Fleet Feet.&#160; I have to admit that this was one of the best purchases that I have ever made!!&#160; I can&#8217;t imagine going for a run without it.&#160; My current must have are the Grab The Gold protein bars.&#160; I purchase them by the case every couple of weeks as Kelli and I eat at least one a day.&#160; If you haven&#8217;t tried them yet, I highly recommend them as a post run snack!!</p>