We're excited that you're interested in FUNdamentals of Fitness, but due to efforts to limit the spread of COVID-19, we are uncertain whether this program will be allowed to begin as scheduled.
Our hope is that the restrictions on group sizes will be eased in April so we may offer this program. We will update this page when more concrete information is available.
********************
FITNESS FUNDAMENTALS
Want to try a class before you commit? No problem! Just arrive 15 minutes before class starts and tell the coach that you would like to take a free trial class.
The U.S. Government recently issued new guidelines on physical fitness, recommending that adults get 150 minutes of moderately intense physical activity each week AND two days dedicated to muscle strengthening. While aerobic exercise is something many of us are familiar with, muscle strengthening is more foreign and downright intimidating.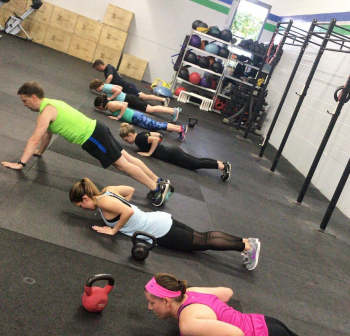 Which is why we have partnered with one of the best gyms in CT to offer this special fitness program that is like gym class for adults! These classes are great for those new to cross training, runners looking to get stronger (and faster!) and fitness aficionados looking to spice-up their workouts.
Choose from up to 3 classes per week: Sunday mornings at 9am, as well as Tuesday and Thursday evenings at 6:30pm. You can commit to one class per week, two or all three. Also, you are not locked-in to the same class day each week so if work or life prevent you from getting to class one week, you can double-up the next.
This class is a great option for runners who want to get stronger and build their endurance as well as those who haven't been in a gym (or on a run) in years. You do NOT need to be in shape to take this class - that's what class is for!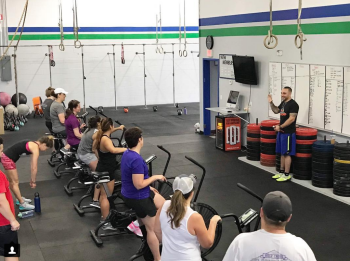 Each class will last about an hour, though the actual workouts are usually less than 15 minutes. The rest of the class is dedicated to warming-up, stretching/mobility and learning the proper movements and techniques for each exercise (exercise modalities include body weight exercises like squats, lunges, sit-ups and push-ups, as well as work with kettle bells, agility ladders, medicine balls, bikes and rowers). Many of the workouts are partner-based which adds an element of camaraderie and team spirit.
Classes take place at CrossFit Hartford and are taught by their experienced coaches/owners - some of the best, most-patient, super-encouraging fitness coaches in the state. You will find their enthusiasm motivating and their coaching educational.
No previous cross training or CrossFit experience is necessary. If you can't perform an exercise due to an injury or lack of mobility, the coaches will help you modify the workout so you can sweat alongside everyone else!
Speaking of sweat, we can guarantee you will, but you will also find yourself laughing, having fun and feeling completely exhilarated. The hardest part of any fitness program is showing up. Make the commitment to take that first step and sign-up. Once you do, you'll have the support of a community to help you stick to it!
Sign up here!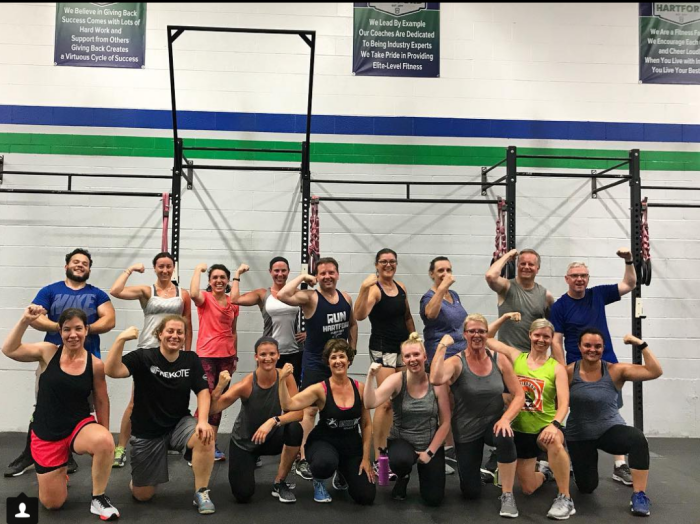 Program Start: Whenever You're Ready
Program Schedule: Classes offered 3 times/week (Sunday @ 9am, Tues & Thurs @ 6:30pm)
Program Fee: $99 for 1 class/week | $185 for 2 classes/week | $275 for 3 classes/week
Description: Cross training is an essential element of leading a fit and healthy life. Every movement you make starts from the core. Develop a strong core and you will not only see improvements in performance, but it can help prevent injury which allows you to consistently train harder and build upon your successes. Great things happen when you focus on becoming fundamentally strong.