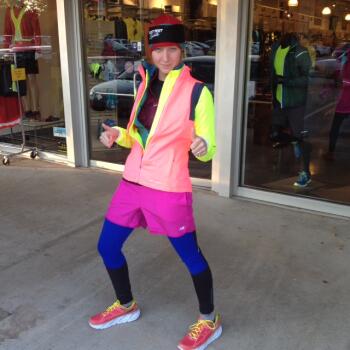 Being a runner always requires dedication and time commitment, but with winter nearing and daylight hours waning, it is often difficult for even the toughest among us to slip on those shoes for a run. With that in mind, we've a few tips to help make getting out the door easier.
Find Motivation – Whether that means signing up for a race this winter, joining a training program, or finding a running partner, having someone or something to hold you accountable is great for motivation. It is easier to see consequences for missing a workout when a race is looming or a friend is waiting. Fleet Feet Sports Raleigh encourages runners to stay motivated by hosting bi-weekly Brew Runs and monthly social runs. We've also got a full slate of training programs starting in January.
Keep Your Fingers and Toes Toasty – To stay comfortable on cold runs, it is best to wear socks and gloves that do their job to keep you warm, even in the elements. Wear synthetic socks that wick away moisture as you run. Merino wool socks are also a great option as they act as a barrier between you and the conditions and use any moisture absorbed to generate heat. The same necessity goes for your fingers. To avoid exposure to cold winds, make sure to take gloves on your next cold weather run.
Layer Up – The key to running in cold elements is to find the balance between being warm without sweating too much. Plan to dress as though it is 20 degrees warmer outside. You should be cool when you start but will warm up once you get moving. Stick to technical fabrics that wick away any moisture as you move.
Be Seen – When daylight becomes limited, you will probably end up running more hours in the dark than in the sunshine. Darkness is often dangerous for runners, especially if they stick to the roads. So always run against the flow of traffic and wear reflective, brightly colored clothing. A headlamp or flashing light clipped to the back or front of a shirt can also, literally, be a lifesaver.
Stay Hydrated – During the summer it is easy to stay on top of hydration because you recognize that you are sweating. However, in the winter months, dehydration can actually happen faster and it is less noticeable. For runs up to an hour, water alone is enough to rehydrate with, however for longer runs, adding electrolyte replacers such as Nuun to your routine is advised. Carrying a fuel belt, hydration back or handheld water bottle can also encourage hydration on the go.
Apply these five tips to your training routine and you will be on the path to great winter running!