Greg and Lisa Sipf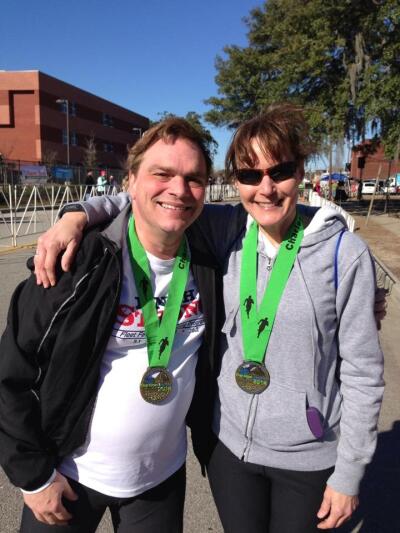 Greg: We have been training together since No Boundries.  It has been great supporting each other through No Bo's, Next Steps, and Long Distance Half and Full Marathon.  We also have done TRI 101 and 201.  One great benefit is we can help each with gear prep for both training and race.  We often discuss strategy plans for nutrition and what to wear in all the conditions we train.  It always nice to help each other pack up and get ready.  We do almost everything together as a couple and gives us more time to spend and support each other.  I always know that I have Lisa there to support me during the training and help me when it gets rough.  I always make sure that any issue she talks to me about is addressed so she feels comfortable and confident as a training participant.  I expressed to Lisa my desire to run a Marathon and she said she would train too so that we both could complete one.
For the Charleston Marathon, we helped each other prepare the night before with clothing, hydration and nutrition.  It was normal pre-race helping reassure our ability and boost our confidence.  We gave each other our usual good luck kiss and went to our respective pace corals.  We both told each other we have trained well and we can run a marathon and see you at the finish.  The neat part about this race was the couple of out and back sections of the course so we could see each other during the race.  I kept watching for her and was looking forward to the "Go Greg" I always hear during a race or training run.  The cheer always pushes me to pick up the pace just a little and work a little harder.  The finish line was such a great experience for me seeing Lisa and all the Fleet Feeters waiting for me.  The cheering wall at the finish made my day.  The neat part was after crossing, Lisa handing me water and saying "We Did It.  We Ran a Marathon".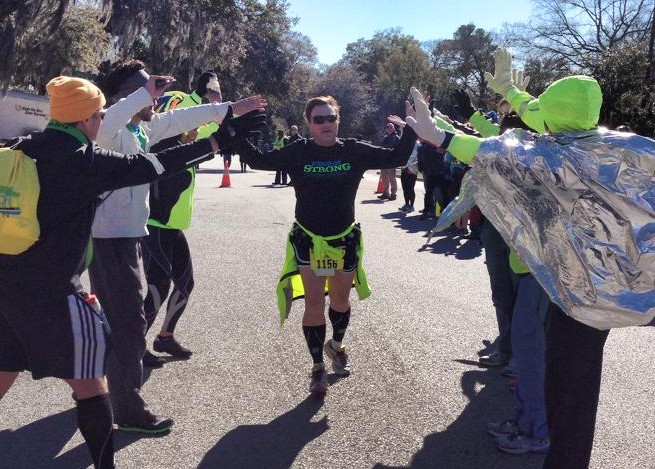 The experience has been special for me to have her come along with me on the journey to run a marathon.  We both helped each other with the ups and downs during the race and training.  THANK YOU FLEET FEET!!! We both have one more thing to check off our bucket list.
Lisa: Greg inspired me to start training with Fleet Feet.  He started out doing the No Boundaries (5K) training.  He had so much fun and met so many nice people that I wanted to join in too.    We both did 5K, 10K, Half Marathon, and Marathon training.  Even though we run different paces, we are there for each other through all the ups and downs.  We know that we can discuss any concerns we have with each other.  I never thought I would run a marathon.  I had told Greg that if he ever trained for one, then I would do it too.  The training for the marathon and race were challenging but I would not trade the experience for anything.  What an awesome feeling crossing the finish line!  Wow! I did it!  I am so proud of Greg finishing his first marathon!  It was so neat to get to see him cross the finish line!  Thanks Cheryl, Shahin and all our Fleet Feet family for helping us make lasting memories.