By Bill Morgan --- My wife MaryJane and I started cycling since 1994, mostly to prepare each year for the MS150, a 2-day 150-mile cycling event. During this preparation time, we would intermittently do gym workouts and run a mile now and again. We did this off and on for several years with a couple years off due to health issues, caring for our elderly parents, getting our 4 kids through college, weddings and grandkids etc. In 1999 I had quadruple bypass heart surgery and took time off to recover and then slowly return to cycling. In 2003 I was working out and managed to tear my bicep and rotator cuff, then in 2006 I experienced setbacks with a ski accident where I fractured my right hip, broke my left tibia and left wrist. I was very hesitant to return to any activity after these injuries, but we both were gaining weight, and I was feeling depressed because I lacked energy.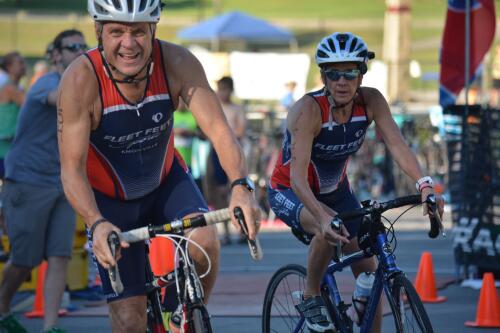 We realized more activity was needed, so we started cycling again (our go to activity) but now to support our grandson, who had been diagnosed with Type I diabetes. We started training for the Tour de Cure as our new goal cycling event. MaryJane suggested we look into doing some running as well, but I was hesitant fearing injury since we were 62 and 66 years old at the time. The age factor did not deter her, and she contacted friends of ours, Greg & Lisa Sipf, about the running program they were involved in. We joined the No Boundaries 5k training program 2012 at Fleet Feet. We followed all the coaches' instructions and started with a run/walk and progressed from there to running our first 5K in August 2012. By then we were both hooked; running was the piece that completed our now new exercise regimen. But I became discouraged because I was on beta-blocker medication for blood pressure and could not seem to get my heart rate up in order for me to feel like I was progressing. I took it upon myself to monitor my blood pressure and after a couple of months, my PCP and Cardiologist all agreed I no longer needed to take the beta-blockers. I attribute all this good news to losing over 60 pounds, the new running program, the guidance we got from the Fleet Feet coaches and the great support from those with whom we trained.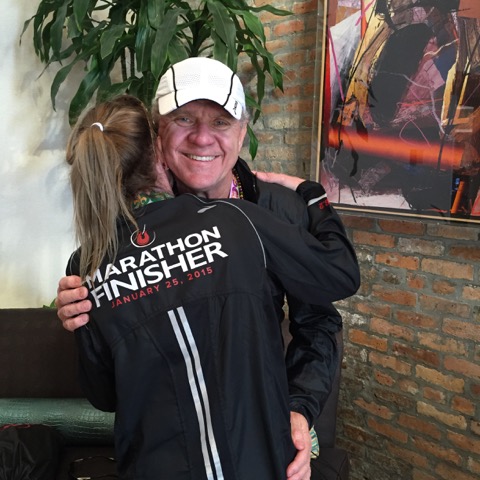 Back then we thought 5K's were all we would do. We could not imagine running anymore than "3.1 miles" at one time, but never say never! MaryJane got the itch and said she wanted to train for a half-marathon. So in 2013 we progressed to the long distance program and completed our first half-marathon. After watching our son finish the Coeur d'Alene Ironman, I had a desire to complete a sprint-triathlon before I turned 70. That year, with the encouragement of Shahin and the entire Fleet Feet training group, we signed up for triathlon training, even though neither of us had a clue how to swim. After several long weeks of training, we completed our first sprint tri in May 2014.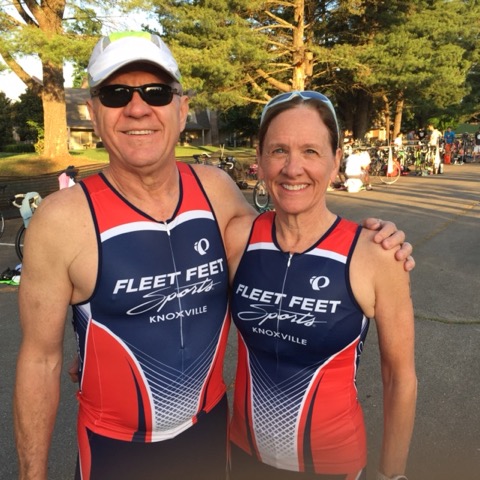 Soon after that first triathlon, another health challenge came along when at the end of June I landed in the hospital with chest pains because one of my original bypass grafts failed (their warranty had been up for quite awhile). So once again I found myself depressed, feeling that I was going to need to start taking beta-blocker medication and that I would not be able to return to running, tri-training etc. The support I received from Shahin, Cheryl and all our training buddies was overwhelming. After stent surgery the doctor told me I could start returning to all my activities in about two weeks and progress slowly. I was happy to hear that I didn't need to go back on beta-blockers. The guidance I received from Shahin upon returning allowed me to complete another sprint tri in September. We were back full force and my wife even started to train for her first full marathon. In January 2015 she completed her first full marathon in New Orleans, and once again we transitioned from long distance training to tri-training. Shortly after 2015 tri- training began I was diagnosed with a benign tumor/cyst in the middle of my head. This with some other events caused additional stress in my life and once again I found myself back in the hospital with chest pains. Fortunately this time it turned out to be anxiety and not any additional heart problems. With this information, I was cleared to have the tumor/cyst removed from the center of my head. On August 4th I had surgery at Vanderbilt Hospital and subsequently I was able to complete the last sprint tri of the 2015 season in September.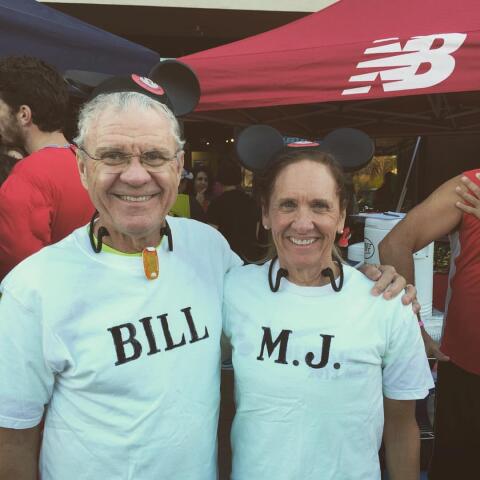 I write about all these health issues because it proves to me that Fleet Feet Knoxville has helped me weather all these health challenges with a training program that helps prevent injuries, takes your health seriously, and guides you safely through all the activities. Even with all my setbacks, I have been able to return to the training programs that are so supportive that I can't imagine not being a part of them. I am now 69 years old and my wife is 65 and we are both looking forward to this year's long distance program, the half/full marathon in Washington DC and next year's tri season. It is never too late to start a training program. Health challenges come and go. Some are serious and some are just aggravations but what is true for me is being in good physical condition helps in recovery and survival when challenges come along. We both feel blessed to be able to participate in these activities together. Even though we don't find ourselves running together, our times together (usually only in the car going and returning from runs) are special and enough to support, motivate, and encourage each other to keep going when it would be easier to sit on the sofa.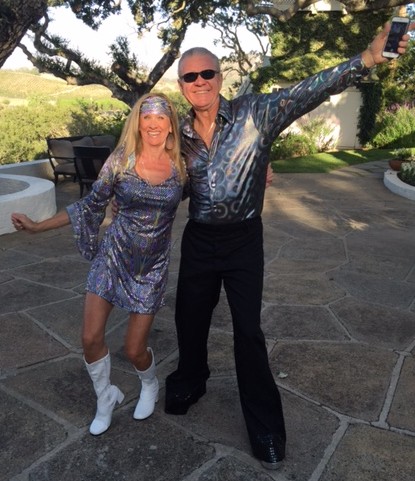 We can't thank all the Fleet Feet coaches enough for their everyday support, the guidance from Shahin and Cheryl and everyone with whom we train. They have become family to us. They are not just the people we train with; everyone cares about each other and encourages and guides us to get better. THANK YOU ALL!!!