Kristen Lewis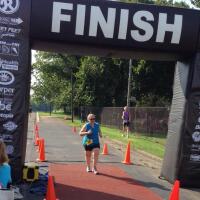 I hear this a lot..."At least I wasn't in last place...I don't want to come in last...I'll do it when I know I won't be last." Well guess what? I'm pretty much ALWAYS last. My last three triathlons? LAST. My first half marathon? People who walked the entire thing were faster than me.

When a good athlete competes, they KNOW they have an opportunity to win. They feel good about themselves and their ability. When I compete, I can only compete against myself.

My last triathlon, I could have been second to last. I had overtaken the lady in front of me and we started talking. She said, "I'm so glad you're here, I didn't want to be last." I made sure she wasn't last, we crossed the finish line together.

Three years ago, I couldn't run one minute or bike one mile. To be in last place represents courage, strength, determination and lots of good friends.

So the next time you don't want to do something because you'll be in last, think of me and invite me to your race!