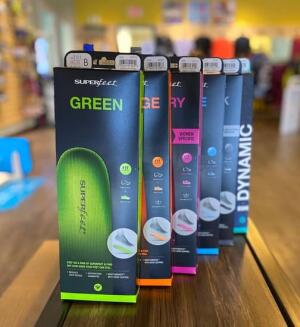 Not to be overlooked are all the little things that make a difference. You can find a wide variety of gels and bars, insoles, sunglasses and watches at Fleet Feet Stuart. You can also check out our great selection of performance socks.  We carry Balega, Feetures, Experia, and Injini (toe socks). 
Also, don't forget about some of those other items that come in handy to help prevent and/or treat common running/walking injuries.  These are items like the Foam Roller, the Stick, the Strassburg Sock, Superfeet Insoles and many other options!
Accessories Make for Great Gifts
Do you have a friend or co-worker who you are encouraging to start a running or walking program?  Do you need to find a great gift for the runner or walker in your life?  Accessory items are great gifts.  Here are just a few ideas to consider:
Bodyglide: One of our #1 accessory items that helps to reduce chafing and blisters.  It is a must have item for the runner or walker getting ready for his or her first half or full marathon.
Foam rollers: Work out the inevitable aches and pains and recover from your workout faster.
Garmin Forerunners:  With or without heart rate monitors, these satellite based devices are worn like a watch to give you pacing and mileage information and tools for training; free downloads to view your log. 
Heart Rate Monitors: There are options from the basic to high-tech! A heart rate monitor is one of the best training tools you can use.
Hydration Systems: A hydration system is key to staying hydrated and exercising safely! We have many options for you to choose from.
Sunglasses: Tifosi and GoodR brands carried in the store.  Sunglasses that don't bounce or slide on your face while walking or running.
Hydration and Nutrition:  Important products to have while experiencing the Florida heat.  NUUN tablets (Sport, Vitamins, Immunity, Rest), GU gels, HoneyStinger Waffle, TailWind, GU Chews, Skratch and numerous other brands carried in the store.
Lights:  Very important to See and Be Seen when we are outside exercising.