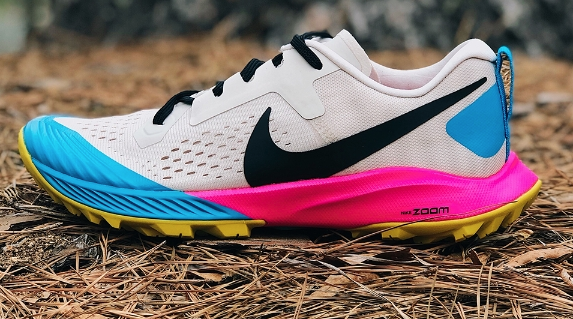 Our Favorite Trail Running
Shoes of 2019 (So Far)
Trails demand more from your running shoes—so get a pair that's built for the wild. With burly uppers and aggressive outsoles, our favorite trail running shoes of spring 2019 will get you out and back with confidence.
Trail running shoes are essential to going off road. And with running shoe companies creating more (and better) trail shoes than ever, it's easy to find the one that works best.
Fleet Feet wear testers slid their feed into several pairs of the best trail running shoes on the market that were released this spring (and an honorable mention from the end of last year). They logged miles on all kinds of trails, ran workouts across soft grass and tested their traction on wet logs, rocks and mud.
Through it all, these four trail running shoes proved to be some of our favorites so far.
Saucony Switchback ISO
Launch: February 2, 2019
The Saucony Switchback ISO made its debut in early 2019, and we couldn't get enough of it.
Designers built the brand new shoe to feel cushioned like the Saucony Freedom ISO but gave it traction to stick to the trails. The mashup of road comfort and trail grit was a welcome addition to the off-road market.
Our testers loved the grip from the horde of lugs on the outsole, and they praised the energetic EVERUN midsole. But the most noticeable—and most raved about—feature is the unique BOA lacing system. All of our runners gushed about the dial-to-tighten lacing system that never got too tight, never came loose and was easy to adjust on the fly.
HOKA Speedgoat 3
Launch: January 1, 2019
HOKA didn't change much when they updated the popular Speedgoat trail shoe, which is fine by us.
The Speedgoat 3—named after prolific ultrarunner Karl "Speedgoat" Meltzer—is still a rugged trail running shoe with HOKA's signature stack of foam cushioning. A bed of deep, 5mm lugs provided premium traction on squishy trails and ran well across wet pavement.
HOKA made small tweaks to the upper and added a sturdy seatbelt-like support on either side of the midfoot, but fans of the Speedgoat 2 will find a familiar fit and ride in the Speedgoat 3.
Nike Air Zoom Terra Kiger 5
Launch: April 1, 2019
The flashiest trail running shoe we put on this spring is the Nike Air Zoom Terra Kiger 5 in white.
While the new Terra Kiger also comes in toned-down colors (black or red), we love how the blue toe cap, pink midsole and yellow outsole look on the white upper of our sample pairs. But Nike didn't just make the Kiger look good: it's also a high-performance trail runner.
Our testers loved the spacious toe box, which is as comfortable on normal-width feet as it is on wider-than-average dogs, and they lauded the React foam midsole for its soft and springy ride. Even through workouts on slick trails, hard packed dirt and steep inclines, our testers never had problems with traction even though the outsole lugs aren't as deep as other shoes on the market today.
Brooks Caldera 3
Launch: December 1, 2018
The Brooks Caldera 3 is a no-frills workhorse.
Brooks loaded the new Caldera with a tall BioMoGo DNA midsole that one of our runners called "immediately comfortable." She recently took the Caldera 3 on a six-hour trail run that included a dozen waist-high river crossings—she had to swim across one—and raved about the shoe's premium comfort and superior drainage.
Brooks released the Caldera 3 in December 2018, but our testers are putting so many miles on the shoe this spring that we couldn't help but include it as an honorable mention.