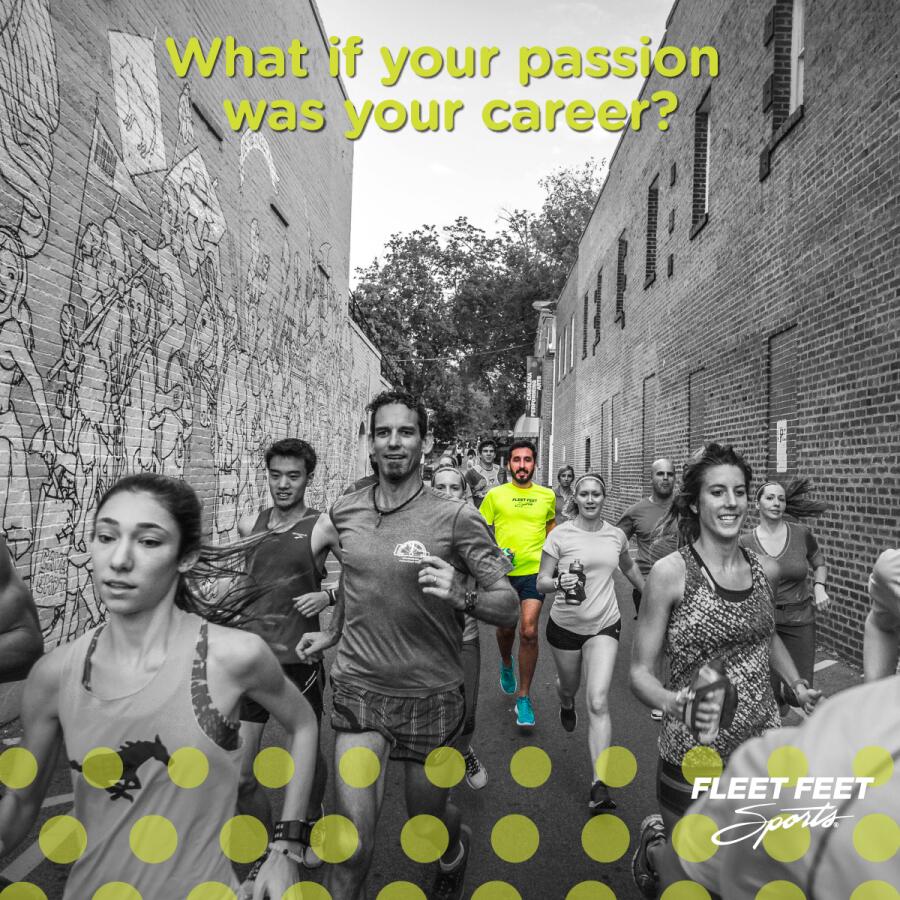 Current Openings at Fleet Feet Sports:
Fit Specialist (Part-Time  & Full Time Positions)
MUST BE AVAILABLE NIGHTS AND WEEKENDS
Are you up to the Fleet Feet Huntsville Challenge?
We are always looking for people who have a passion for lifetime fitness, who enjoy serving others, and who are capable of providing consistently superior customer service. We work hard and we play hard - and, while this is definitely a fun, rewarding place to work, there are demands that go along with a position here, so we tend to be selective. After all we want good people to join us, stay with us and grow with us.
Are you right for Fleet Feet Huntsville? Is Fleet Feet Huntsville right for you? Test yourself with these questions:
Do you have a sales sense? Our guests appreciate learning about our products. . . from shoe technology to the importance of carrying a hydration pack. You should be comfortable (even passionate and excited!) about suggesting items people might enjoy.
Are you good at switching gears? When guest traffic slows, you will find yourself busy with stocking, cleaning and more. But when somebody walks in the door, your focus has to switch 100% to friendly guest service, even if you are behind in your other tasks.
Can you stay calm and friendly under pressure? Imagine providing superior customer care to 2 guests at the same time (with your other team members doing the same) while 5 more guests are waiting. They all want the same level of attention and care, they want it in a timely fashion and they want you to be friendly and appreciative. Things can get very busy here and there is always other work to be done. Expect a fast pace for hours on end.
Are you a team player? Fleet Feet Huntsville is like a family and we work closely with each other, sometimes under stress or with other things on your mind. And no matter what's going on in your week, your team members will be counting on you to be here 100% when your shift starts. We all depend on each other and support each other. You need to be respectful and patient, and you also need to pull your own weight when it comes to customers and other work that has to get done.
Are you willing to learn new things? People know us as the FIT experts. "FIT" does not just refer to shoes but all of our products and our service. You'll need to make an effort to get educated about all of our products, so that you can deliver the level of service our guests have come to expect. We'll help you, but it will be up to you to ask questions and take the time to remember things.
Do you pay attention to the little things? It's the thoughtful little touches that make a "specialty" store so special, like remembering a frequent guests' name or what type of shoe they run in. Going an extra mile for a guest by staying open late or rush shipping them a pair of socks before a big race is what sets us apart. Fun little extras go a long way and make your job worth the effort.
Are you patient and willing to serve people? We expect team members to take a friendly attitude towards customers-to smile and greet them as soon as they walk in, to make conversation with all kinds of people, to serve their needs, to take time and care for them. If you feel shy or awkward about talking with strangers or if you are not willing to serve guests (even touch their feet) you might not like it here.
Are you available on weekends? In this biz, weekends are a key time. Of course we want to have our staff out there racing too, so we take turns allowing each staff member the opportunity to race when they want, but also fill in back at the shop too.
If you answered "yes" to these questions, please email us and include contact information, hours of availability per day, days available, previous work experience, and a brief description of why you picked us. If you have a resume, send that too. No prior experience is necessary. You just have to have the passion for helping people.
You can complete an employment application here
If you have an interest in starting a career at Fleet Feet Sports please email Suzanne@fleetfeethuntsville.com
Locations
Huntsville
2722 Carl T. Jones Dr SE Suite B2
Huntsville, AL 35803
M-F: 10am - 7pm
S: 10am - 6pm
Su: 1pm - 5pm

View Store
Madison
181 Hughes Road
Madison, AL 35758
M-F: 10am - 7pm
S: 10am - 6pm
Su: 1pm - 5pm

View Store