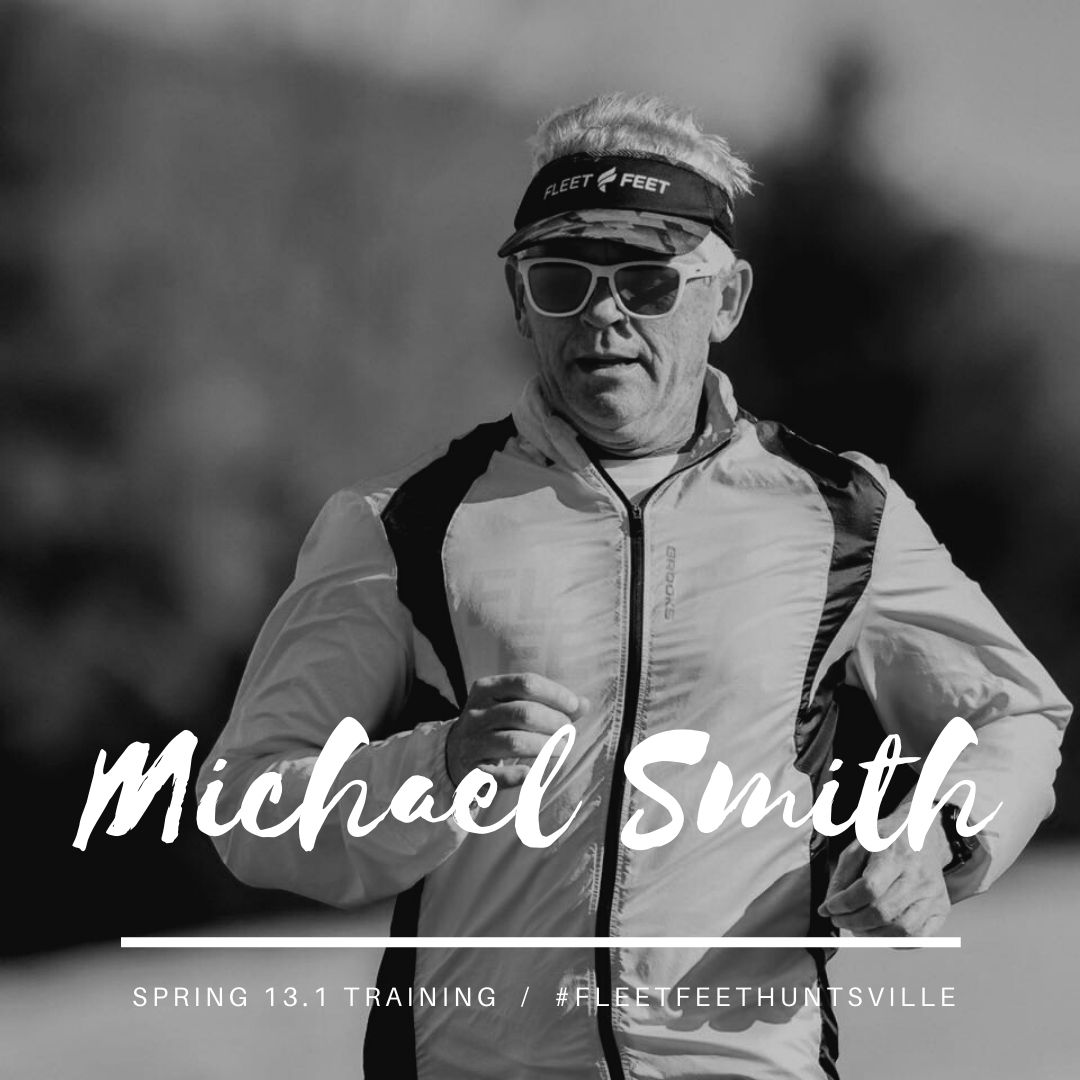 Michael H Smith | 2022 Spring Half Marathon Training Program Coach
"I hate to run!"

For years I had said those words. It wasn't until through the self-imposed peer pressure of completing a half-marathon that the phrase left my vocabulary.
Peer pressure may have been the catalyst, but Fleet Feet was the tool that helped me have a successful first half-marathon.
That was eight years ago, and since then, I have completed numerous half-marathons, a few marathons and become a certified running coach through the Road Runners Club of America (RRCA).
The initial motivation might have been to complete the first half-marathon. And I never thought running might become such an intricate part of my life, but it has.
What once was a chore and hated activity has become a part of who I am. I am not the fastest, nor do I run the distances of some, but I run for the community and the exercise.
And, by the way, I didn't start running until I was in my 50s.
It's never too late to start.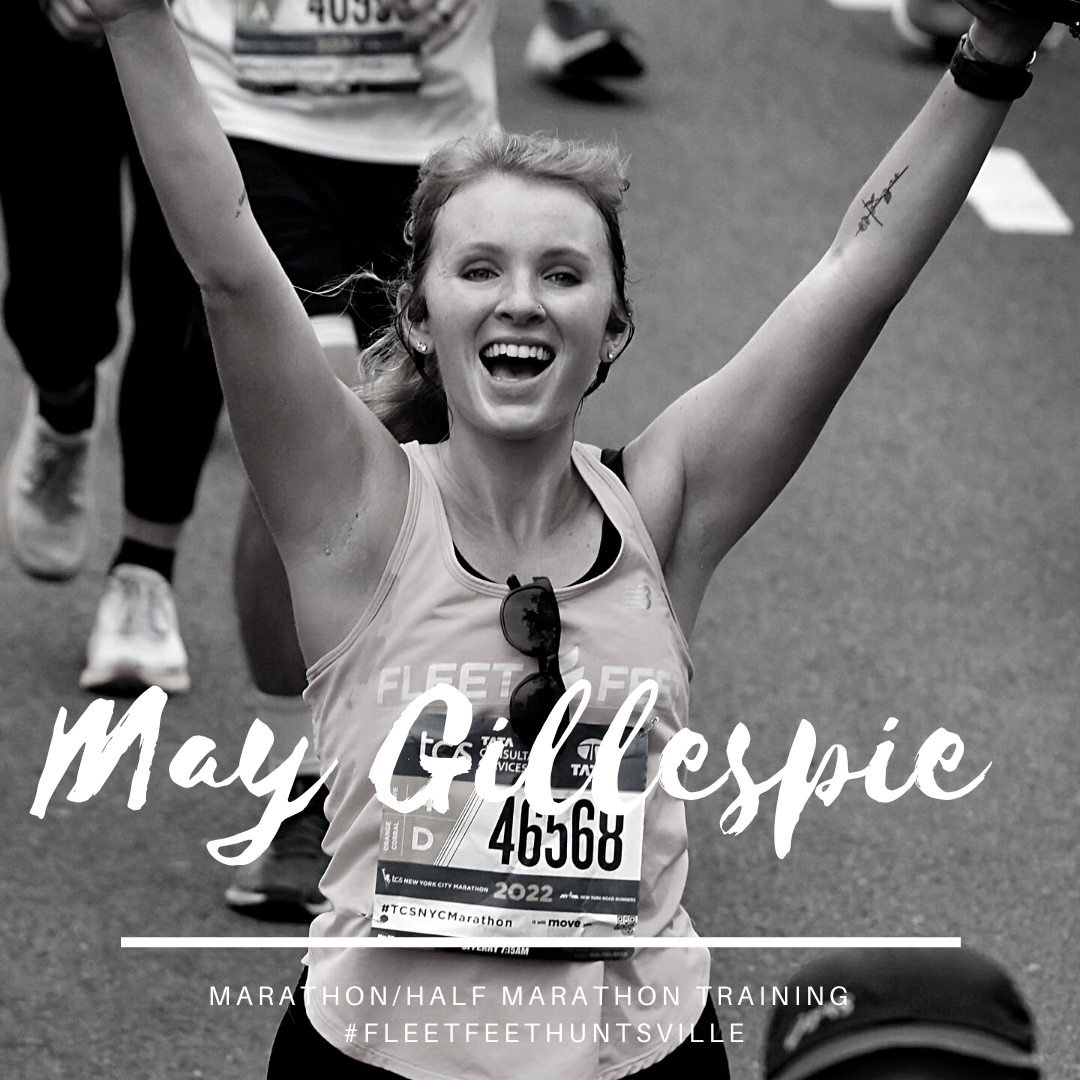 Ashley Connor | 2022 No Boundaries 5K Training DIrector
My running experience began about four years ago. My cousin who was headed to the Naval Academy made a bet with me that I couldn't complete a 5k. I was looking into programs and found No Boundaries at Fleet Feet. I completed my first program and was hooked! I was asked to be a mentor and since then they haven't been able to get rid of me! This will be my first time coaching but I am looking forward to motivating and helping others achieve their goals! I never imagined I'd be completing a half marathon in February but due to encouragement from friends met through No Boundaries this will soon be a reality!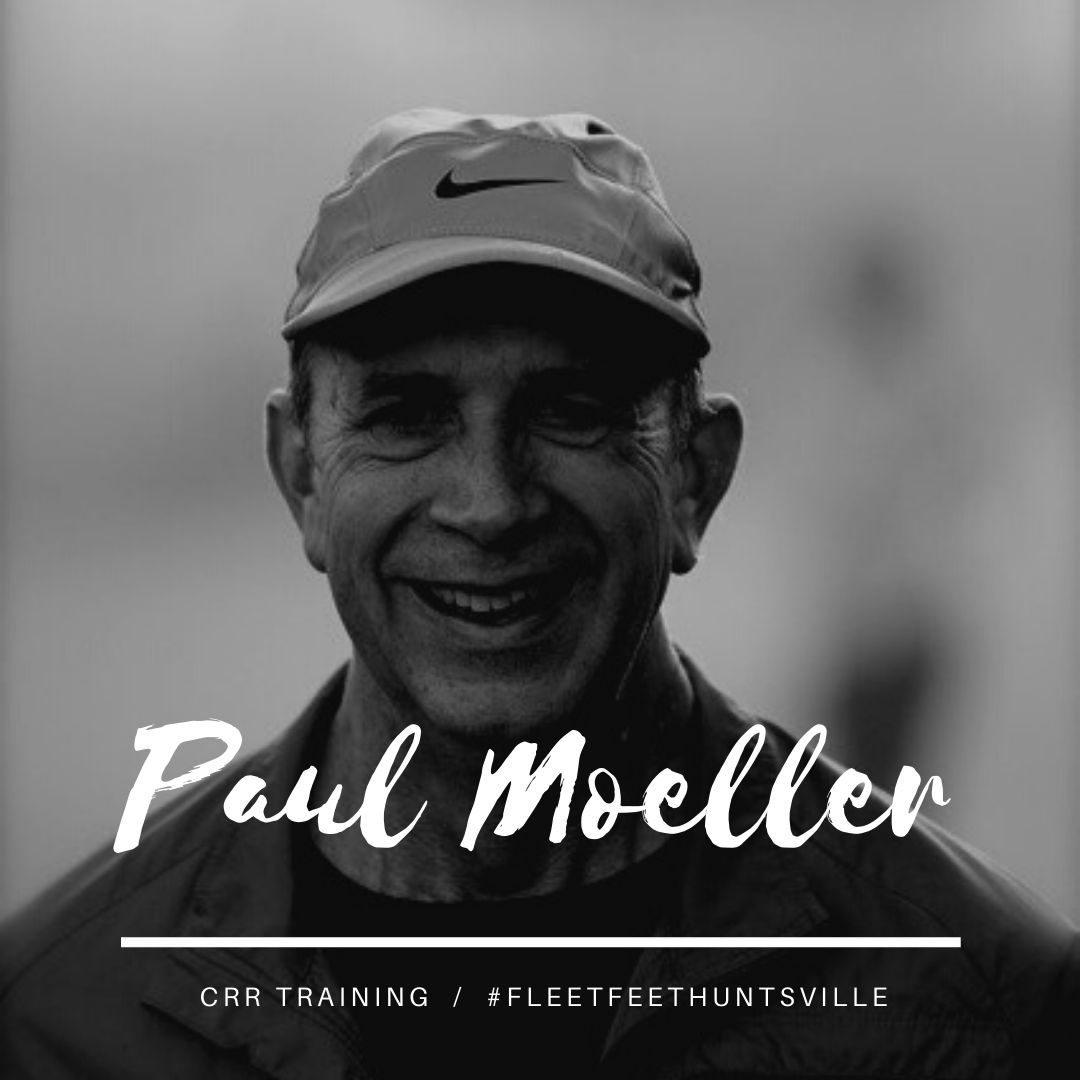 Paul Moeller | 2022 10K & Madison Training Director
I enjoy working with runners of all abilities in helping them to reach their respective running goals.
I am certified as a running coach and also as a spinning instructor.
I have been coaching for quite a while with a personal coaching goal to improve my methods with each session.
Our training group will use a mixture of proven training methods to help you become a faster, stronger and confident runner.
Through our training group we will have fun and will improve together.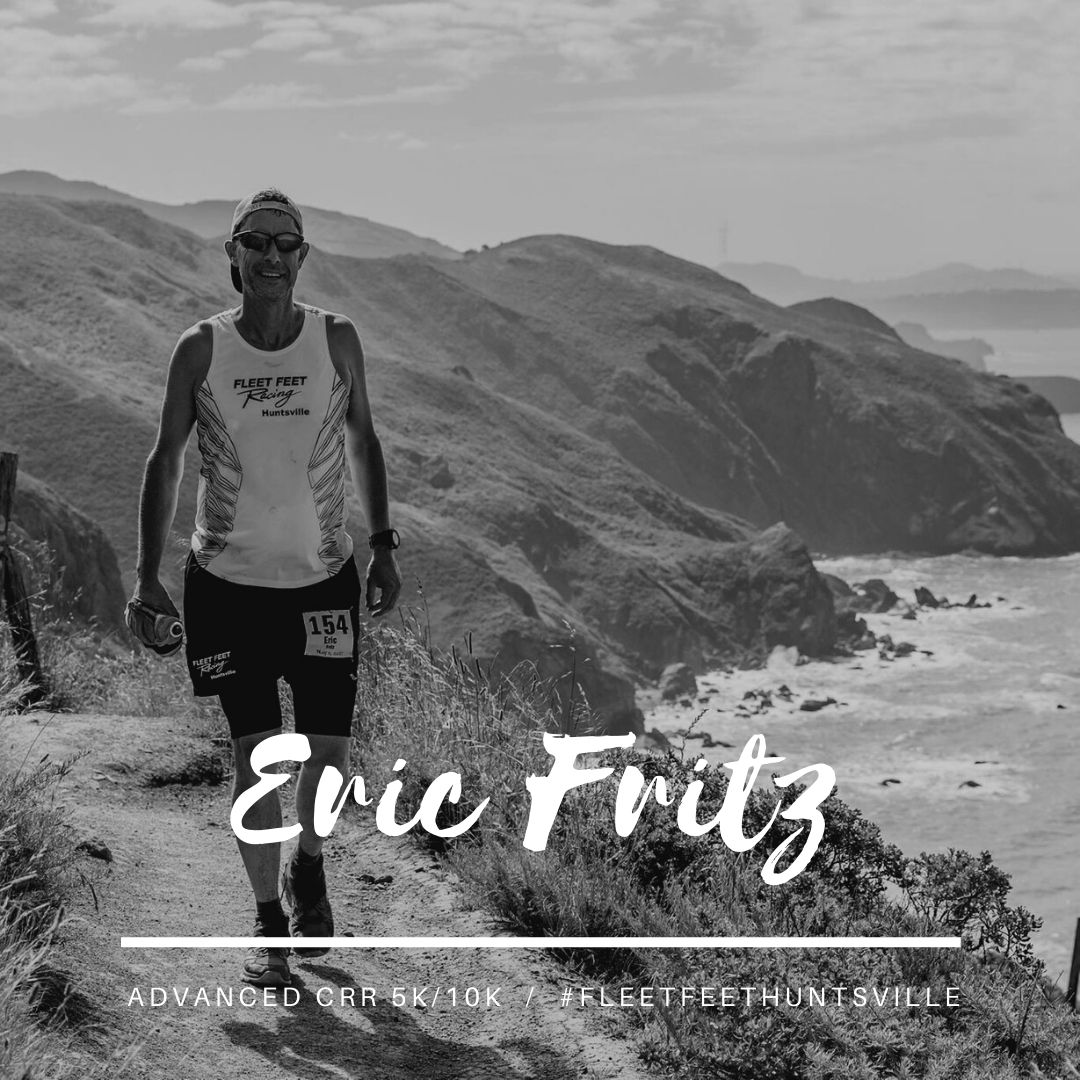 Eric Fritz | 2022 Half & Full Marathon Mentor

Although, I've always been active, I'm a "late in life runner" who can relate well to all levels of running. I didn't start until I was around 35 years old and at that time I couldn't run to the end of my block without having to stop and catch my breath. After a couple years of running on and off by myself I fell in love with trail running. Unfortunately, the only trail races around were 50K so I became a long distance runner.
Soon after that, I learned about Fleet Feet Huntsville and things really took off. Since then I've run races of every distance from 800 meters to 200+ miles (as well as a few triathlons, up to Olympic Distance).
Along the way I got involved with the Huntsville Track Club and have been on their Board of Directors for the past 10 years. 11 years ago I started coaching for Fleet Feet and have helped out with every program they offer but my focus has always been around coaching the 10K runners. I really love coaching the 10K program as it is full of runners who are looking for more and really want to make running a part of their every day life.
After 18 years I still love running and learning all aspects of the sport. I'm a Certified RRCA Level 1 Coach, USATF Course Measurer, Local Race Timer and still on the HTC Board as President. And yes, I still love to run ultra distances and recently completed my 15th consecutive Mountain Mist 50k and will look to complete my 9th race of over 100 miles.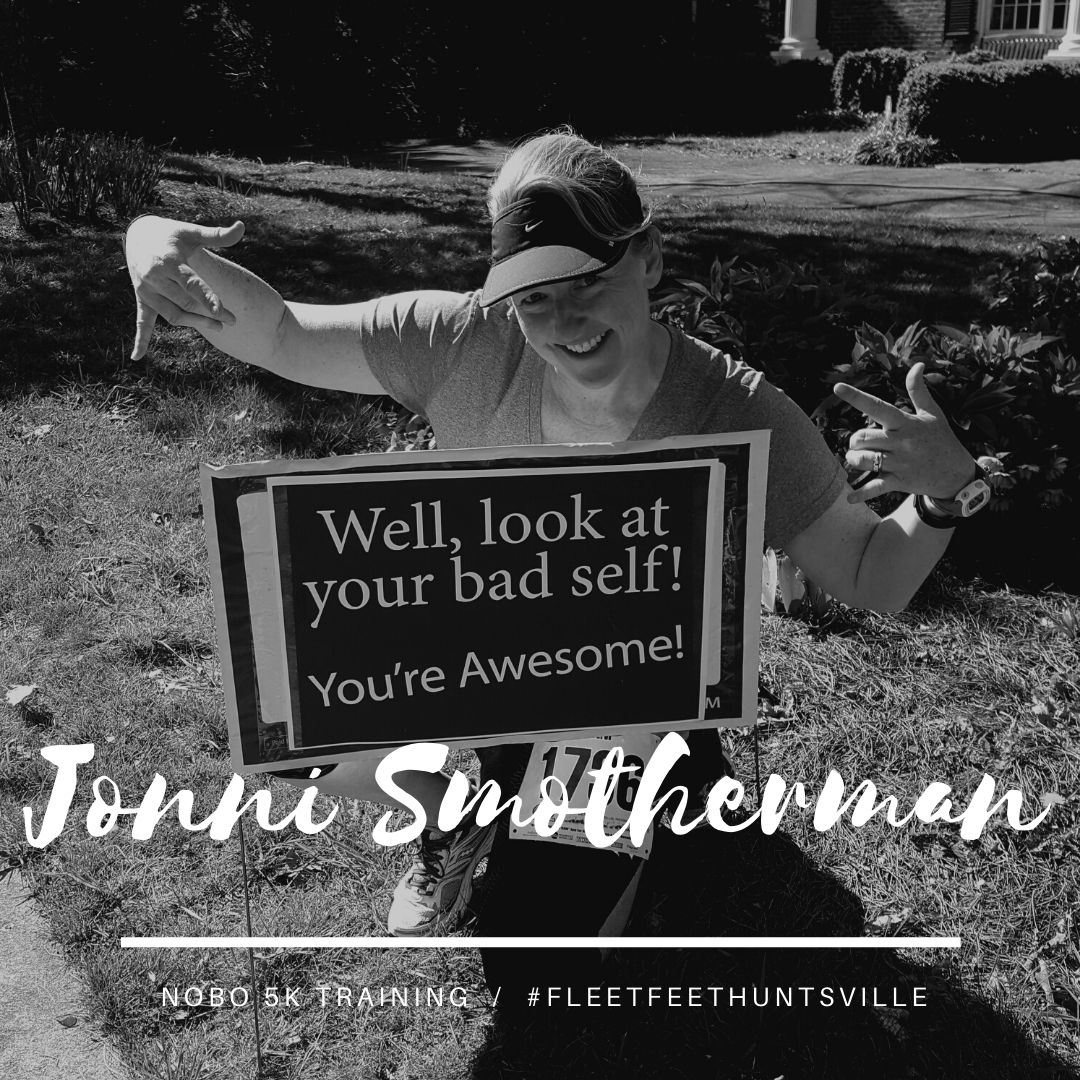 Jonni Smotherman | No Boundaries 5K Training Program Mentor


My running debut started with Running of the Bulls No Boundaries Program in 2012. My husband thought I had completely lost my mind when I signed us up for a running program in the middle of the summer. Maybe I had, but I am still out there running.
When I started I could barely run 30 seconds without feeling like I was going to die. But my awesome mentors and coaches pushed me to push myself. They helped me make it fun. I am blessed to call the coaches and mentors I have had along the way my friends, my running partners! They still push me to push myself, and vice versa.
The best thing about No Boundaries is there are NO BOUNDARIES!! We walk. We run. We laugh. We dance! I run for FUN!! I run to stay healthy. I am an interval runner, meaning I walk and run all of my races and training runs. I ran my first half marathon in 2013 and completed 14 in 2017. I'm currently training for my first FULL marathon!

Having the Fleet Feet and the Run 256 running community in our backyard is a blessing!! There is always someone to help hold you accountable and to help you achieve your goals. As a coach and mentor, I will make it one of my goals to help you reach yours!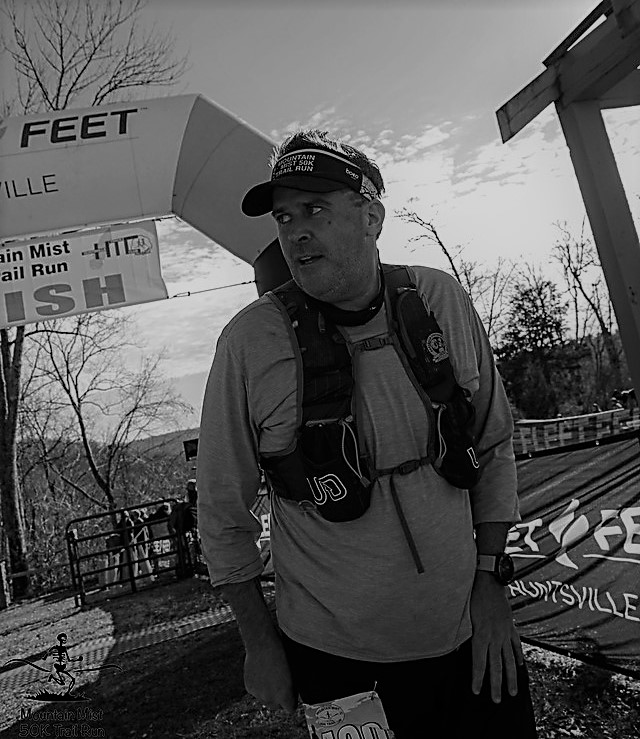 Jason Barnes | Head Coach Trail Programs
Husband, father and Pops...
Started trail running in 2007 after a long layoff and multiple injuries. Decided that after years of running 5k and 10k that I wanted to do something more challenging, so I stepped back over into the road running side and completed my first half marathon(Bridge Street). Completing that solidified my love for the trails and I knew that ultra distance events were next. I run most of my miles on the trails in Monte Sano State Park as it offers a great mix of various types of terrain and elevation.
I completed my first Mountain Mist 50k in 2017 and was forever changed. The next year I added Recover From the Holidays 50k and returned to Mountain Mist for a second go. Since then I have done Mountain Mist, Blood Rock, Fuego Y Agua 50k(Nicaragua), Tick Ridge Trek 50K (DNF'd). My upcoming race schedule for 2021 and 2022 is mostly trail, but I have to throw Strolling Jim 40 miler in there and keep a good mix of road and trail training going as it has really helped me grow and become a better runner. I do have my first 100 miler on my schedule or October and can not wait to see what that brings.
See ya on the trails