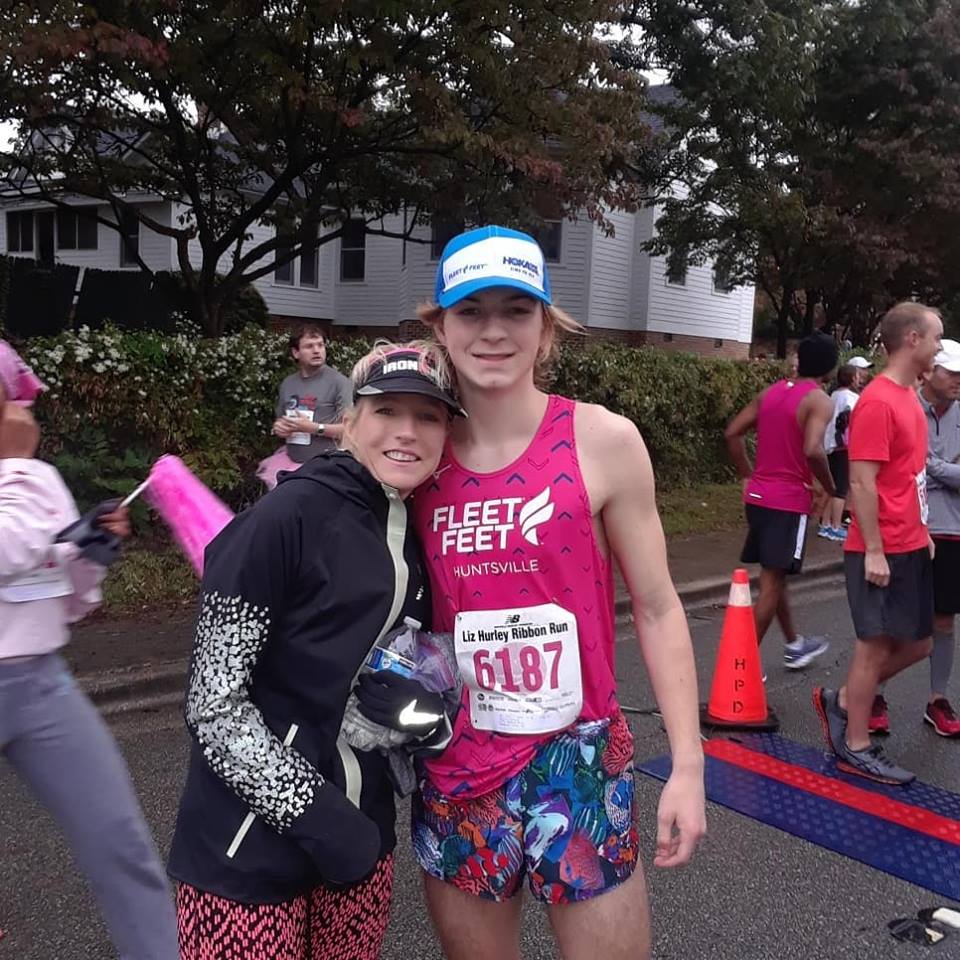 Suzanne Swift
I grew up a swimmer, competing since age 6 through high school. I started running in 1990 to stay in shape after graduating from college. I started competing in Triathlons in 1993 but mostly just love to train. I completed my first marathon in 1995. I thought I would be one and done but have completed several since with a marathon PR of 3:21. I have run the Boston Marathon 3 times. I have completed the Swim for Hobbs Island 5 mile swim 3 times. Recently I completed 4 Half Ironmans and 1 Full Ironman. I love training more than racing! I'm looking forward to training with all of you!!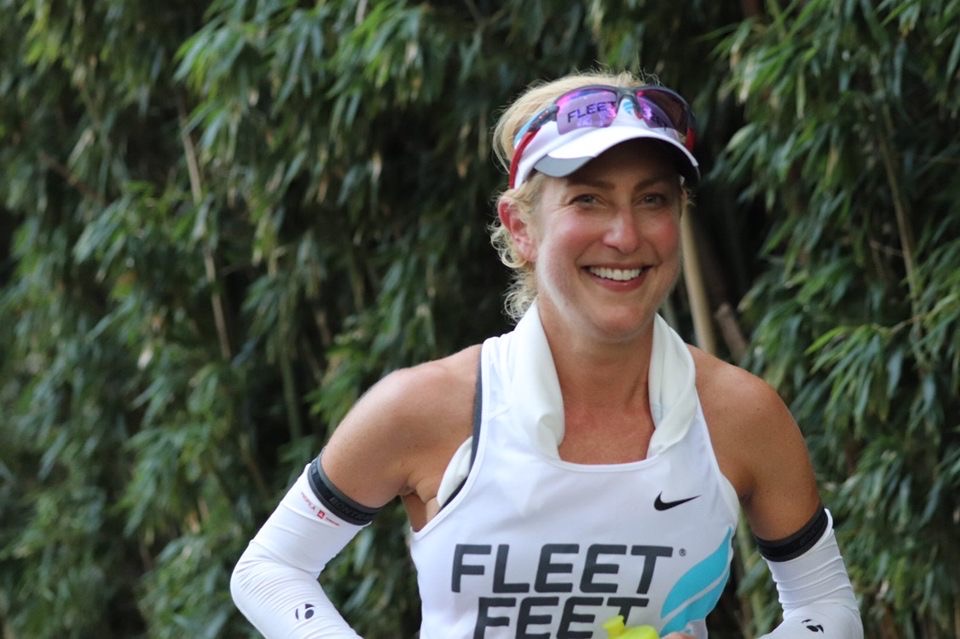 Dianna Cioppi Triathlon Director/Apparel Buyer
I have been running on and off for 22 years. I completed my first 5k race at 16. In 2011 I signed up for the Fleet Feet marathon training group. This is just what I needed to jump start my dream of participating in an Ironman. I've always had a passion for triathlons, but never participated in one until 2012. Since, I have completed six full Ironman, nine half Ironman races, and many Olympic and sprint distances. Also, in 2022 I finished two 100mi races. I am an ITCA certified triathlon coach and lifeguard certified. With a family and three boy's ages fourteen, sixteen and eighteen; having time to fit in my training can be challenging. It's my enthusiasm and determination that makes everything work.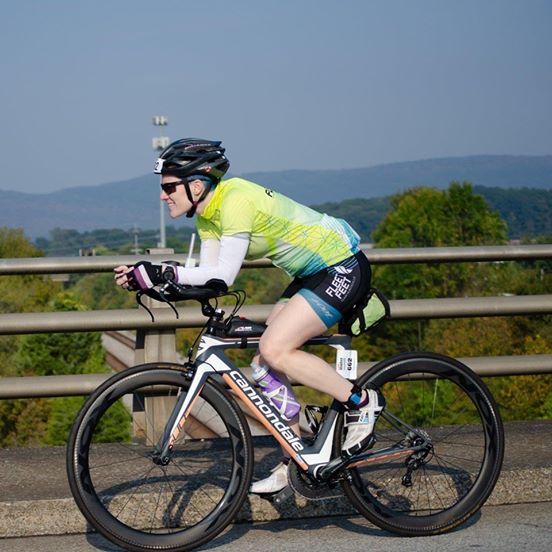 Donna Ruiz Head Coach Tri 201
I grew up in Chattanooga, TN and went to UTC where I majored in Music Education. After getting married to Gil, I ended up in Savannah, GA teaching (imagine a long, convoluted story with lots of drama) and after too many years of too much stress and too little exercise I was ready for a change. I've completed many sprint, olympic, 70.3 and two Ironman triathlons.
A good friend encouraged me to start running in 2011 and I did my first 5K in December of that year. 2012 brought the purchase of a bike (the built-in breezes of riding was nice in the summer heat) and my introduction to the half marathon distance. At this point, the same good friend had started doing this crazy thing called triathlon and convinced me since I was already running and had a bike I should learn how to swim too. In January 2013 I joined her group of triathlete friends in the beginner lane of group swim training and signed up for my first Sprint Tri.
Aside from panicking during the ocean swim of the race, my first triathlon experience was great and I was hooked! The people I'd met were fantastic and encouraging, and I loved the way the exercise made me feel.
I've since completed multiple sprint, olympic, and HIM distance races and met too many wonderful people to count. Triathlon has returned a feeling of strength and confidence to me that was lacking before. I plan on swimming, biking, and running for many years to come!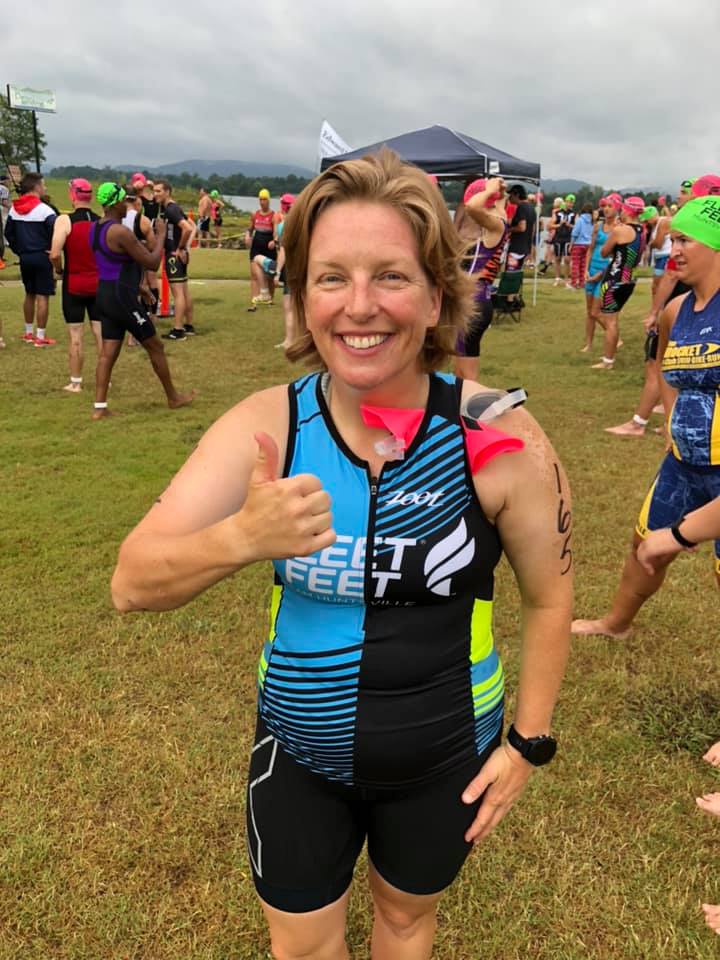 Ruth Marie Oliver Tri 201 Mentor
Ruth Marie Oliver is originally from Mississippi and completed her first triathlon in 1998 while in college at Delta State University. Fast forward to 2012, she committed to getting back into shape with three other friends while on a camping trip on the coldest weekend of the year. Being a recreational swimmer and completing exactly one 5K, Ruth Marie decided to buy a road bike and take up triathlon because being a triathlete just sounded cool. During the summer of 2012 she completed two sprint triathlons and a duathlon. In 2013, she completed her first Olympic Distance in May and Ironman 70.3 Augusta in September. Just over two years after her first triathlon since college, Ruth Marie finished Ironman Chattanooga with a time of 13:39:21. Now, she is a veteran of nine half distance triathlons and five Ironman. She continues to return to the longer distance races because of the challenge in training and planning for a long day on the course. She believes Ironman is just as much mental toughness and planning as it is physical training.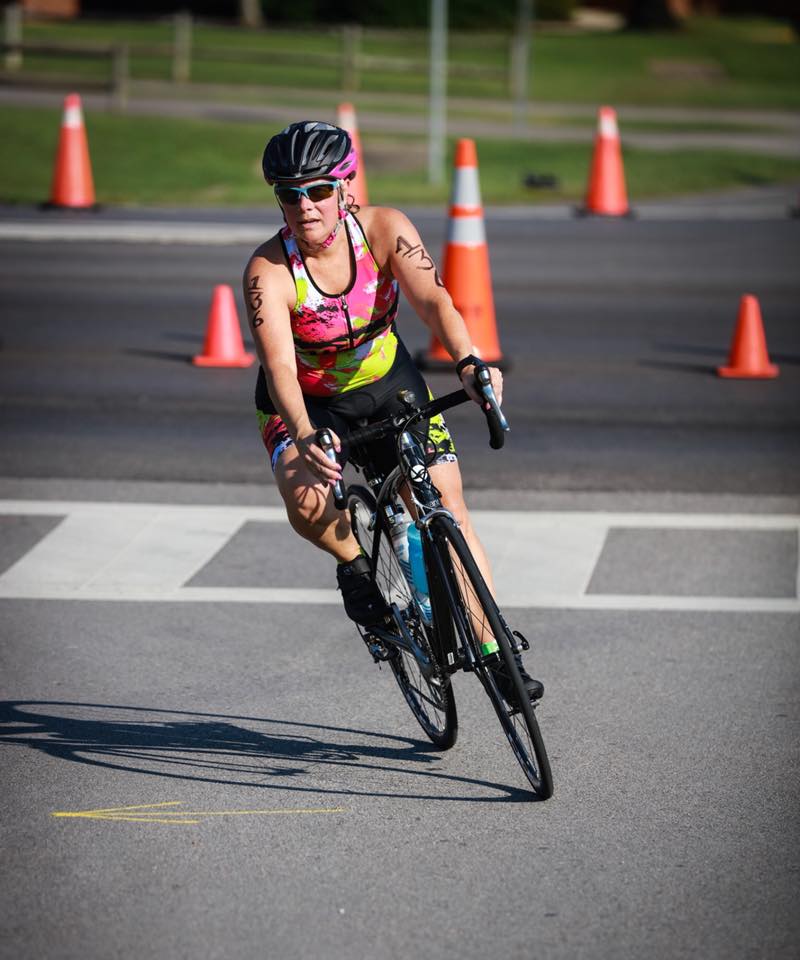 Traci Gillespie - Tri 101 Coach
I first attempted a triathlon because I figured that I could swim, ride a bike and run. I had a head start. Well, putting it all together was difficult at first, but it is so much fun! I enjoy the sensory experience of the water, dirt, heat, cold, wind and even the pain. I get a personal satisfaction out of being completely exhausted at the finish line. Also, the other triathletes are crazy fun to be around. Am I great at triathlon? No, but I love it and I sure do feel like a super hero in a tri kit!