The Fleet Feet Racing Team is the perfect mix of training, racing, and camaraderie to make this year your best running year yet.
Anyone can join the Fleet Feet Racing Team. You do not have to be fast or run a particular distance. We just ask that you be dedicated to the sport, our store and the team.
Online registration for the Racing Team is now open. When you register for the Racing Team, your membership will be good through Dec 31st.
Race Team participant benefits:
Team singlet with initial sign up
Opportunity to buy other awesome, exclusive Fleet Feet Running Club team gear - Track Jacket, Duffle bag, tech tee/tank, and more!
Team parties and special events
Special team workouts and access to coaching
Complimentary local race entries (when available)
Private Facebook group page to share encouragement and get updates on workouts and races.
$25 Splatter media bonus. You earn a $25 store voucher if you're featured in your splatter jersey or Fleet Feet Run Club apparel in print media or on TV. (Email info@fleetfeetspringfield.com with proof to get your voucher!)
Requirements of Membership:
Wear your Team Gear before, during and after all races.
Support, cheer and high-five fellow team members and other participants at local running events.
Have Fun!
We Also Recommend:
Volunteer at two (2) Fleet Feet races. (It's a lot of fun!)
Participate in seven (7) running events in 2018.
Join us at weekly store workouts, themed holiday runs, special store events, and new product launches.
Cost:
$75 Race Team Membership, $50 annual renewal fee.
The Fine Print:
You may join the 2018 Fleet Feet Race Team at any point throughout the year, although all memberships will expire on December 31st.
Team memberships are non-refundable and non-transferable.
Team singlet: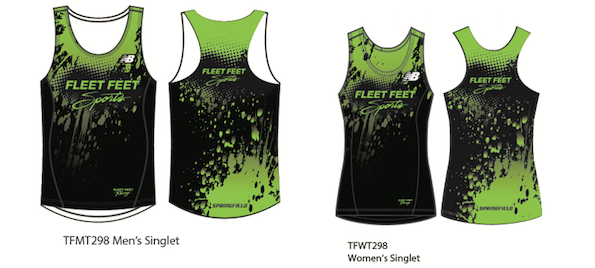 Questions? Email info@fleetfeetspringfield.com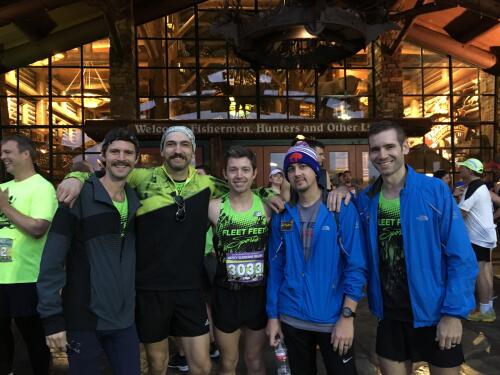 Fleet Feet Racing Team More Info »
Program Start: January 1
Program Fee: $75
Description: The Fleet Feet Race Team is here to support and enhance Fleet Feets' core values, vision and identity within the Springfield running, walking and racing community. You do not have to be fast to race with us. But you must be dedicated to our community, our store and the team.