There is a lot of talk of the Kiawah full and half marathon around the store today. We've had several customers come in stocking up on fuel and rain gear and four of our staffers are preparing to run the half. With so many people gearing up for big races, we thought we'd discuss our own personal pre-race tips and rituals. Everyone has one. It's all about finding one that works for you. Here's how we get our head in the game before a big race:
Chris Minkel (shown running the Mt. Desert Island Marathon)
Chris says he starts carb-loading (including lunch and dinner) and increasing his hydration about two days before a big race.  "I make an even more conscious effort to fill up the tank," he says.
The night before the race he lays out everything he's going to wear and leave at the bag check. That includes pinning his bib onto the shirt he's going to wear. Other than that, he treats it like any other night...including a couple beers.
The morning of the race he eats his usual pre-long run breakfast: a waffle with peanut butter with a cup of coffee. He aims to arrive at the race an hour and fifteen minutes before the race start...just in case he runs into traffic or parking issues.
Tyler Cross (shown running the Race and Roast 5K)
When preparing your stuff the night before, Tyler says don't forget to pack things for after the race: jackets, pants, etc.
Tyler likes to wake up super early before a race so he has time to eat a full breakfast about 2 hours before the start time. He prefers a PB&J or a bowl of cereal.
Before a half marathon, Tyler does a quick warmup of about half a mile job to get the blood flowing before the race start.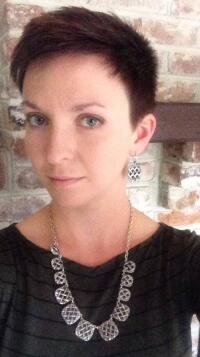 Anni Tuten
Anni's running the Kiawah Half tomorrow as her first half marathon. But a few days before any race, she says she's careful to stock up on electrolyte supplements. Her favorite right now is Watermelon-flavored Nuun and she's been drinking it since Thursday. "I'd rather be overloaded on electrolytes than be short," she said.
Anni also likes to eat oranges the week before the race for even more of a hydration boost. 
The morning of the race, Anni makes sure to foam roll before she leaves the house.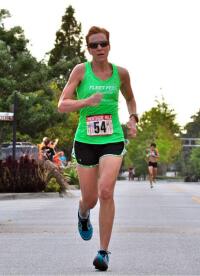 Catherine Hollister (shown running the Charles Towne Landing 5K)
Other than obsessing about the weather, Catherine likes to carb load for two days before the race and sodium load one day before.
Catherine is a firm believer in showering before the race...she says it warms up her muscles.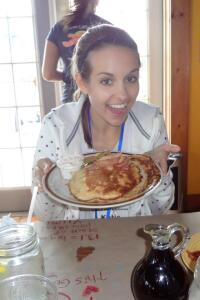 Katie Hurst
(shown enjoying her post-race ritual: a big ol' stack of pancakes)
Katie follows a strict no-alcohol policy starting at least three days before a half marathon.
The day before a big race, she likes to get in a good stretching session. Or a yoga class...even better!
She waits until the morning of the race to pin on her bib... and it usually ends up crooked.
Katie likes to wear her compression socks while she races, especially for long races like half marathons.
After the race= PANCAKE TIME!
What are your pre-race tips and rituals?