WHY DOES DEHYDRATION HAPPEN?
Dehydration happens for lots of reasons. You're often dehydrated in the morning when you wake up simply from sleeping for hours (hopefully lots of them!) without fluids. The processes in your body are working hard while you sleep, and even just breathing results in water loss from your body. But the most common causes of dehydration are simply not drinking enough regularly and not drinking enough during or after activity to replace what's been lost. Most of the time people don't recognize the signs of dehydration and only drink when they feel thirsty. By the time you feel thirsty you are already dehydrated and are probably being affected in more ways than you realize.
WHY DOES EVERYONE TELL ME TO "CHECK YOUR PEE!" AND WHAT IF IT IS DARK-COLORED?
The first thing everyone says is, "Check the pee!" As a rule, a large amount of light colored, diluted urine probably means you are hydrated; dark colored, concentrated urine probably means you are dehydrated. While this test can be a very good general indicator, there is often more to the puzzle. Just because your urine is clear and you get rid of a lot of it doesn't necessarily mean you are optimally hydrated.  Clear urine is water that is NOT being absorbed by your body.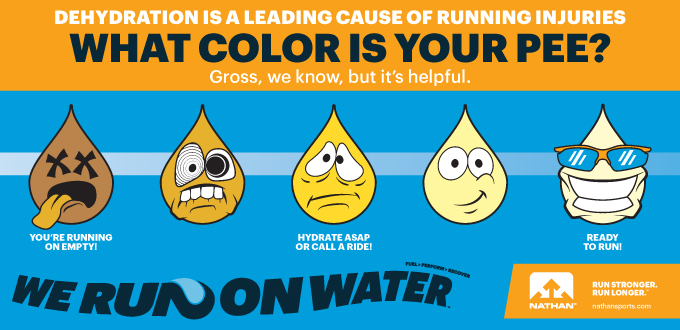 Nuun's special formulation of electrolytes helps increase the amount of water that's absorbed into the blood stream. And that means more of the water you drink is actually used to hydrate you instead of being eliminated because the electrolyte balance wasn't right. Don't get us wrong, good hydration doesn't mean no more urine. If you drink a gallon of Nuun a lot of that is going to come right back out… however, your body is going to get plenty of good, balanced fluids first!
HOW DO I FIGURE OUT MY PERSONAL HYDRATION NEEDS?
No two people are the same, so figuring out your sweat rate is the most accurate way to figure out your personal hydration needs. And weighing yourself before and after exercise is the most effective way to gauge your fluid needs. Any weight loss corresponds with fluid loss, so try to drink enough to replenish that weight. (Weight gain could mean you are drinking more than you need.)
Studies have found that a loss of 2% or more of one's body weight due to sweating is linked to a drop in blood volume. When this occurs, the heart works harder to move blood through the bloodstream. This can also cause muscle cramps, dizziness and fatigue and even heat exhaustion or heatstroke. For all the athletes out there, it can mean a major drop in performance, and for the rest of us, it makes for a really uncomfortable day.
WHAT SHOULD I KNOW ABOUT FLUID LOSS?
Although sweat rate is the most basic and accurate way to keep tabs on your hydration needs, there are other factors to consider. Training or participating in activities at altitude increases your fluid losses and therefore increases your fluid needs. Excessive heat increases fluid loss through sweating. During moderate exercise in a cool climate an average person can lose up to 1 cup or more per hour. The same individual can lose up to four times that amount per hour in a hot and humid climate. And cold weather exercise can impair your ability to recognize fluid depletion and increase the rate of fluid-loss through respiration. So no matter what kind of weather you're in, optimal hydration is your key to health and high-performance.